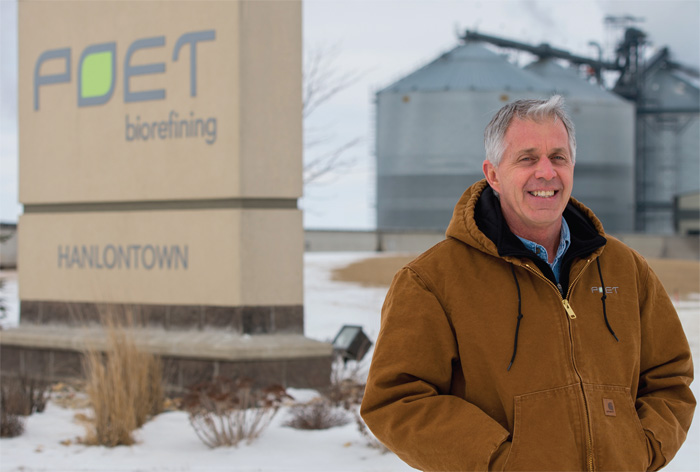 Kelly Hansen, General Manager at POET Biorefining – Hanlontown, Iowa
---
The hardy pioneers who settled in what is now north central Iowa's Worth County in the middle 1800s knew a good thing when they saw it. The area was flat as a pool table and abundant in deep, black, rich prairie soil, perfect for growing corn.
---
The climate was not for the faint of heart – lots of snow in winter and temperatures that could drop far below zero. But for these settlers, many of whom were Norwegian immigrants, it felt like home. Part of survival in their new home consisted of neighbor helping neighbor, a farming tradition that has been passed down through the generations. That tradition is very much alive and well at POET's Hanlontown, Iowa plant.
---
"I grew up on a farm in Idaho and knew something of neighbor helping neighbor," says Kelly Hansen, POET Biorefining – Hanlontown's General Manager. "But even so, I was really struck by the amazing willingness of people here to volunteer for different kinds of community service. We regularly had people taking time off to help out with something, or doing it on their evenings and weekends. This is a very compassionate group."
---
Hansen says that getting team members to volunteer for community service projects – whether serving meals in a community kitchen, ringing bells for the Salvation Army at Christmas, cleaning up an adopted stretch of highway, helping with Relay for Life or United Way, planting trees around the community, organizing a food drive, or painting an historic railroad bridge, just to name a few – is not difficult.
---
"We never have a problem getting volunteers," he says.
---
Caring Attitude Extends Into Workplace
---
POET's eleventh plant, the Hanlontown facility came online March 8, 2004 and has been successful from the beginning. It has a high degree (about 50 percent) of local stockholders who have consistently received good returns. The plant will soon pay off the last of its original debt ahead of schedule, even in a time of tight margins.

---
The plant also strives to be a good neighbor environmentally. With the addition of Total Water Recovery in 2011, it has reduced its environmental footprint by cutting water usage by more than 75 percent and is still improving.
---
While obviously not all of the plant's success can be directly correlated to those same characteristics that have made it a good community neighbor, Hansen believes that it's not totally coincidental either. He credits volunteering with better on-the-job teamwork, less stress, being able to see team members in a different light, and building camaraderie – above what they would normally get in their day jobs.
---
Hansen also believes that at least some of those "fringe benefits" of serving others carries over into a willingness to look out for the good of fellow team members in their daily work responsibilities. The plant has gone for an amazing 1,600-plus days without a lost time accident, and last year didn't even have one recordable injury.
---
"We have a very strong safety committee, but beyond that, if one team member sees another engaging in a practice that appears unsafe, they don't hesitate to suggest another way," he says. "Our people here are genuinely concerned about one another."
---
Looking at the big picture of helping others and the community, Hansen believes that it's not just a one-way street.
---
"With the opportunities we've had to share our time and resources with others, we too have been blessed," he says.
---
SO EXCITED I'LL...
---
Rick Scholbrock has been the mayor of tiny Hanlontown (pop. 229) for 16 years. He's proud of his city, its people, its annual Sundown Days celebration and the fact that it was once featured in a segment of CBS News Sunday Morning. But back in 2002 when he got a call from POET Senior Vice President of Project Development Larry Ward saying that POET was thinking of building a plant in his town, it seemed too good to be true. "Tell you what," he told Ward. "If you build an ethanol plant here, I'll be so excited I'll run down I-35 buck naked!"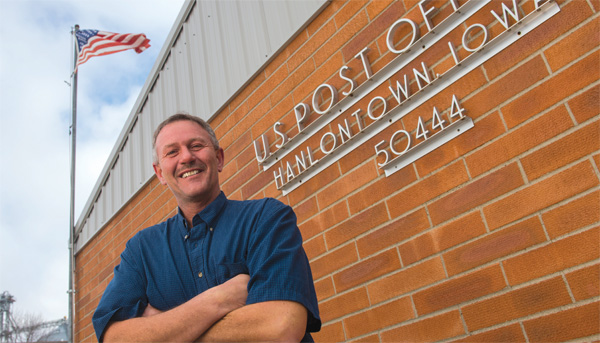 ---
A little over a year later Hanlontown did get the plant, but Scholbrock decided that the literal fulfillment of that off-the-cuff remark was probably in no one's best interest, particularly his. Nevertheless, after the plant had been there for a time, Scholbrock came up with a better and more socially acceptable way of showing his appreciation. With his city council and the expertise of ace ice cream maker Bob Michaels, the group went over to the plant and served all the team members homemade ice cream and presented them with a plaque of appreciation.
---
"We wanted to do more than just tell them thanks, we wanted to do something to show how much we appreciate all the things Kelly Hansen and his people do for us," says Scholbrock. "They help us with volunteers, financially, they even helped lead the fight to keep our post office here in town. They're awesome neighbors and we just wanted to give something back."
---
FOLLOWING THE GOLDEN RULE
---
The starting place for many of POET Biorefining – Hanlontown's good works in the community is the plant's Activities Committee. Quality Manager Paulette Rueter is the chairperson, and says that the committee expanded its role from just planning in-house activities to actively looking for ways to make a difference.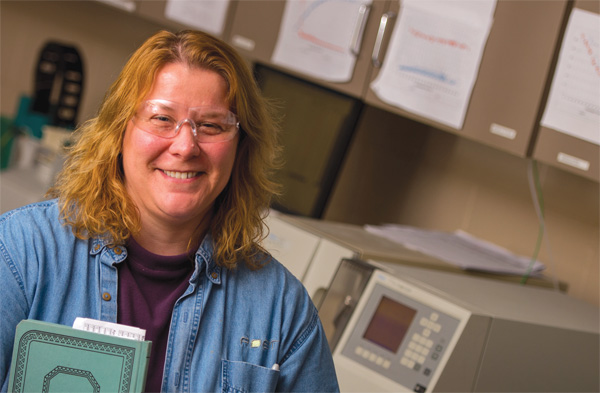 ---
Rueter says that much of what team members at the plant do is just a matter of being a good neighbor. She adds that many employees have known someone who's needed help, and that makes it easy to empathize with their situations.
---
"It's kind of the Golden Rule," she says. "If we were in that situation, we'd appreciate it if someone went out of their way to help us, and we're just trying to do that."
---
Asked to pick a favorite memory, Rueter initially said "They're all so much fun," but then recalled a food drive they'd done.
---
"We started small, but by the third year, we set what we thought was an ambitious goal of coming up with 1,000 items to donate," she says. "But we wound up shattering that. It was really amazing, and felt really good. Around here, neighbors help neighbors a lot. I don't know that you'd have that situation in a big city."
---