---
When Mark DeAndrea arrived at POET in 2010, he brought with him an impressive résumé from top-notch companies – the kind of professional experience well-suited to the position of POET's Vice President of Strategic Development.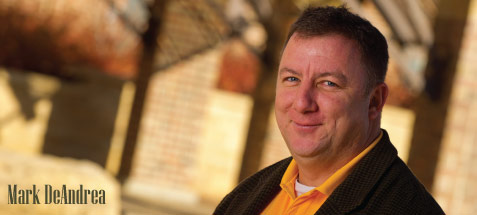 ---
DeAndrea had directed, managed, or executed everything from corporate strategy and business development, to mergers and acquisitions and private placements at companies like Columbia Capital, PricewaterhouseCoopers Securities and RBC Capital Markets.
---
Just as importantly, DeAndrea also brought with him a perspective on life that matches POET's sensibilities. Raised as one of three kids in Arlington Heights, then a relatively small Chicago suburb, he started working at age 9 mowing lawns in the neighborhood. He was also into computers from the beginning, he says, teaching himself BASIC programming on the Commodore 64.
---
DeAndrea graduated with a Finance major from Iowa State University in 1989 and, soon enough, found himself on the East Coast working his way up the corporate financial ladder. His first job was working for Victor Palmieri, the well-known turn-around and restructuring consultant. He met his wife, Lea, on his daily commute. They were married four years later in 1994.
---
Eventually, he became involved in the kind of business deals that made national news. Which is why, on a sunny Tuesday morning a decade ago, he was standing outside his office in New York City, talking on his cell phone to an Associated Press reporter.
---
DeAndrea's office was located in One Liberty Plaza, the black, steel skyscraper that stands next to the World Trade Center South tower. It was September 11, 2001. It was 8:46 a.m.
---
Suddenly, a giant explosion rocked a nearby building.
---
"When the first plane hit, we all thought it was just an accident," DeAndrea says.
---
It wasn't an accident, though. American Airlines Flight 11 had been flown into the North Tower.
---
"The reporter was no longer interested in me as an investment banker, rather, she wanted me to tell her everything that was happening," he says. "I described the scene."
---
At 9:03, American Airlines Flight 175 flew into the South Tower.
---
"The second plane literally blew up above me," DeAndrea says. "That's when everybody realized it was a terrorist attack."
---
DeAndrea hung up with the reporter and tried to call his wife. He couldn't get through. The North tower had the cell phone antenna that served most of downtown.
---
"One minute everyone was casually walking, next there was this huge surge," DeAndrea told the reporter in a story that was carried in newspapers everywhere. "It seemed like 10,000 people were rushing toward us, running like a herd of gazelles, crying, 'Get out!'"
---
The crowds ran north toward the subway. DeAndrea and over a dozen of his employees headed south toward the ferry. At this point, his commute to work was via the ferry, and he figured it would be his only way off the island.
---
"We had to go against the crowds," he says. "We were trying to help people when we could, but it was really just chaos. We finally made it onto the ferry. Everyone on the boat was just staring at the buildings. And then, as we passed the tip of Manhattan, we were all in shock as we witnessed the first tower fall."
---
For DeAndrea, that moment "put everything into perspective. That's when my wife and I said, 'Maybe it's time we start a family.' We were working all the time. I quit my job and started working for a venture capital firm, something I'd always loved. Within a year, we had moved to Florida and started a family. It made us realize what's truly important."
---
DeAndrea saw the POET job as a chance to get back to those things he considered important.
---
"I really wanted my kids (son Sal, 9, and daughter Samantha, 8 ) to grow up in the Midwest," he says. "And I wanted to work for a big-picture company like POET, where I hoped to be able to learn as well as add value."
---
For Dan Loveland, POET's Chief Financial Officer, DeAndrea brought "a wealth of experience in the capital markets, in particular in merger and acquisition activities."
---
But Loveland also recognized DeAndrea's Midwest sensibilities.
---
"We have a strong focus on culture at POET," Loveland says. "Mark grew up in the Midwest and his style seemed to be a good fit for our organization."
---
Part of that style, according to Loveland – and everyone you ask about DeAndrea – is rooted in two main characteristics: straightforward communication and the ability to see the big picture while understanding the fundamental steps needed to achieve it.
---
"Mark has a very good grasp of the art of the deal," Loveland says. "He understands where we need to be, how we need to get there, and how to communicate that effectively."
---
DeAndrea hit the ground running, according to Larry Ward, POET's Senior Vice President of Project Development.
---
"From day one, he jumped right in," Ward says. "He hasn't slowed down. He's worked very aggressively at every project to make sure it's moving forward. Mark certainly isn't bashful. He isn't sitting back waiting for someone to approach him."
---
Those descriptions of DeAndrea's work style – and work ethic – ring true with employers who have known him much longer.
---
"Mark has been on our board for years, and I rely on his straightforward communication and levelheadedness," says Jason Smith, the CEO of xSides, a Seattle-based display technology company. "He gets the intricacies of communication. I've watched him with our own shareholders, and he can articulate to both sides in a way that is meaningful and understood."
---
Now retired, Bart Schneider hired DeAndrea at Columbia Capital back in 1994, and the two are still involved in several investments.
---
"Mark can carry on a professional dialogue with anyone regardless of their background," says Schneider. "He just naturally understands what motivates people and how to connect with them."
---
DeAndrea's move to POET did not surprise Schneider.
---
"POET is a company with a lot of upside potential and is a groundbreaker in a growing field," Schneider says. "It's got that big picture view, and Mark loves that challenge, loves that competitive aspect."
---
That competitive streak carries over into DeAndrea's personal life. When he took up golf a few years ago, he wasn't content with his 25 handicap. So he hit the links – or at least the driving range – on an almost-daily basis to go from a 25 to a 12 handicap. He also likes to play softball, chess, poker and billiards.
---
"I am a very competitive person," says DeAndrea. "Sports and games that require a lot of strategy just appeal to me more."
---
That competitive element drew him to POET.
---
"I want to work with the best and brightest, and [POET CEO] Jeff Broin has built a very strong team here," DeAndrea says. "To get better at an activity, you play with people that are as good as or better than you. To get better professionally, you work with the best."
---
"I've learned that it helps if you love what you do," he adds. "When I look at all the opportunities here at POET, I think 'Buckle up, there's a lot of opportunity just around the corner.'"
---