---
It was 2005 and the green flag was out for the ethanol industry.
---
"The first version of the Renewable Fuel Standard had been enacted, and new energy policy stripped liability protection for Methyl Tertiary Butyl Ether (MTBE) as an oxygenate for gasoline," recalls Kevin Monroe, General Manager of POET's biorefinery at Jewell, in northwest Iowa. "Ethanol was the only replacement for MTBE, and that spurred an incredible amount of growth in a short time."
---
In 2005, ethanol was still a young industry, but not so young that Iowans hadn't noticed the positive transformation it could bring to rural communities. Jewell, a progressive community of 1,200 planted squarely in some of the very richest corn-growing soil in the world, was quick to recognize a good opportunity when it saw one.
---
"When the local economic development group got wind that an ethanol plant was a possibility for their community, they were pretty vocal in letting POET know that they'd like to see it here," says Monroe. "The community embraced us from the very beginning, and we've had a great relationship ever since."
---
The plant commenced operations on March 1, 2006.
---
Top Performer, Good Neighbor
---
Monroe says that Jewell was the first POET plant to be built for a 60 million gallon per year nameplate capacity. There were a few bugs to work out initially, but soon the plant became a perennial top performer in the POET family, and the design pattern for all POET plants built since.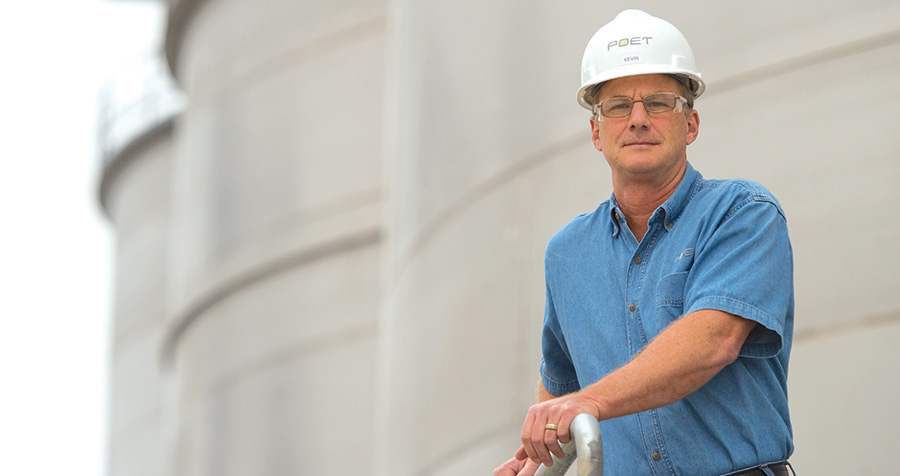 ---
After adding Total Water Recovery, the plant now uses the least water per gallon of ethanol produced at any POET plant. And it has also received a virtual trainload of awards for everything from rail chemical safety, to economic growth and achievement, to FFA appreciation.
---
Those achievements and accolades pale in comparison, however, to the pride and pleasure Monroe takes in his workforce.
"They're a good reflection of the makeup of this area – hard-working, down-to-earth, and friendly," he says. "We've also got a good cross section of generations here – baby boomers, Gen 'X'ers and millennials. But we all work very well together and learn from each other."
---
Those characteristics also spill over into the community, where employees are generous with their time and their financial resources in a plethora of community causes, with a special emphasis on schools and young people's activities. That attitude sometimes carries even beyond the community, where Monroe reports that employees were enthusiastic about the plant's recent Project GAIA donation of ethanol for cook stoves in Haiti.
"Everybody's conscious of wanting to be a good neighbor and support to the local community and beyond," he says. "That's a lot of what we're about."
---
All of which leads Monroe – who got his college degree in geology, ironically with the idea of someday working for an oil company – to a simple conclusion. While he's proud to be part of an industry that's making a difference across the nation in the environment, energy independence, and rural development, those things still are not his number one job satisfaction.
---
"For me, it's the people," he says. "We've got a great group here, who make it enjoyable to come to work every day."
---
BEST BLESSING EVER
---
Hired before the plant even started construction to handle investor relations, Administrative and Accounting Assistant, Julie Lutjen has pretty much seen it all – investing, groundbreaking, construction, grand opening and day-to-day operations.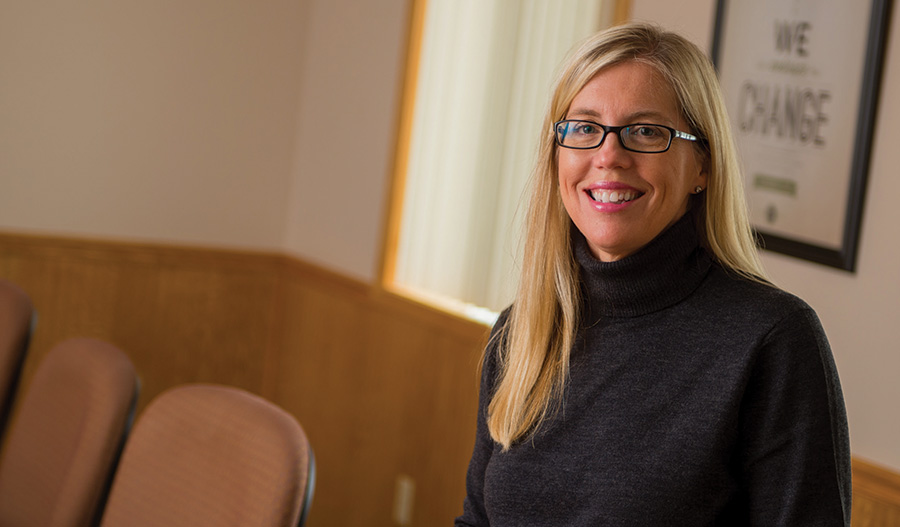 ---
"It's been a little like taking an infant through graduation," laughs Lutjen. "In the process, I've become very committed, have a sense of ownership and I'm even a little protective."
---
Lutjen, who is a Jewell native, mother of four sons and serves as her church organist, lives with her husband David on the farm where she grew up. Besides her family, she says she has two loves – her job and her community, and that they complement each other well.
---
"I feel kind of like an ambassador to POET," she says. "It's a little like having two great friends, introducing them, then watching them become friends. To be able to live in the community I love, working at a job I love, is just the best blessing ever."
---
GROWING HIS CAREER
---
Jewell's Operations Manager Andrew Samp grew up in northeast Missouri and remembers his introduction to ethanol very well. As a high school student, he went with his dad to a producer meeting for what was then a prospective plant at Macon. There he met POET Founder and Executive Chairman Jeff Broin, and what he heard made an indelible impression.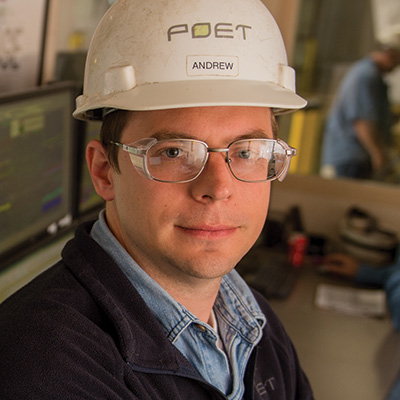 ---
"I remember Jeff telling farmers about the potential of ethanol to create a new market for corn, put it to good use, and get away from the government supporting overproduction," he recalls.
---
After earning his degree in agricultural business from Northwest Missouri State University, Samp went to work for the Macon plant as an Operator.
---
Then in 2006, he came to the Jewell plant as Operations Supervisor. About six months later he was promoted to Operations Manager. "At first, I didn't plan on making a career out of it, but the industry has continued to offer me opportunities," he says.
---
A married father of four young children, Samp enjoys many aspects of his job, but especially likes the challenges.
---
"POET really does embrace the idea of going after excellence, which means there's always something new to improve on, change, or make better," he says. "I like the culture of being on the front line of that, contributing to that change and not just taking what comes at you."
---
SAYING THANKS – WITH COOKIES
---
Retired Jewell pharmacist Fred Marcalus is a longtime member of JADE (Jewell Area Development Enterprise) and is rightfully proud of the fact that his city is a Main Street Community.
---
"Iowa's big in the Main Street program, which seeks to promote economic development while preserving the historical look of the town," he says. "But we're the first Main Street county in the nation."
---
Marcalus likes to think that Jewell's being a healthy and accepting community had something to do with POET choosing it as a site for their new plant in 2005. He and many others were glad they did.
---
"In an ag community, anything that's going to help the farm community is going to benefit the whole community," he says. "During construction, a lot of people baked cookies and rolls and took them out to the construction workers, just to show their appreciation."
---
Since then, that initial positive impression has been confirmed.
---
"It's been a benefit to the farmers in the area, as well as providing goodpaying jobs," he says. "But they also support our community very well – our schools, FFA, our annual festival and much more – but they're always low-key about it. They've been a very significant addition to the community."
---
---