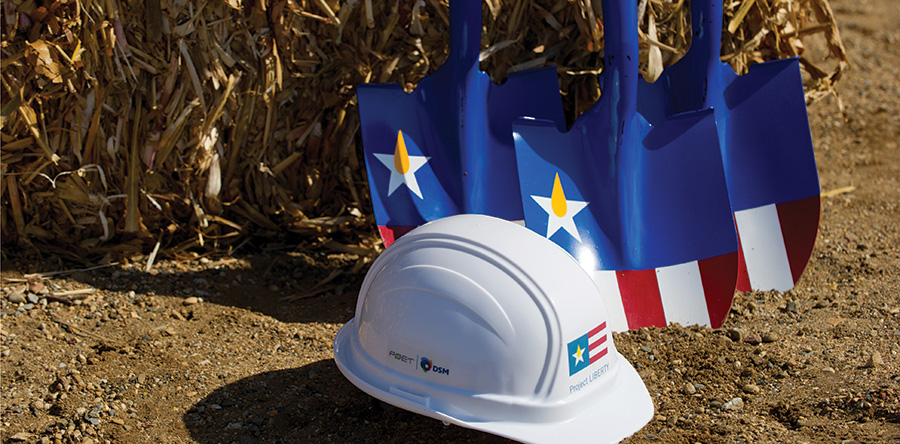 ---
For the past few years, there's been a tremendous amount of excitement surrounding the opening of Project LIBERTY, one of the very first commercial cellulosic ethanol production facilities in the world. But in the weeks leading up to the start of actual production, that excitement reached a crescendo.
---
"How many times in your life do you get the chance to be part of something that's one of the first anywhere?" says Daron Wilson, POET Biorefining – Emmetsburg General Manager. "Literally, the whole world is watching us."
---
But beyond the thrill of POET-DSM pulling off a world-class accomplishment, Wilson points out that much of that excitement springs from the economic and quality-of-life benefits that have already begun kicking in around Emmetsburg (pop. 3,904) and the surrounding area, even before LIBERTY started production.
---
"At times we've had upwards of 450 construction workers on-site, and we're adding about 50 full-time, highly technical, good-paying jobs," he says. "Anytime you can do something like that in a rural community, it's huge. Then there are the new opportunities for farmers and farm businesses too."
---
In the vignettes that follow, a few of the actual players share their perspectives about what LIBERTY means to them and their community.
---
Moving Out of His Comfort Zone
---
Before opening a farm equipment dealership in Emmetsburg four years ago, Eric Woodford farmed and operated a custom hay and biomass baling service in Minnesota. In the process, he invented and patented a device to aid in harvesting biomass. He then licensed his invention to Vermeer, where it became an integral component on that company's "Cornstalk Special" round baler.

---
Soon after, Vermeer made Woodford a very interesting offer – sell his farm, move to Emmetsburg, Iowa, and open a Vermeer dealership specializing in biomass harvesting and moving equipment for what would become Project LIBERTY.
---
"Who better to sell these balers and train farmers on them than the guy who invented it," Vermeer officials said. After thinking it over, Woodford decided to accept their offer.
---
"I've always had a strong commitment to renewable energy and we really wanted to show our children an example of being part of the solution," he says. "But it definitely took us out of our comfort zone."
---
Looking back, Woodford has no regrets. His business has grown from one to nine employees, and his current facilities are stretched to the limit. But he also draws immense personal satisfaction from his new life.
---
"An unintended result has been that when farmers buy biomass equipment, they decide to get more mileage out of it by expanding into livestock," he says. "That's creating opportunities and spawning rural development." Woodford continues.
---
"I'm glad we made the decision to be part of the future," he says. "A lot of the farmers I deal with can see beyond just the monetary benefit [of harvesting biomass] and see the environmental benefits too. It's fun when they understand that."
---
Just What He Was Looking For
---
After receiving his master's degree in organic chemistry from the University of Nebraska, Mike Richardson moved to the area about a year ago when his wife got a position as a physician's assistant. Richardson was hoping to find a job in his chosen field, but found pickings to be slim. When POET put out the job searches for Project LIBERTY, Richardson quickly applied.

---
"I was really excited to find an actual lab doing real chemistry," he says.
---
He began working at LIBERTY in February of this year as a lab technician, and loves it.
---
"It's a lot of fun," he says. "The team's great, and by being one of the world's first cellulosic ethanol plants, we get to work with the research department almost on a daily basis. And to see all the different engineering departments, plant technicians, lab technicians, research groups and management working so well together has been really neat. There are huge challenges, but that keeps it interesting. I learn something new every day."
---
From Blocking to Biomass
---
It's not often that someone from a small town makes it in pro football. But in 2003, Emmetsburg's own Bruce Nelson was drafted as an offensive lineman by the NFL's Carolina Panthers, following an All- American career at the University of Iowa. When his career was shortened by injury, Nelson returned to his hometown, where he farms with his dad and uncle.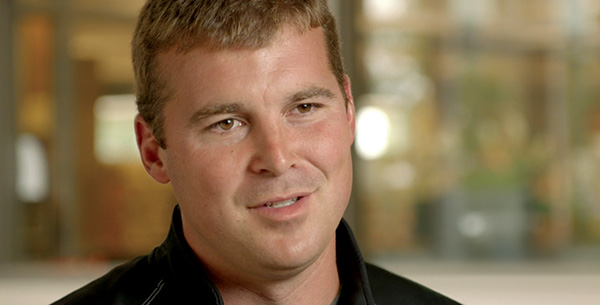 ---
With the coming of Project LIBERTY, Nelson and some partners launched a side business doing custom baling and harvesting biomass for farmers who contract with LIBERTY, but do not have their own biomass harvesting and moving equipment. Then after harvesting the biomass, they haul it to Project LIBERTY. Now in its fifth year, Nelson says it's been a good business, but is not without its challenges.
---
"The biggest challenge has been that if we have a question, there's no one to call," he says. "But we're helping farmers gain a significant source of supplementary income that can help them make an extra farm payment from time to time."
---
Nelson reports that their business has thrived, and that they use a lot of high school and college students to help out part-time, plus are adding some full-time employees during their busy season.
---
"We're definitely creating jobs, and we've bought a lot of equipment," he says. "Working with LIBERTY is pretty cool. There aren't too many opportunities in a community like Emmetsburg to start up a business and have a ready demand. It's pretty special, really feels good."
---
The Bucks Stay Here
---
As President and CEO of the Iowa Trust and Savings Bank and a member of the Palo Alto County Economic Development Committee, Kris Ausborn has his thumb on the economic pulse of the Emmetsburg community.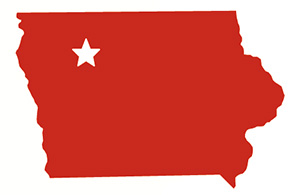 ---
"The financial benefit to the community from LIBERTY has been tremendous," he says. "Anytime you add more than 400 construction workers and 50 full-time good jobs to a community of this size, it's boosted our housing, service sectors, agribusiness and much more. Statistics show that money earned here turns over more than three times, which means that the payrolls for those jobs is spent locally, stays locally, and aids the whole economy."
---
But Ausborn says that LIBERTY's contribution to the Emmetsburg area is more than just economic development.
---
"POET's community support is top notch," he says. "They donated to a new community center we're building this year, and many of their staff are involved in local charitable organizations. We need the human resources as much as the financial ones."
---
LIBERTY Put Emmetsburg on the Map
---
Recently retired, long-term State Senator Jack Kibbie was an early and staunch advocate of renewable energy – ethanol, biodiesel, and wind – but admits that he never saw something like LIBERTY coming.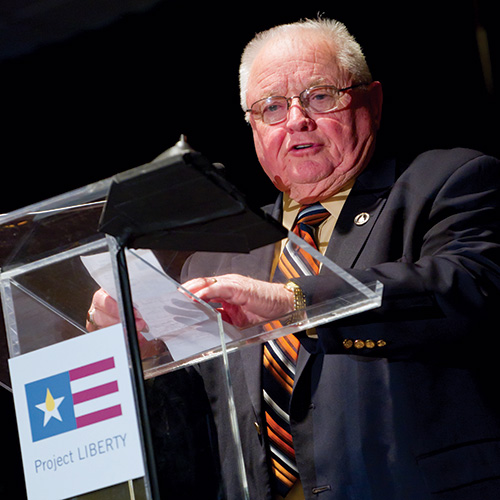 ---
"Back in those days, I didn't even know what the word 'cellulosic' meant," he chuckles. But today, he is justifiably proud of his role in helping to make things like Project LIBERTY a reality.
---
"By LIBERTY being one of the first in the world, it's been a very positive thing for our community, and has put Emmetsburg on the map," he says. "This is what rural America ought to be – taking advantage of new technology in order to compete, not die. When I see the young people who've come back to Emmetsburg to live and work, this industry is what doesn't happen often enough in rural America."
---