---
This project has touched every area of this organization, from the business and finance groups to policy to research, engineering and plant operations. It spawned an entirely new division – POET Biomass – and prompted POET's first ever joint venture when we teamed up with the Netherlands-based DSM to take the project through to completion.

This ethanol plant is special; there is nothing like it in the world. The ground-breaking science and engineering, the blazing of new trails in feedstock acquisition and the enormous amount of coordination between teams that was demonstrated through this process marks this endeavor as a highlight in the history of POET.

But despite the unique qualities of this project, in many ways it is simply an evolution of what we have always been and how we have always worked. Throughout our history we have defied the odds and found opportunities in what others thought was nothing more than a fantasy. We were made for this.

When the ethanol industry got on its first shaky feet decades ago, it was the focused and frugal approach on the Broin family farm that that proved on a micro-scale what this industry could be. Others went bankrupt trying large-scale production; the business just didn't "pencil out." But then it did. It did when Broin Enterprises introduced creative thinking and new efficiency to the endeavor. This company did nothing but get better from there. Water use was cut in half again and again and again. Yields and ethanol fermentation rapidly increased as we applied continuous improvements and broke through barrier after barrier.

There were many arguments against ethanol then, just as there are those who argue against developing a cellulosic ethanol industry today. The arguments are familiar.

Regarding grain ethanol production, some doubted that our corn supply could handle increased demand. Today we are expecting an enormous surplus of grain even with 14 billion gallons of installed ethanol production capacity across the U.S.

Similarly, I have heard doubts about securing biomass for cellulosic ethanol production. Amidst that, POET Biomass built a feedstock program from the ground up, ensuring a steady supply of as much as 770 tons of baled crop residue per day through the plant.

During grain ethanol's ramp-up, distillers grain was regarded as a low-value byproduct, a liability. Amidst that, POET saw opportunity and created a new brand – Dakota Gold – to encourage greater appreciation and use of the high-protein feed product. Today, it's the number one feed ingredient in the U.S. and sought after by all those looking to feed animals. Since then, we've developed numerous other bio-products that further improve the bottom line for producers.

In cellulosic ethanol production, we have a good market for our primary co-product – biogas and steam, and we are now exploring alternative uses for the remaining products. We are experts at turning perceived liabilities into assets.

Capital costs, water use, yields were all questioned in grain ethanol production. But we found ways to be profitable under those early conditions even as we worked to improve the process. We will do so in cellulosic ethanol production as well.

In many ways, we are better equipped today to make things happen than we were 25 years ago. We have more resources, a larger team and existing policy support. Along with that, we have the same grit and determination that we have always had to make fantasy a reality.

The doubters and the naysayers are not people who accomplish great things. Great things don't happen because a quick and easy business case exists. Great things happen because great people at great companies make them happen.

When I look at Project LIBERTY jutting out of the skyline today, I see thousands of accomplishments piled onto each other. We are people who accomplish great things, and the sum of our greatness is POET.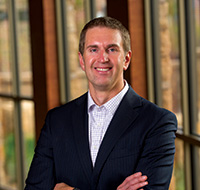 ---