---
In the all-too-often risky and self-serving world of high finance, Denny DeVos is known for bringing a long-term approach and Midwestern sensibilities to his role as POET's Vice President of Corporate Finance.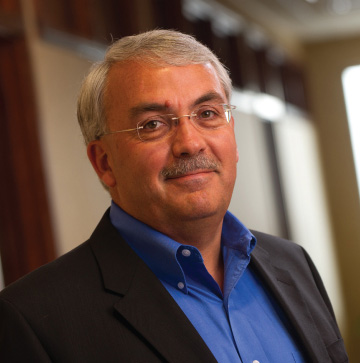 ---
The character traits that define DeVos – his communication skills, relationship-building, and big-picture vision – were ingrained while growing up as one of eight kids on the family's farm in Marshall, the southwestern Minnesota city near where his great-grandfather homesteaded at the turn of the twentieth century.
---
"The farm life absolutely guided my work ethic," DeVos says. "The work that you put in – the long days of milking cows, feeding hogs, cleaning barns, haying, and harvesting – becomes a way of life. And a big family builds skills that you don't even know you're developing. You learn to compromise and communicate. You learn to build relationships."
The farm life also taught Denny something else–he realized even as a youngster that he had an interest in the business side of the family farm.
---
"Farming is capital intensive, and requires a capital investment for a significant risk," DeVos says. "At the same time, you never know if you're going to get a crop. That risk-versus-reward idea prompted my interest in the business side of things. At an early age I realized the value of hard work and money management."
---
As kids, Denny and his siblings bought Christmas trees in Wisconsin and resold them from the family farm. They knew that if they planted sweet corn early enough, they could sell "as much as we could bring" to the city of Marshall's annual Crazy Days celebration in mid-July–money they used to fund 4-H trips.
---
After high school, DeVos attended South Dakota State University, where he graduated with a double major in Economics and Business. Right out of college, he joined Farm Credit Services as a lending officer, and spent the next 31 years working his way up the banking ladder, from branch manager to regional manager to chief credit officer. Eventually, he was leading a team at AgCountry that lent money to large agricultural businesses (including POET) across the Midwest and the U.S.
---
When DeVos was leaving AgCountry in 2006, he didn't have to look far for a new job.
---
"We were at a financing conference in New York and Denny told us that he would be leaving the bank and looking for employment elsewhere," says Dan Loveland, CFO at POET. "Two of us from POET were at the conference, and we both said 'We can't let this guy get away.' In the finance area, it's difficult to find people with that Midwest culture, and we knew Denny would be someone who'd be perfect for our team."
---
While DeVos had other opportunities to stay on the banking side of agribusiness, he had an immediate interest in POET. "I had been very impressed with POET," he says, "and I also wanted to see what life was like on the other side of the banker's desk."
---
As the Vice President of Corporate Finance, DeVos' responsibilities include securing loans and funding for all of POET's plants that might need financing, through everything from investors to bonds to, yes, banks.
---
"I think my experience on both sides of the banker's desk has been a definite benefit to POET as well as the lenders," says DeVos. "Because of my banking background, I'm able to foresee what the lenders might be expecting."
---
Those who work with DeVos are quick to note the effectiveness of his communication skills, not only from both ends of the financing spectrum, but also when it comes to communicating with, and on behalf of, the farmer-investors that POET represents.
---
"It's a pretty small circle of people who have pushed the ethanol industry from where it started to where it is today," says Randy Aberle, Vice President at AgCountry Farm Credit Services. "POET and Denny are certainly an integral part of that."
---
DeVos, for his part, hasn't strayed far from his farming roots. He still hobby farms–works the ground in the spring and harvests in the fall–160 acres of the original family farm in Minnesota, 90 miles from his current home in Sioux Falls, South Dakota.
---
"My wife (Sue) and I have raised three great kids here. We've always believed that home is where you want it to be, and this is where we want to be," says DeVos.
---
It's that down-home, true-to-his-roots attitude that helps DeVos communicate with all walks of life.
"Denny can talk the talk of farming and banking because he's lived both sides of it," says Lezlee Herdina, Senior Financial Analyst at POET. "He has stayed true to both his farming and banking background, and those roots that made him such an effective agriculture banker make him so effective at POET."
---
For DeVos, his position gives him the opportunity to use that big-picture vision not just for POET, but for the country as well.
---
"I have a strong belief in both the economic and environmental benefits of ethanol and other renewable energy," DeVos says. "The U.S. has to solve its energy equation if it's going to remain one the leading economic forces in the world. The things we do here can be a big part of that equation. You have to have a purpose in life, and I have that here."
---
Even that big-picture vision, though, comes back to the basics.
---
"It all comes back to the lessons I learned on the farm," DeVos says. "I'm going to focus on what's good for the company. It's not just looking at today, it's asking what is right for the future of POET, the country, and the world."
---
Chris Groobey, a Washington D.C.-based partner with the law firm Wilson Sonsini, has seen firsthand how DeVos' farming roots and financial expertise combine to command respect even in the highest-level meetings.
---
"Denny brings a Heartland sensibility to finance, and that serves him well in his dealings with everyone from the financial people on the East Coast to the farmers in the Midwest," says Groobey, who represents developers and investors in renewable energy projects.
---
"Denny doesn't get caught up in the flashy, short-term deals, like a lot of financial people often do. He focuses on what's right for the future," says Groobey. "In the end we all wish there were a lot more companies like POET out there. And we all wish there were more financial leaders like Denny."
---