---
President Trump's October 2018 announcement that he will direct the Environmental Protection Agency (EPA) to lift year-round restrictions on E15 had positive implications on the outcomes of several key races during November's midterm elections, biofuels industry leaders say.
---
The industry counted significant wins in Governor and House races across the Corn Belt.
---
Several biofuels champions won their races thanks in part to increased support following the E15 announcement. Those individuals included Gov. Kim Reynolds (Iowa) and Governor-elect Kristi Noem (South Dakota). In the House, Dusty Johnson (South Dakota), Jim Hagedorn (Minnesota's 1st District) and Rodney Davis (Illinois' 13th District) all secured victories despite stiff headwinds heading into these elections.
---
"Midterm elections are never easy for the party in control of the White House. In these rural, ag-heavy states, it was important for Republicans to have something positive to show especially in light of very challenging times on the farm. The E15 announcement from the President gave these candidates something to hold on to and sell to the electorates," said Rob Walther, Vice President of Federal Advocacy, POET.
---
During the Oct. 9 campaign rally in Council Bluffs, Iowa, where Trump made the announcement, Gov. Reynolds stood next to Trump and touted the news to a cheering crowd.
---
"And Mr. President, thank you for year-round E15! Our farmers thank you, Iowans thank you, and we are grateful. Promises made, promises kept. The Midwest has a partner in the White House with President Donald Trump!" she said. Gov. Reynolds ran against Democratic candidate Fred Hubbell in a race that was described by the Des Moines Register as a "virtual dead heat" days before the election.
---
Gov. Reynolds has been a tireless champion for biofuels with the Trump administration. Year-round E15 was one of the topics of conversation during Ivanka Trump's visit to Iowa in early November before the midterm election.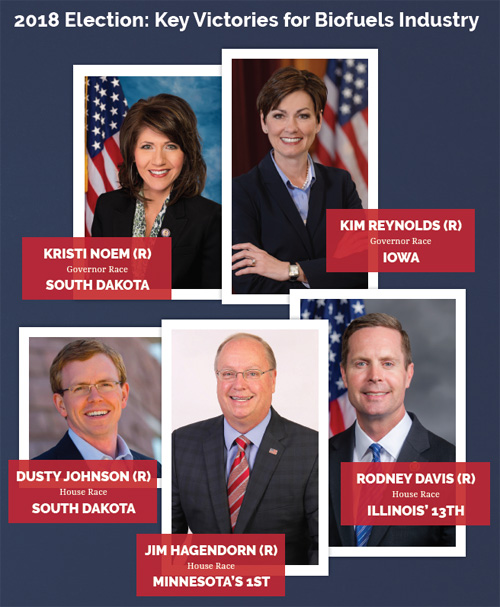 ---
South Dakota's governor race was another hotly contested seat, with Noem running against Democratic candidate Billie Sutton. Noem will make history in 2019 when she's sworn in as the first woman elected to the state's highest office.
---
Noem also has shown constant support for biofuels, most recently during a round table discussion in October 2018 with Secretary of Agriculture Sonny Perdue at POET Biorefining – Chancellor. The meeting also included Senator Mike Rounds (SD), POET CEO Jeff Broin, and farmers and biofuel producers across South Dakota. Noem discussed how she had been in previous discussions with Perdue about securing year-round E15 sales ever since President Trump announced during his campaign that he supported biofuels.
---
"This is a win-win not just for our state but also for the country and, really, our renewable energy supply," Noem said during the round table.
---
Walther, who was also at the meeting, said afterwards, "It was clear that the announcement on E15 was highly impactful in the lead up to the election given Rep. Noem's focus at that roundtable."
---
While the newly divided Congress in 2019 will create political challenges and opportunities, industry leaders are optimistic about building new relationships with new politicians across the board.
---
"Ultimately, our political outcomes will be determined by our collective ability to build relationships and tell the success story of biofuels and its positive impact for rural communities across the Midwest," said Kyle Gilley, Senior Vice President, External Affairs & Communications, POET.
---