---
On Thursday, Dec. 19, the Environmental Protection Agency (EPA) released the final annual Renewable Volume Obligations (RVO) for 2020, as required by the Renewable Fuel Standard (RFS) program. The announcement follows a rollercoaster of several months of meetings, rulemakings and negotiations among industry stakeholders and policymakers, including President Trump's announcement of a biofuels package in early October.
---
While the final 2020 RVO announcement does not fully align with the president's comprehensive biofuels announcement and subsequent negotiations, it is a step in the right direction and will help begin to put agriculture and biofuels back on solid footing after historic weather events and challenging policy developments this past year.
---
President Trump, U.S. Department of Agriculture Secretary Sonny Purdue, and EPA Administrator Andrew Wheeler have all committed publicly, directly to POET and other industry stakeholders that this rule will deliver on the promise that 15 billion gallons means 15 billion gallons. While the EPA's approach to fully realize those gallons will rely on additional actions in 2020, the administration knows that the outcome of the 2020 election is put in jeopardy if they do not deliver on the critical promise that farmers and biofuels workers are counting on.
---
Notably, on the day of the EPA announcement, Administrator Wheeler stated that "President Trump committed to our nation's farmers that biofuel requirements would be expanded in 2020. At the EPA we are delivering on that promise and ensuring a net of 15 billion gallons of conventional biofuel are blended into the nation's fuel supply."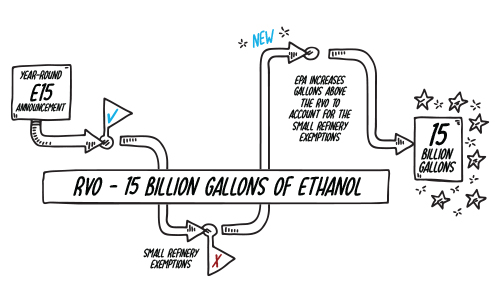 ---
The long process resulting in this final rule started earlier this summer. On July 5, the EPA issued its annual proposed rules for RVOs. However, in August, the EPA approved 31 small refinery exemptions (SREs), dropping blending levels significantly. On Oct. 4, President Trump announced a comprehensive biofuels package that contained provisions to achieve 15 billion gallons by accounting for a rolling average of waived gallons over the past three years. The package also included critical provisions on infrastructure, labeling and fuel survey modifications that would help build the market for E15. Shortly after, on Oct. 15, the EPA released a supplemental 2020 RVO rule that did not follow the President's commitment to the rolling average and instead would account for waived gallons based on the Department of Energy (DOE) recommendations for granting SREs. This was concerning because EPA waivers have not previously aligned with DOE recommendations.
---
The final rule importantly added language favorable to our industry that acknowledges that RVO levels will be set above 15 billion gallons to account for future issuing of small refinery exemptions, resulting in a net 15 billion gallons of biofuels blended.
---
South Dakota Senator John Thune stated that "In addition to reducing the number of waivers and having more accountability, I am pleased to see EPA taking additional steps to build off our win to permit the year-round sale of E15, like by supporting an infrastructure program and reducing labeling requirements."
---
The completion of the 2020 RVO levels means that our attention can now turn to these remaining aspects of the President's Oct. 4 biofuels package announcement, including deploying an infrastructure package, changing the pump label, and reforming the fuel survey. These provisions together will provide a needed lifeline for farm families by building out an additional grain market in E15, which has the potential to create 2 billion bushels of new corn demand and 7 billion gallons of new biofuel demand.
---
The last few months have been a bumpy road for agriculture and biofuels. While the final rule is different from our desired outcome it does address some of the concerns we expressed through the rulemaking process. We appreciate the commitment you made to engaging in the political process to ensure POET's voice was heard. Thank you to everyone who submitted a comment, made a call, donated to POET PAC, or spoke out on social media.
---