---
It can often be difficult to grasp the historical importance of a single moment in time. But occasionally it is very clear just how significant a moment will be. This is one of those times.
---
On June 1, POET made the largest acquisition in biofuels history and became three billion gallons strong. It will be immortalized as a new chapter in POET's story.
---
Jeff Broin, Founder and CEO of POET, began producing bioethanol on the family farm in the 1980s as way to use up surplus grain.
---
After he learned how to produce bioethanol successfully, he realized it had the potential to not only be profitable, but also make clean-burning, renewable fuels.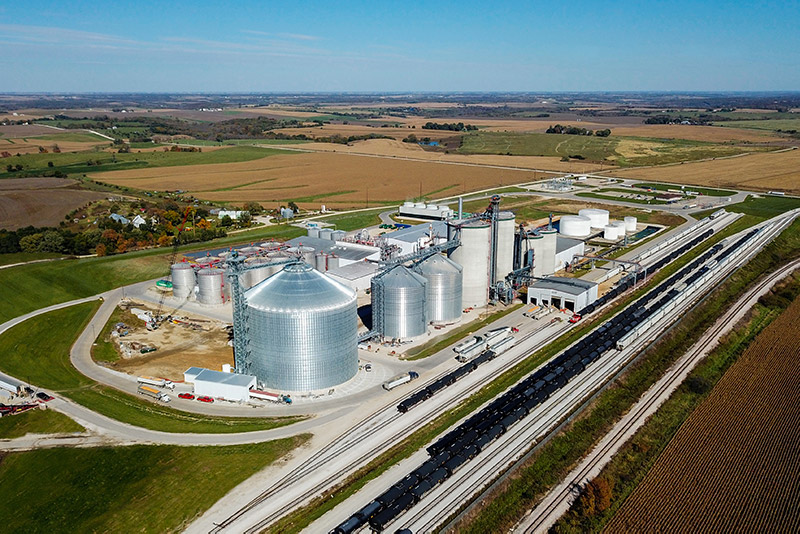 ---
Even in those early days, he had the vision of what it could become. That's why in 1987, Broin acquired a defunct one-million-gallon bioethanol plant in Scotland, SD. He realized even then that biofuels could change the world.
---
"What we learned in those early days set a trajectory for growth that we couldn't have understood at the time," said Broin.
---
Within a few years, Broin expanded the company's ability to provide renewable fuels and plant-based bioproducts by building a four-million-gallon bioprocessing facility in Aberdeen, SD.
---
Many 10-15-million-gallon plants were added shortly after that, followed by a 40-million-gallon plant and finally a 150-million-gallon bioprocessing facility in Marion, OH.
---
"It took us those early years of perfecting the technology, making it sustainable. And then demonstrating that we could scale it up, which we did," said POET President and Chief Operating Officer, Jeff Lautt. "And then, in the mid to late 2000s, we were able to produce enough capacity as an industry to make a standard fuel here in America and start exporting meaningful quantities as well."
---
As the plants grew, so did POET's team. It grew from 13 original team members to 2,200, with a company headquarters in Sioux Falls, S.D. and corporate offices in Wichita, K.S. and Washington, D.C. Talented team members united by a common purpose and goal: to provide renewable, high-quality, plant-based biofuels and bioproducts to the world.
---
"It took 33 years to build this company to where we are prior to this announcement—2.2 billion gallons per year. The largest biofuel company in the world," said Broin. But Broin is never satisfied with the status quo. He understands the enormous potential of agriculture and biofuels to meet the needs of the present while changing the world for the better.
---
POET has always been focused on increasing capacity and its suite of renewable product solutions. Over the first 20 years, POET grew its roots from the humble one-million-gallon bioethanol plant to a production capacity of one-billion-gallons. 12 years later, POET had doubled its annual production capacity to two-billion-gallons.
---
On June 1, 2021, just two short years later, POET cemented its place in biofuel's history with an unprecedented annual production capacity of three billion gallons with the purchase of the Flint Hills Resources bioethanol assets. The assets include six bioprocessing facilities in Iowa and Nebraska and two terminals in Georgia and Texas.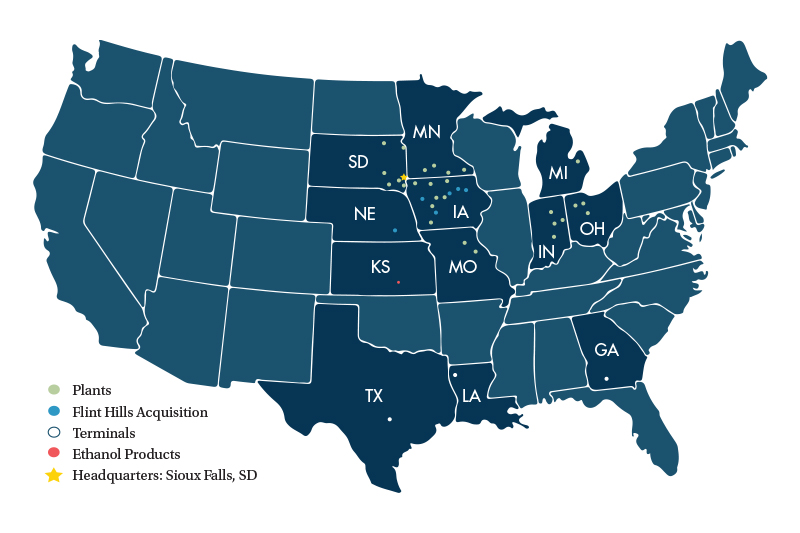 ---
"POET has been growth company since we formed the company out of bankruptcy in 1987, by buying a defunct plant and then perfecting the technology and scaling it up over the last three plus decades," said Jeff Lautt, President and Chief Operating Officer for POET. "We're very patient. Our strategy is to think long-term, but also be very growth oriented at the same time."
---
During the company's internal announcement of the acquisition, Broin stated, "There's still tremendous potential for growth. We could grow in a way that would put POET in a league of our own. This growth could make POET a force in the bioproducts space for
decades to come."
---
POET has been active in the acquisition space for a number of years but had yet to find the right opportunity. "We have a very stringent kind of criteria in terms of what would meet all of the needs if we were to complete a transaction," said Lautt.
---
It is said that patience is a virtue, and this time it has paid off to the benefit of the company and the world. The bioethanol assets acquired by POET include world-class facilities that have been well-maintained and strategically complement the company's existing footprint, allowing POET to grow an even stronger presence in areas it already operates in and understands very well.
---
"With our current scale and success and track record, we're very excited and confident to acquire this business and integrate it into POET's system and continue to grow our input into the biofuels and bioproducts space here domestically and globally," said Lautt.
---
The deal closes almost one year after the start of the COVID-19 pandemic which slashed fuel demand in half as Americans stayed home.
---
"I often say, the good Lord is always trying to teach us patience. We have been looking at many acquisition opportunities for years. I believe God brought us the right opportunity at the right time," said Broin.
---
Why would Flint Hills sell their bioethanol assets? "Quite frankly, I don't believe they have the vision that we do," said Broin. "We have passion for this industry. We have faith in its future to power our world using the sun, the soil and the seed and return to a more natural balance. We believe in creating a better world for our children and our grandchildren."
---
It is this unwavering belief in the power of agriculture and biofuels that power the growth of this industry. Society will need liquid fuel sources to power aspects of the clean energy economy today and for decades to come. That's why POET is essentially doubling down on plant-based biofuels and bioproducts to help meet the challenges of today—most notably climate change.
---
"With this move, we're demonstrating our commitment to the future of low-carbon, plant-based liquid fuels," said Broin.
---
Recent studies demonstrate the power of biofuels to immediately contribute to decarbonizing the transportation sector and lower greenhouse gas emissions.
---
"What is so important about our value proposition is it is significantly reduces carbon. It is going to be a major solution to the climate plan domestically and globally. We feel we have an advantage because it's a here and now solution, and one that has significant scale today with the ability to continue to scale up into the future," said Lautt.
---
Bob Casper, POET's Chief Commercial Officer agrees in the role biofuels will play in a future more focused on climate initiatives than ever before. "We are on the cusp of a new sustainable economy that will be powered by renewable energy. Bioethanol is critical to this new economy and will continue to be so for years to come."
---
For Broin, this critical moment is another building block in his decades of tireless work to ensure the growth not just of POET but of a brighter world for future generations.
---
"We are one POET. Stronger than ever, and stronger than anyone else in the biofuels industry," said Broin.
---