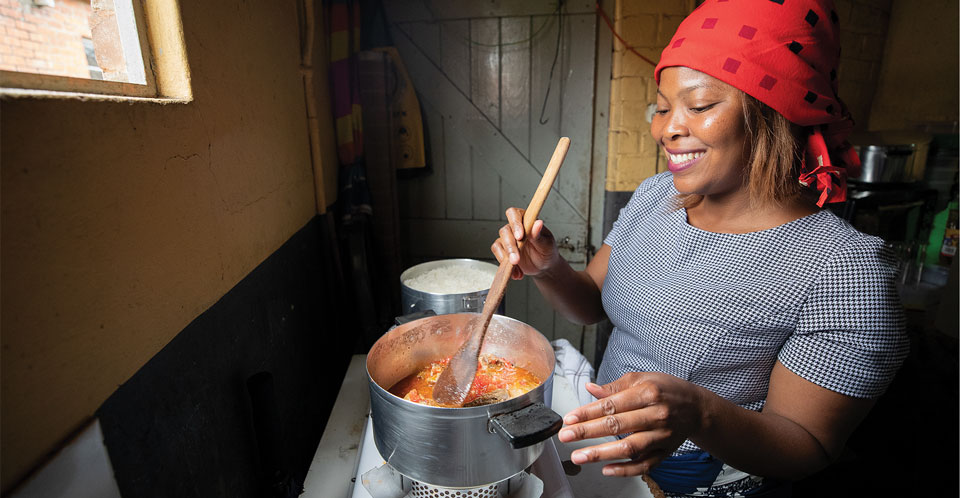 ---
Did you know that over 3 billion people still cook their meals on open flames or inefficient stoves powered by solid fuels like charcoal and wood every day? Or that the demand for those fuels is a leading driver of deforestation, with over 50% of all wood harvested worldwide being used as fuel?
---
Cooking with solid fuels also results in one of the greatest health threats to individuals living in developing countries, particularly women and children as they tend to spend more time in the home. More than 4 million deaths are attributed to indoor air pollution each year—that's more than the amount caused by malaria, tuberculosis and HIV/AIDS combined.
---
It is often assumed that this problem is restricted to rural communities; however, city dwellers are greatly impacted as well. In sub-Saharan Africa alone, nearly 80% of individuals residing in urban areas (approximately 380 million people) are still cooking with solid fuels, thickening the smog of airborne toxins that blankets most large cities.
---
The need for a sustainable clean cooking solution is universal but unfortunately has long lacked the awareness and international support it deserves. That's why Mission Breathe, one of three core programs supported by Seeds of Change, has been working since 2014 to improve the health and living conditions of families in developing nations by eliminating indoor air pollution through access to cookstoves powered by clean-burning biofuel.
---
"Cooking with solid fuels is a prevalent issue, and one not often directly addressed," said Alicia ElMamouni, Seeds of Change Director. "As it becomes increasingly clear that there is a huge need for clean energy, who better than Seeds of Change to be a major part of the solution? POET has long been a proponent for a cleaner planet, and this aligns well with the company's goals while also tackling significant social and economic issues."
---
The myriad benefits that ethanol has as a cooking fuel mirror those it has as a transportation fuel: it's cleaner, healthier, more cost-effective and more practical. Biofuel cookstoves are truly the best, most viable alternative to solid fuels and address all facets of the indoor air pollution epidemic.
---
First and most importantly, clean cookstoves are far superior in terms of health risks—because there are none. While charcoal smoke, for instance, emits methane, carbon monoxide, hydrocarbons and other harmful particulate matter, ethanol's emissions are virtually nonexistent, save for a little water vapor and carbon dioxide. That's a literal breath of fresh air in comparison to the cloud of smoke that constantly permeates most homes in countries like Kenya and Mozambique.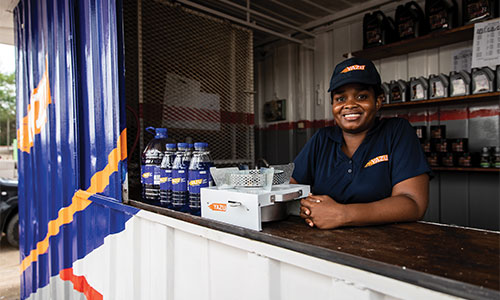 ---
And the cookstoves are just as beneficial to the health of the planet. While they do produce some carbon dioxide, the impact is minimal and largely negated as the crops grown to produce ethanol utilize the gas. In addition, every stove offsets four tons of carbon each year it is in use, making them indisputably more Earth-friendly than their wood- and charcoal-burning counterparts.
---
Furthermore, when there's no need for wood to be used as fuel, there's no need to cut down trees. Biofuels like ethanol are produced from crops that are already being grown on existing farmland, whereas even reduced-wood stoves, which are another popular cooking option, contribute to global greenhouse gas emissions and deforestation. And while deforestation is widely known as a contributor to climate change, it also plays a lesser-known role in other pandemic issues.
---
For example, mass tree removal causes soil erosion, nutrient depletion and, in some cases, desertification, making land that was once arable unproductive and causing many countries to become more and more susceptible to food insecurity. Additionally, those same countries then also lack adequate vegetation for protection and are extremely vulnerable when natural disasters hit. This is especially evident in countries like Haiti, where less than 5% of the forest cover remains.
---
As more wood is cut down and supply dwindles, the prices of firewood and charcoal go up and exacerbate the economic disparity experienced by families who already struggle to afford everyday necessities as it is. Biofuel cookstoves are far more economical and can help lower household energy costs in the long run. Seeds of Change provides assistance to lower the cost of each initial stove purchase in order to maintain an affordable price point, and the subsequent ethanol fuel purchases cost less, last longer and cook faster than solid fuels.
---
Biofuel cookstoves have the potential to stimulate the economy at all levels. This new market for ethanol will require higher volumes of production and therefore generate demand for agriculture across the globe, initiating synergetic growth for the ag and biofuels industries. Plus, as more and more farmers find success through Seeds of Change's Mission Grow program and add to the existing 20-billion-bushel worldwide surplus of grain, expanding the ethanol market to accommodate that surplus will be essential. As demand grows, both ethanol and cookstove manufacturing facilities will increase production and storefronts will open to sell stoves and fuel, creating local jobs in manufacturing, marketing and sales.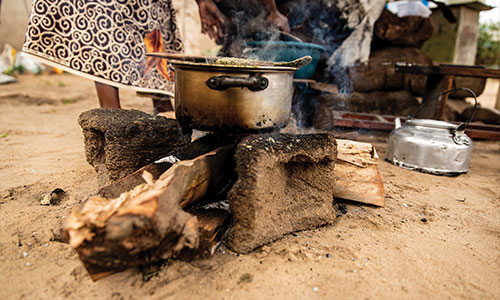 ---
Perhaps the most important impact of clean cooking is the social benefit it offers. By creating a clean home environment and reducing time spent on chores, there is increased ability to learn and work. Women and children — who are typically tasked with gathering fuel, cooking and clean up — have more hours in the day to attend school or work and don't have to risk their safety to venture far from home to procure firewood or charcoal. Families are able to save money that would have otherwise been spent on solid fuel (or health care as a result of its usage) and can allot more funds to important expenses such as food, clothing and education.
---
Put simply, biofuel cookstoves can improve the quality of countless lives, and that in itself is more than enough reason to advocate for their widespread adoption.
---
"We founded Seeds of Change on the 'teach a man to fish' principle — giving people the resources they need to create their own solutions to poverty. Sustainability is always the goal, and our projects are meant to eventually stand on their own so we can move on and help more people," said Jeff Broin, Seeds of Change Co-Founder and Board President. "We are invested in this project because it meets that criteria."
---
Mission Breathe is backing the clean cookstove endeavor in several different ways. One is the aforementioned stove assistance program, which ensures that cookstoves are affordable to individuals in every income bracket. The program also offers support for small business startups, as they can often face challenges with large capital expenses. This is done through a revolving loan fund, which helps said businesses with their initial bulk stove purchases to free up working capital. The loan is repaid as stoves are sold, and as the fund is replenished it can be transferred to help finance another startup business in the sector, enabling the project to flourish.
---
"In addition to inventory, initial infrastructure costs can be daunting for a new business," said ElMamouni. "Seeds of Change recognizes that there is opportunity to provide assistance in that regard as well, whether that means opening flagship stores to promote cookstoves and biofuel, co-branding with existing store locations, or providing funding for storage, warehouse facilities and equipment. It's all necessary for these businesses to be successful."
---
There are currently over 100,000 stoves in the hands of consumers around the world, but there is still much to be done to make biofuel cookstoves a fixture in everyday life for those who can benefit from them the most. Governments must establish policies that support clean energy. Distribution and supply chains require development so that a quality and consistent product can be provided, and both public and private sectors must be more involved in initializing funding to expand the market and earn clean cookstoves a chance to compete equally.
---
One of the most challenging but important components of this endeavor is marketing, which Mission Breathe will be supporting as the initiative shifts to a pilot program in Mozambique. Biofuel cookstoves are present there currently but are not operational; a prior project had experienced some complications that prevented proper stove function and adequate fuel supply. The project was initially well-received and popular, so there is a great opportunity to revitalize the market by promoting a new brand, an improved model of the stove, and sufficient, quality fuel.
---
In addition to the commitment from Seeds of Change, this initiative has been made possible by donors like Growth Energy, whose support has been vital to the success of Mission Breathe.
---
"We are proud to be a part of Mission Breathe's efforts to replace antiquated and unhealthy cooking techniques with cookstoves that run on a more affordable and cleaner-burning renewable fuel: ethanol," said Growth Energy CEO Emily Skor. "Ethanol cookstoves are just one more way that biofuels are helping to create a healthier future for our planet, and we're happy to lend support to such a worthwhile cause that impacts so many."
---
Clean cooking is an exciting frontier that Seeds of Change is very passionate about. The potential to improve so many foundational parts of the world—human health, the environment, the social status quo and developing economies—through one project is a unique and crucial undertaking.
---
Mozambican Silvia Mataval is not only looking forward to using a stove regularly but also helping to promote them alongside her husband as a stove representative. Her words reflect the hope for a better future that can be created through this transformative, sustainable solution.
---
"As we begin to work in stove promotion, I see my future developing, and can't wait to go back to school and become a teacher. It is something I have long dreamed about."
---