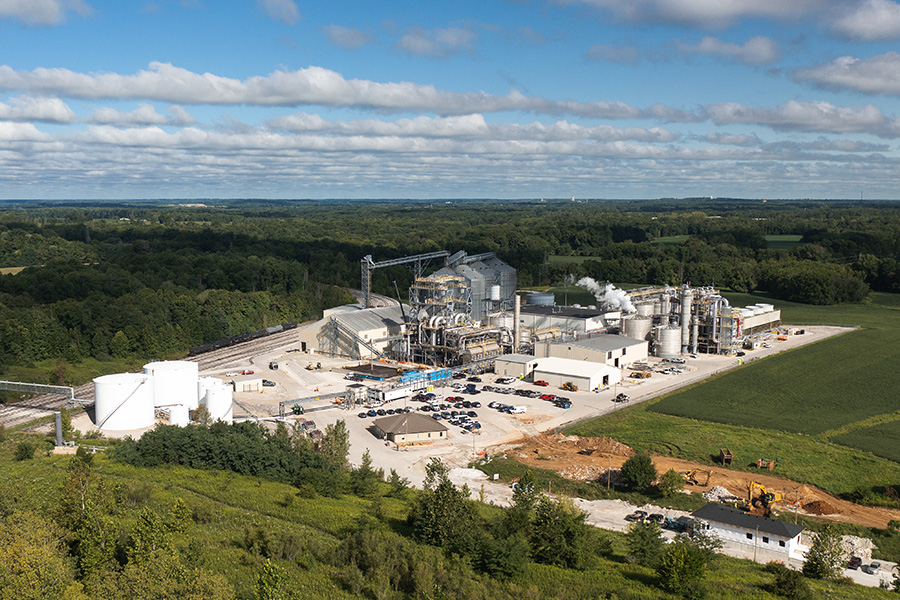 ---
In the spring of 2022, POET announced that it would be reopening its bioprocessing facility in Cloverdale, Ind., where production had been temporarily idled several years prior. After completing facility upgrades and onboarding new team members, the plant celebrated its grand reopening on August 31, 2023.
---
"POET is proud to work with more than 40,000 American farmers as we harness the power of agriculture to create a more sustainable world," said Jeff Broin, POET Founder and CEO. "The addition of our 34th bioprocessing facility displays our commitment to growing the bioeconomy, and it is with immense pride in our team and gratitude to the surrounding community and the state of Indiana that we reopen POET Bioprocessing – Cloverdale."
---
POET – Cloverdale is one of five POET facilities in the state of Indiana. Operations were halted in 2019 for a variety of reasons, including production inefficiencies and regulatory challenges. But circumstances have changed over the last few years, including better management of the Renewable Fuel Standard (RFS) and strong support for E15 at the state level, and POET leadership saw an opportunity to reinvest in Cloverdale with bright hopes for the future.
---
"We've made pretty substantial process and site reliability improvements that are going to lead us to have an asset that's a high-performing plant within our fleet," said Matt Braun, Senior Vice President and General Manager for POET Bioprocessing.
---
The capital investment at Cloverdale amounts to $30 million in new technology, which Braun estimates will position the plant for the demand of around 34 million bushels of corn annually — about a 15 percent increase from where it was sitting in 2019.
---
These improvements will bring the plant up to speed with other facilities in the POET network. The Cloverdale location was acquired in 2010 and needed significant upgrades to meet POET's design and production standards at the time. While some of those upgrades were made initially, this second round of investments will bring the plant where it needs to be on a competitive level.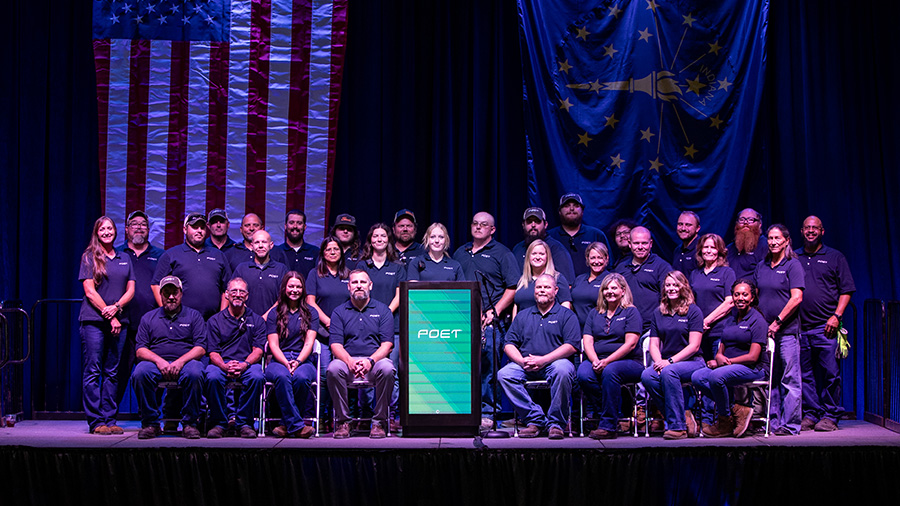 ---
"The investments we're making today are significantly broader in scope, and it'll be right up there in the top tier of our plants in terms of overall size and production," Braun said.
---
These include changes to the distillation system, modifications to improve water balance, upgrades to automation systems, improvements to the administration building, and constructing additional enclosures to make the plant more operator-friendly.
---
Overall, POET leadership feels that these improvements will make Cloverdale a state-of-the-art location.
---
"It's a good facility, which is why we acquired it originally. We're looking forward to seeing the benefits of these modifications and having the plant operate at a much higher level of performance," said Rod Pierson, Senior Vice President of Operation Excellence at POET.
---
Technical updates aside, a critical element of any plant's success is its culture. In order to reopen, Cloverdale needed to hire about 50 new employees. When it came to rebuilding that team, it was important to ensure that all the people coming in were aligned with POET's values.
---
"We're still looking to round out our team," said Jeremy Jacobs, General Manager of POET Bioprocessing – Cloverdale. "We're hoping to bring on a few more team members to fill our last roles. We've had great success with the team we have now and are looking forward to continuing to support local farming families and the community."
---
Cloverdale's Plant Manager, Chris Williams, started on-site in February 2023, and he says that a positive workplace environment was his number one priority when searching for a new role.
---
"I have 16 years of operational manufacturing experience, and when I started looking for a new career path, it was solely culture-driven. I wanted to be part of a team and work in an environment where people mattered," he said.
---
While on the job search, Williams had the opportunity to meet with POET team members at another location in Indiana. He said they all spoke highly of the organization and how well employees were treated — inspiring him to take a closer look at POET's culture. What he found really stood out to him.
---
"They're consistently communicating that you park your ego at the door, and everyone is part of the same team," he said.
---
When the plant manager role opened up, Williams jumped at the opportunity to build a team from the ground up while working for an impactful organization. Creating that team was his first responsibility on the job, and with the help of two other managers, he began interviewing candidates and making hiring decisions.
---
"We've ensured that the individuals we interview and match to positions are willing to foster POET's 'win together' attitude and really understand the culture here and what an amazing organization it is to work for," he said.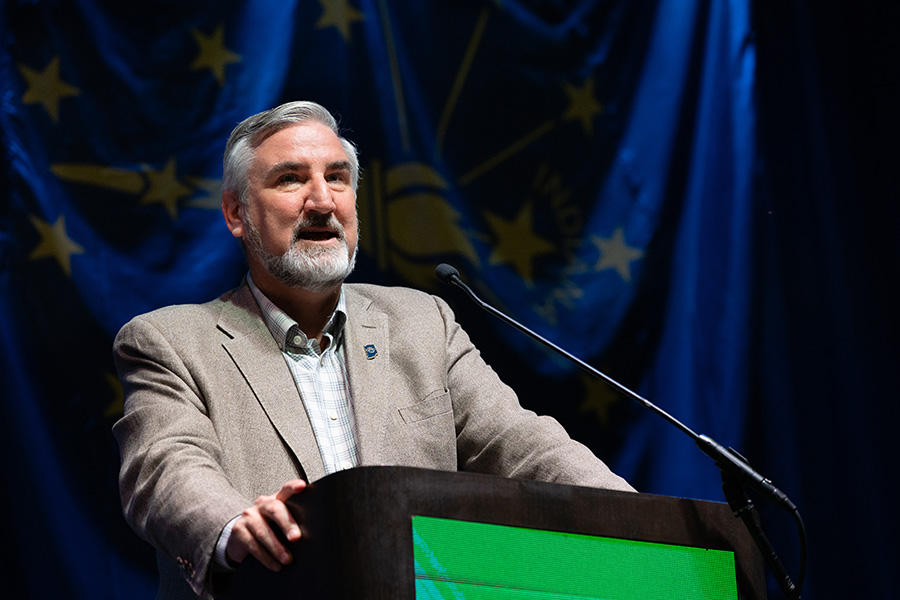 ---
He added that it's one thing for a company in the manufacturing industry to profess strong values, but it's another thing for them to genuinely mean what they say. That wholehearted commitment to culture is what truly sets POET apart as an employer.
---
"In the limited amount of time that I've been here, there is not a single person I've spoken with who hasn't been willing to go out of their way to help me. That tells me that POET is the type of organization that actually stands behind what they say," he said.
---
Finding ways to support the communities it calls home is just another way that POET stands by its values.
---
Typically, plants make an effort to do community outreach in their region by connecting with local leaders, providing educational opportunities for students or recent graduates who might be interested in the industry, and supporting area charities and events.
---
"We're in a growing stage right now at Cloverdale, but we want to be part of the community, foster a positive image, and ultimately build up the community we call home," said Jacobs.
---
As the plant resumes operations with a 95-million-gallon-per-year capacity, POET looks forward to re-engaging with Putnam County and making a positive impact on local economic development. The facility is providing new jobs in the area, as well as an additional outlet for local farmers and producers to sell their grain.
---
"Cloverdale has never fully been shut down," said Jacobs. "While the biofuel production was idled, the grains team continued to work with local farmers to provide a market for their grain. Their grain was transported to other POET locations to be processed. We are excited to see the expansion of the local markets and increase our support of the rural economy."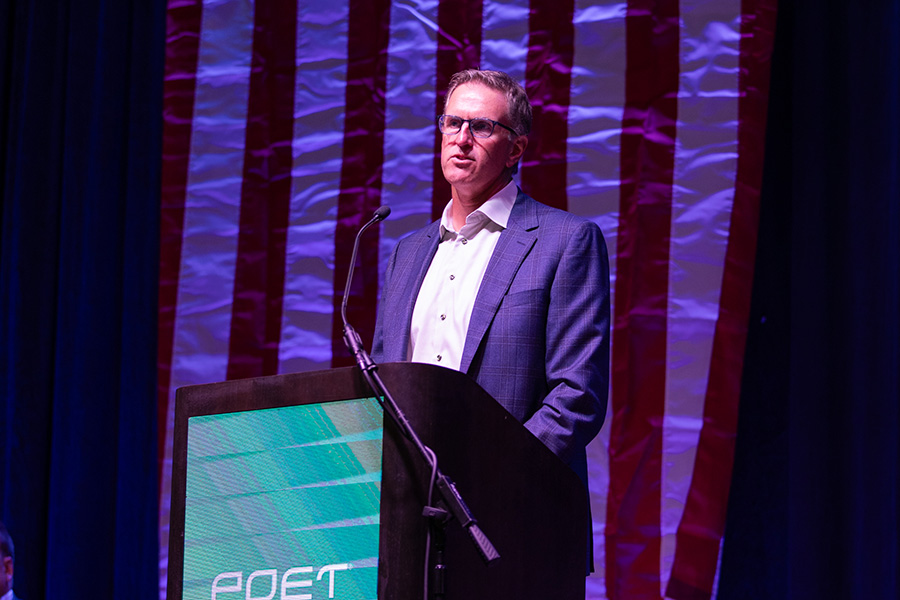 ---
That local support for farmers will only increase as POET – Cloverdale starts up.
---
"We think it will increase local grain values like it has at all of our other plants, and it should provide more value for farmers," Pierson said. "It's a little early, but we're encouraged that the local area is excited about the startup."
---
POET is proud to enter the next chapter of Cloverdale and anticipates continued opportunities for advancing innovation in the biofuels sector.
---
"At POET, we believe the future of biotechnology lies at the intersection of innovative science, practical engineering, and responsible agriculture," said POET President and COO Jeff Lautt. "This facility will continue POET's legacy of creating value for rural America, and we look forward to continuing our collaboration with the state of Indiana for many years to come."
---