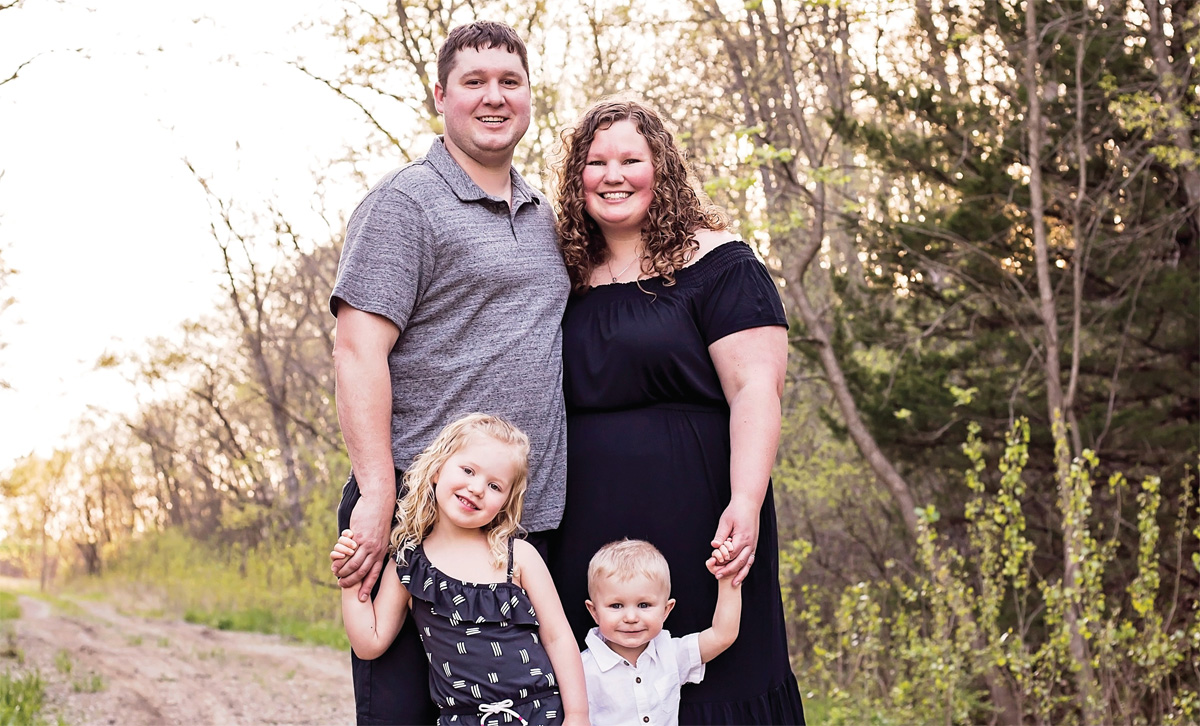 ---
What makes a good leader?
---
Servanthood.
---
Ben Arentson is an admirable example of servant leadership. At work, he's the quality manager at POET Biorefining - Corning in Iowa, and he's been there for over three years. But in life, he's a husband and father who nearly lost his newborn son two years ago.
---
"Not knowing how severe his diagnosis was at the time was very difficult," Ben says. "We didn't even know if we were going to bring him home or not."
---
His son triumphed, and Ben, too, emerged from the experience a stronger father and a stronger leader in life, because his reaction was to step up and give back to those who helped his family along the way.
---
"Leadership is all about being a servant to others," Ben says.
---
His colleagues at POET Biorefining – Corning applaud those leadership skills with the hope that his actions continue to motivate others.
---
"Ben is an amazing person," says Greg Olsen, POET Biorefining - Corning's General Manager. "He's brilliant, but not only that, Ben knows how to relate to people. He's always the first to help out with anything, always the first to dig in."
---
Arentson understands that whether in work, family or community, anyone can be a leader in any circumstance when the person simply chooses to step up and serve others.
---
"We put way too much time into work, and sometimes we forget about putting time into our families or putting time into our communities," Olsen says. "We need to make the time for the things that are important. That's what makes us good leaders. Ben is truly a leader in life."
---
DAX'S DIAGNOSIS
---
In March of 2016, Ben and his wife, Nikki Arentson, welcomed their second child, a son named Dax, into the world. He was born a healthy baby boy, but about a week after his birth, they noticed he wasn't eating well.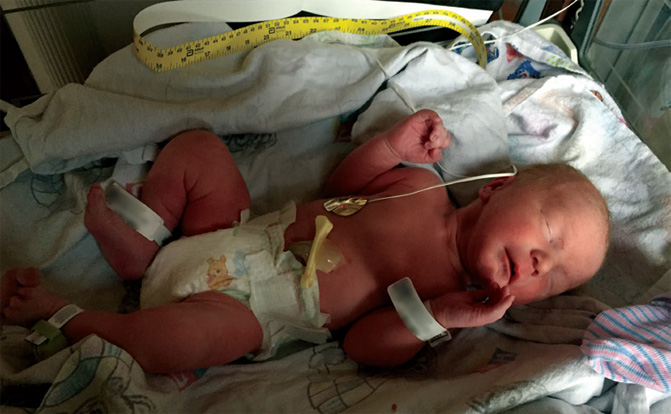 ---
"He was really lethargic, and my mom gut just knew it wasn't right," Nikki says. "I think I took him to the doctor four times in the first two weeks of his life."
---
When they visited their pediatrician in Omaha to run some tests, they met with occupational therapists who suggested a feeding tube and then sending him home.
---
"But about 30 minutes before we were supposed to be released," Ben says, "the doctor came in and said with a real grave face, 'Your son has HSV meningitis. This is very serious, and we don't know if he is going to make it at this point.' "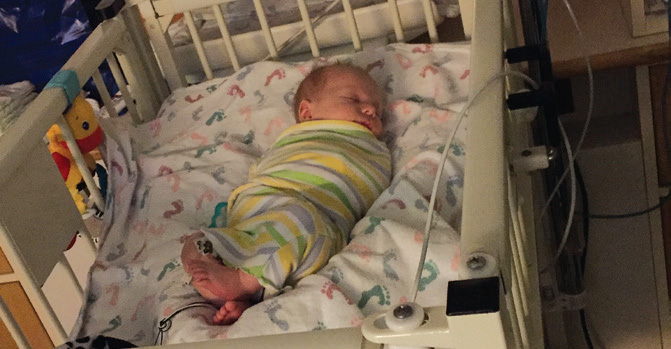 ---
They sent Dax to Children's Hospital and Medical Center, where he spent the next 21 days receiving daily IV doses of antiviral medicine.
---
"My wife was so strong," Ben says. "But I was devastated that we had this creature in the womb for nine months, we'd only seen him for two weeks, and it would be devastating to lose him.
---
"I got in the ambulance, and he was in a little, clear plastic crate. It's normally about a 20-minute drive to Children's, but it felt like two hours to me," Ben says. "Just a really long, silent ride."
---
Those first few days at Children's were difficult for Ben and Nikki, because they did not know the severity of Dax's diagnosis and had to watch as he endured more testing. In addition, they also were in isolation.
---
"Because they did not want to further compromise Dax's immune system, anybody who came into the room had to wear a gown and mask," Ben says.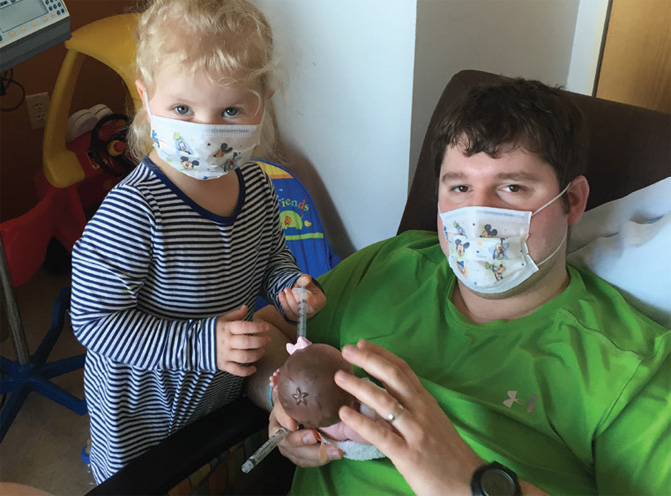 ---
Their daughter, Tatum, then 3 years old, was allowed to be in the room, but she could not spend the night, and she could not play outside the room for the first few days. The new family of four could only sit, "wait and see," and pray for the best.
---
THE PLAYROOM
---
A few days into their stay, tests confirmed that Dax's meningitis was only in his spinal fluid, which meant initial precautions were removed, and the family was able to move about the hospital more.
---
Most importantly, big sister Tatum could go play.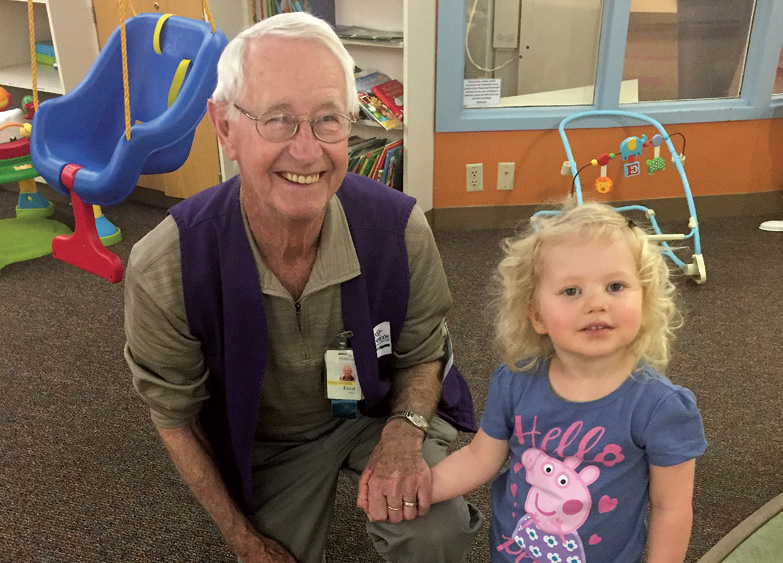 ---
Children's Hospital and Medical Center has a playroom on every floor designed to provide an atmosphere that children are familiar with, says Terry Patterson, manager of family resources at the hospital.
---
"Play and activity is really how children learn about the world," he says. "Toys, books and games aren't as frightening as a hospital setting. In the playroom environment, they can come in, just be a kid, do what kids do, and that's play."
---
Patterson says once a child finds the playroom, it's the only place they want to be, and the same was true for Tatum. But it was difficult for Ben and Nikki to leave Dax's side and be with her, so the hospital stepped in.
---
"They had wonderful volunteers who would go down with her," Ben says. "It was really a blessing to have the Children's staff there at Tatum's side. We knew she was taken care of, and it really made it more like home."
---
TOY DRIVE FOR THE HOSPITAL
---
On day 21, Ben and Nikki received blood test results that confirmed Dax was cleared of his diagnosis, and he could go home, where he continues to live a healthy life as a happy and "ornery" toddler today.
---
But to walk away wasn't enough. Ben and Nikki felt so grateful for the support they received at Children's that they were compelled to step up, do more and show their appreciation, like any leader in life would do.
---
"When Dax's birthday came around, we knew we really wanted to give back," Nikki says. "Children's had given us a lot that year. We stayed at Children's all 21 days like it was our home. Ben and I shared the same little couch bed, and we never left. We knew we needed to give back because there were a lot of families there and a lot of kids there in need."
---
So for Dax's first birthday party, they asked family and friends for toy donations that they then would deliver to Children's Hospital and Medical Center.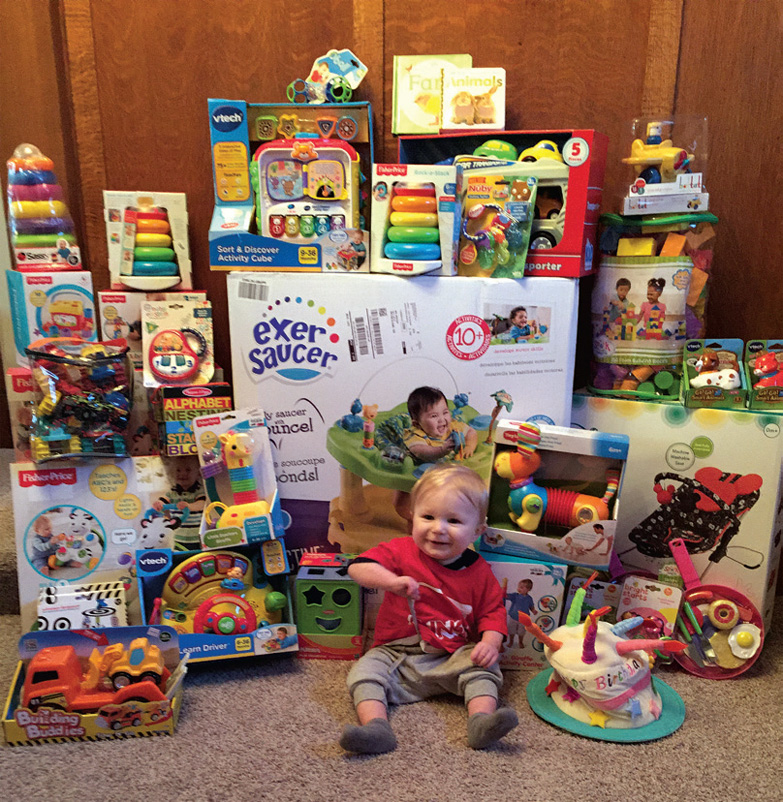 ---
"We were able to collect a ton of toys, and my mother and father-inlaw gave a really generous donation that we were able to give to the floor that Dax stayed on," Nikki says. "They were able to buy new toys for the playroom and buy toys for the kids that couldn't go to the playroom."
---
When they delivered their donation, they took pictures and, for nostalgia's sake, ate lunch at the same cafeteria they used during their three-week stay.
---
"We're very thankful for families like Ben and Nikki who, after they've had experiences here, want to give back to us," says Patterson. "We have thousands of kids that come through our playrooms and through the hospital on a yearly basis, so our toys get a lot of use. When we get donations like what Ben and Nikki provided for us, we get to replenish toys that are in here; we get to refresh the room."
---
And the tradition continues. Dax turned 2 in March, and they collected toys once again for the hospital. Tatum also wanted to donate gifts for her fifth birthday in April, so she collected toys and treats for local shelter dogs.
---
"We plan on doing this going forward," Ben says. "It's very gratifying."
---
LEADER IN LIFE PROGRAM
---
After Dax's successful toy drive, Ben was able to talk about that experience with his colleagues through a leadership program at POET Biorefining - Corning called Leader in Life.
---
A couple years ago, Olsen began offering a curriculum that helps employees realize both their responsibility and their privilege as a leader both in and outside of work. He leads classroom sessions on self-discovery, recognition of accomplishments and goal-setting, where participants gain perspective on how to positively impact their communities. At the end of the curriculum, participants design and present a service project of their choice and then receive an award. Because Ben and Nikki had just completed their toy drive, Ben willingly shared his personal story.
---
"I think Ben's project was a perfect example of being a Leader in Life, because he found something that was truly important to him," Olsen says. "When his son got sick, it was very unexpected, but this was a way for him to give back and show that he appreciated everything that Children's did for his family. He may not recognize it yet, but he set an example for his kids they'll never forget."
---
The Leader in Life program not only reinforces all the simple ways we can lead by example; it also reminds participants to prioritize time for themselves so they can be strong and healthy leaders for others. Olsen says that effective leaders have confidence in their strengths and are emotionally committed to serve others.
---
"We are not just leaders at work, we are leaders throughout our life," Olsen says. "If you are a parent, you are a leader. If you are involved in your community or your church, you are a leader. If you have the type of heart that wants to give to others to help them grow—to help them become the best they can be — that's a successful leader."
---
Olsen sees that in his management team at POET Biorefining - Corning, and both he and Ben are proud to be part of a company that supports one another.
---
"I couldn't have asked for a better work family," Ben says.
BEN ARENTSON

HOMETOWN
Grew up in Harlan, Iowa; lives in Red Oak, Iowa, today.

EDUCATION
Bachelor's degree from Buena Vista University in Storm Lake
PhD in Biochemistry from the University of Nebraska-Lincoln in Lincoln, Neb.

FAMILY
Wife, Nikki; daughter, Tatum, 5; and son, Dax, 2.

HOBBIES
Attending Iowa State athletic events and yard work.
---
LEADERS AT POET
---
Shortly after Dax was released from the hospital, Ben recalls a POET Plant Management meeting in which Neil Anderson, POET's Vice President of Operations, was in attendance. As soon as Ben walked into the meeting,
---
Anderson was quick to approach Ben and say, "Hey, Ben. How is your son, Dax, doing?" It meant a lot to Ben. Anderson says that kind of recognition and support is not only the right thing to do, it's ingrained in POET's culture.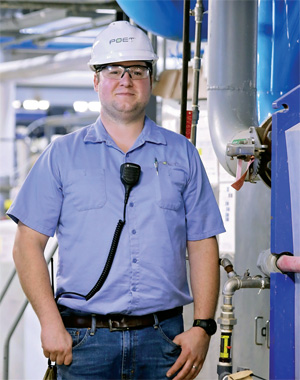 ---
"I view the POET organization as one large team," Anderson says. "For any team to achieve its true potential, the members need to care for one another as well as feel cared for. I was simply doing what anyone would have done given the situation, and I thank God that everything turned out for the best with his son."
---
The Arentsons could not agree more.
---
"We feel so blessed that our little boy is fine and well today," Ben says. "When he was in the hospital, we had family members, coworkers and friends who without hesitation would do things for us, and that really solidified for us this idea that leadership is all about having a servant heart.
---
"It's so clear to me now how important it is to step up and help those around you, just letting people know that we are all fighting the same fight," he says. "We're going to do it to the best of our ability, and we're going to do it together."
---