---
The motto for the central Iowa town of Menlo, population 353, is "A town of few, and friend to all." There, among the picturesque winding roads and rolling, corn-rich prairie plains, new POET Bioprocessing – Menlo General Manager Chris Morey is finding that motto means exactly what it says.
---
"The people here are just very nice, Midwestern folks," he says. "They're very welcoming and eager to meet new people. As I've made my way around town, I've gotten to know the fire chief and others who enjoy talking about the plant. It's been good."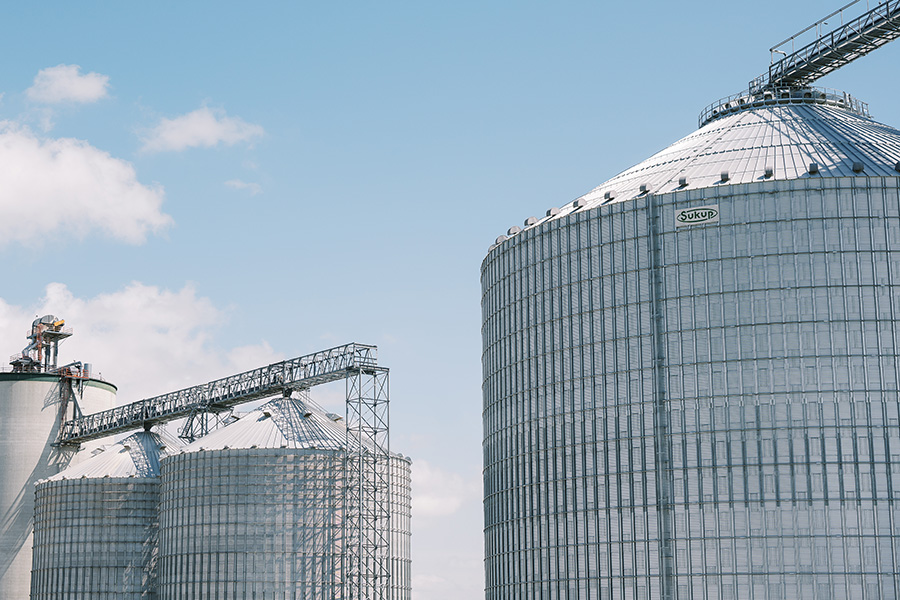 ---
Morey worked in the finance and research divisions at POET's corporate office in Sioux Falls for eleven years. Moving to the Menlo area was an exciting transition not only for Morey but for his wife and two daughters as well.
---
Before he became general manager, Morey had the opportunity to see the Menlo team work together in fast-paced, high-pressure situations. President Biden visited POET Bioprocessing – Menlo this past April, giving the POET team notice of only two business days.
---
"A presidential visit means a lot of preparation work and the eyes of the country on POET," says Morey. "The team pulled off an incredibly successful event, and I'm proud to be able to join a team as effective as this one. President Biden was the fourth president to visit a POET bioprocessing facility. So, as a whole, we're not new to hosting a president, but it was definitely a once-in-a-lifetime experience for this team."
---
While Morey is not new to POET, this is his first assignment as a general manager, and to say he's excited is an understatement. Part of that includes looking forward to opportunities to continue building strong relationships within the community.
---
"We already have scholarships we support," he says. "We support four area county fairs. We're planning to donate some equipment to the Menlo Fire Department, as well as a number of other activities. But while it's always good to give financial support, one of my goals is for us to stay active and involved in our
local community."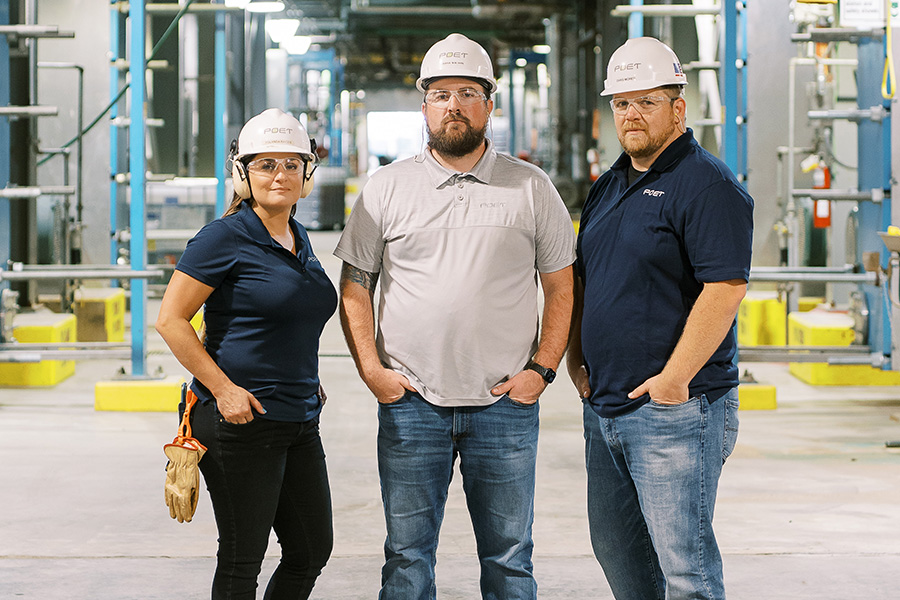 ---
Big addition to the POET family
---
POET Bioprocessing – Menlo is one of six bioprocessing facilities that were acquired from Flint Hills Resources by POET in 2021. At an annual production rate of 132 million gallons of bioethanol, Menlo is one of POET's largest bioprocessing facilities. But according to Morey, there is another feature of the plant that is "big."
---
"We have what was, until recently, the largest grain bin in the world at 1.9 million bushels," he says. "It's affectionately known as 'Mega Bin' and is almost comically large. As I see it from my office window, it dominates the landscape."
---
But Mega Bin aside, the thing that's most exciting about Menlo to Morey is the opportunity to be a part of a team that is making a difference from the ground up.
---
"All of the outstanding things POET does — in the rural communities, for farmers, for Africa — all stem from operations in our plants. Being here is exciting to me."
---
Chris Morey, General Manager
---
Morey describes his first weeks on the job as "drinking from a fire hose" but is enjoying getting to know the people and the job. He comes in the mornings to be present for the shift change and talks with team members from both shifts. He characterizes the workforce at the plant as a "generally young group, with a solid core of tenured team members." It's a good mix, with each group learning from the other. He's proud of the team members' work ethic and says they're glad to be part of the POET family.
---
"They're really excited to be part of an organization whose focus is on changing the world, creating bio-based solutions and growing rural economies," he says. "Having the passion that POET brings for renewable fuels has really been refreshing for folks."
---
"Working and enjoying what I'm doing"
---
Before there was a bioethanol plant at Menlo, Dave Wilson was there.
---
"I began in 2008 by working for a contractor who was building the concrete grain silos because it was close to my father's farm,"
he says.
---
When the plant opened, first as Hawkeye Growth, he applied for a job as a loadout operator. From there, he steadily worked up the ladder through a variety of positions to become plant manager in 2018 for what had then become Flint Hills Resources. He says that over that time, what he enjoys most about his job has evolved.
---
"Initially, I liked working with the grain, troubleshooting, and learning about the bioethanol business," he says.
---
"When I came into a leadership position, I found what I enjoyed most was helping people grow, which is now my favorite part of the job."
---
Dave Wilson, Plant Manager
---
Of the three companies who have owned the facility, Wilson describes the acquisition by POET as "the best transition I've been through" and appreciates the wealth of knowledge and organizational support that POET brings. He says that "We have a great group of senior technicians plus some really good young people who came together through the transition to POET and really bonded. It was awesome!"
---
He also cites help from other plants during President Biden's visit to the Menlo facility in April as a perk of being part of the POET family.
---
"We had team members from the Corning and Coon Rapids facilities, plus individuals from Sioux Falls who came down and helped to make it a success. It was pretty cool," he says.
---
Wilson, who is married to Chelsey, father to three-year-old Mia, and enjoys hunting and fishing off the job, says of his work that he's just "working and enjoying what I'm doing."
---
"I'm most proud of what we're doing to help the environment," he says. "Bioethanol is the wave of the future, and there's no better way to get off our dependency on fossil fuels."
---
"Learning is a good thing"
---
Being responsible for the quality of all the products that leave a huge POET bioprocessing plant is a big job, but one that Quality Manager Yolanda Raices
readily embraces.
---
"It's really crazy and busy most days, but I like that," she says.
---
Not content to sit in her office, Raices also likes being out and about in the plant, helping people solve problems.
---
"I love working with people and really enjoy the hands-on aspects of working with team members — troubleshooting and trying to figure things out together," she says.
---
Raices is also not one to shrink from taking on new challenges. In her five years with POET, she started as a lab tech II at Coon Rapids, then moved up to become an environmental, health, and safety specialist at Gowrie. When the opportunity to become the quality manager at Menlo came up, she jumped at it. There, she faced the challenge of not only learning a new position but a new way of doing things.
---
"The conventional fermentation process they use at Menlo is pretty different from the proprietary technology they use in POET's BPX plants, and it has been a continuous learning process," she says. "But it's been a great experience. Learning is a good thing, and I like to learn something new every day."
---
When not at work, this mother of three adult children loves to paint, do wood carving, and spend time with her three dogs.
---
The story behind POET – Menlo combines new faces and ideas with tenured leaders to create a well-rounded team. The team takes POET's mission of caring for the communities it calls home seriously and finds new and innovative ways to be involved and give back. POET — much like the city of Menlo — is truly "a friend to all."
---