---
As I stand in the halls of the U.S. Capitol ready to testify to members of the Senate, my mind is consumed with a sense of gratitude to be an American where I have the freedom to share my views and petition my representatives. I can't help but be inspired by the many others who fought to create our country with merely a belief in a bold goal. And as I wait, I think of the thousands of decisions that have been made within these walls that have shaped this country – some for the better and some for the worse.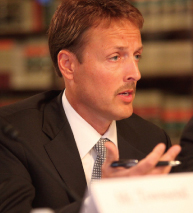 ---
I also feel a little overwhelmed with a great sense of responsibility as I'm about to represent an entire industry with stakes that are so very high – not just for ethanol producers and American agriculture, but for an entire nation.
---
As these Senators struggle with finding solutions for some of the greatest challenges our nation has ever faced – unacceptable unemployment, escalating energy costs and devastating deficits, I have the confidence in the fact that the solution lies not within more government, but within the American people like ourselves.
---
Yes, our impact goes far beyond rural America. As ethanol and agriculture grow, jobs are created – not just in our industry but in all sectors of the economy, from manufacturing to research and development. Ethanol has proven that it can compete against gasoline, and if allowed to get beyond the 10 percent blend wall, it is ethanol that can help keep fuel costs down for American consumers. And ethanol can reduce our dependence on foreign oil, balancing our trade deficits and contribute mightily to the American economy.
---
And furthermore, this can have a ripple effect on agriculture throughout the world. As grain prices are at sustainable levels, farmers around the globe have an opportunity to bring over one billion acres of abandoned farmland back into production – for food and fuel.
---
So to say that I feel the impact this testimony could hold would be an understatement. But it's an opportunity surrounded by the truth and a passion for an industry that I believe in 100 percent. I am not walking into a room to defend ethanol against deficiencies. Instead, I am hoping to open the eyes of members of the Senate and so many other influential people to the truths of the fuel – to show them they've seen ethanol through a curtain of smear campaigns and lies.
---
As they call me in for the hearing, I take one last look at the view that lies before me thinking back on everything that has happened here and the revolutions that can take place because somebody fought for their belief in change. Our fight is very different, but our intentions are the same. And today, American independence is what I'll be fighting for.
---