---
In the quiet corridors of an office building, set unexpectedly amongst the cubicles, conference rooms, and business casual attire, exists a world-class laboratory. Its juxtaposition to the average corporate setting poses the question: What happens when you fuel the brightest minds in biotech with breakroom coffee?
---
Let's just say they can accomplish wonders.
---
At POET, innovation and new ideas abound — from the company's ever-growing suite of sustainable bioproducts to the over 100 U.S. patents it has been granted. And thanks to a recently completed renovation, POET researchers can continue to create harmony between practical science and visionary agriculture in an elite new lab space.
---
"Research has been a priority for POET since the beginning," said Steve Lewis, POET Vice President of Innovation, who has been with POET's research team for over 25 years. "When the Broin family started making bioethanol on their family farm in Minnesota, they experimented with production processes, and that research continued when they acquired the first POET facility in Scotland, S.D in 1987. It was a bankrupt plant that required many significant upgrades, and our work to improve hasn't stopped since."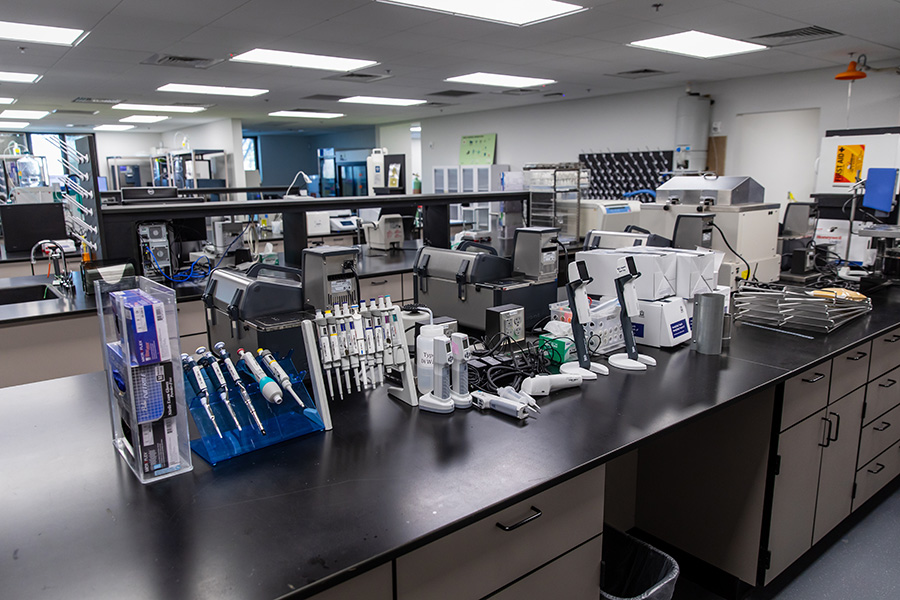 ---
POET boasts two state-of-the-art research facilities, including the corporate lab space at its Sioux Falls headquarters and the plant in Scotland, which is now known as POET Research Center (PRC). PRC can produce nine times its original capacity in addition to serving as a pilot facility where much of POET's groundbreaking technology is tested.
---
"Our facilities have been home to numerous inventions, whether they be new bioproducts or more efficient ways to run our processes, and the work done by our research team has played a critical role in POET's success," said Jeff Heikes, POET Senior Vice President of Research. "The space served us well for many years, but it was time to revisit the needs of our team. With the significant growth POET has experienced over the years, it became clear that our lab needed to expand as well."
---
Last October, the lab remodel commenced.
---
"We wanted to provide our team members with better equipment and upgraded infrastructure," said Heikes. "There was also a growing need for more adequate space and storage, and we upgraded the ventilation and flooring."
---
It was a months-long remodel, but POET's research team didn't let the disruptions to their workspace hinder their efforts.
---
"During the remodel, our three main teams needed to find space to continue their work, even if we couldn't do it in our traditional lab space," said Andrew Manning, POET Institutional Research Director. "The analytics team took over a computer lab in the corporate office, the bioproducts team set up cubicles in POET's warehouse lab, and the innovation team moved to Augustana University."
---
The lab was partially reopened in May, and the research team hosted an open house for their coworkers in late September.
---
"In general, the new lab allows for a larger and more modern space for us to work in," said Manning. "This will allow us to expand our capabilities and thus take on the next generation of opportunities."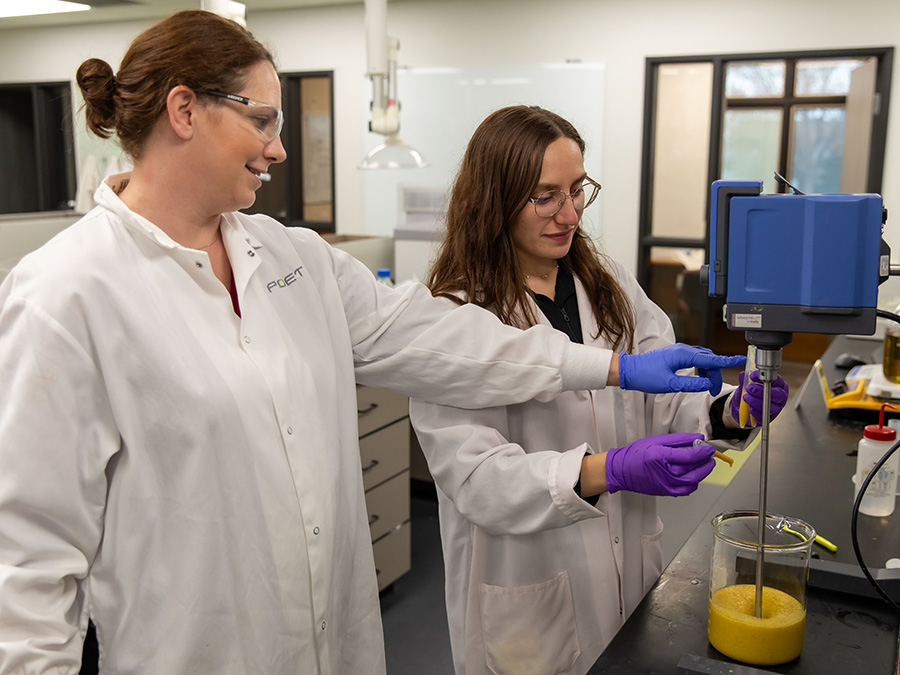 ---
Change is nothing new for POET's team.
---
"At POET, change isn't just an option; it's the norm, the expectation," said Melissa Tille, POET Analytical Laboratory Manager. "We thrive on innovation, and every experiment and update is a testament to our commitment to pushing the boundaries of what's possible. As far as the lab update goes, we're not just transforming our workspace; we're setting the stage to shape the future of biofuels and bioproducts."
---
The upgrades will assist in fermentation research and the continued growth of POET's suite of bioproducts and, most importantly, inspire the team's curiosity and creativity to flourish as they look toward the many breakthroughs on the horizon.
---
"I am most excited to see how our team utilizes the new space to change the world," said Heikes. "Labs are an ever-evolving atmosphere; they adapt alongside the latest bioproduct or the newest process. We are a group that prides itself on inventiveness and ideas — on figuring things out. Blank canvases are an opportunity to create, innovate, design, and improve. At POET, innovation isn't just a buzzword — it's our beating heart. In this office, research isn't just a job; it's an adventure."
---