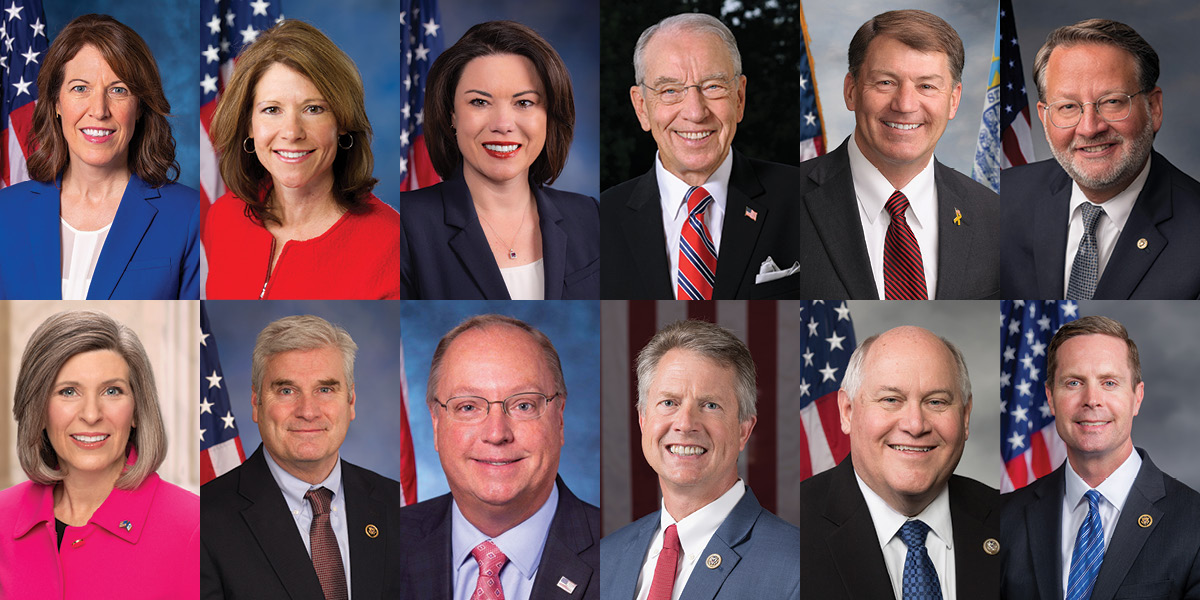 ---
No matter if you voted red or blue, we are all on Team Green. Biofuels support was incredibly important to voters this election and your continued support of POET PAC helped elevate this conversation at the national level. Check out what a few DC champions, who won their election, had to say about their commitment to a future with more biofuels.
---
Sen. Joni Ernst (IA – R)
---
"As Iowans know, biofuels are an essential part of our state's economy. Our biofuel producers depend on the Renewable Fuel Standard (RFS) and they expect the federal government to uphold and adhere to this law. That's why I've gone toe-to-toe with members of my own party and the administration to advocate on behalf of our farmers and producers. Together, with the help of Iowans and my partner Senator Chuck Grassley, we've seen some big wins: from securing access to E15 year-round to expanding biofuel infrastructure, and successfully getting the "gap year" waivers denied—but the fight for the renewable fuel industry, and our farmers, is never over. I'll keep being a relentless champion for Iowa agriculture—holding EPA to their commitments and making sure the RFS is the law of the land."
---
Sen. Gary Peters (IL – D)
---
"Sustaining investments in homegrown biofuels will not only bolster our transportation systems, but also help power our economy for years to come," said Senator Peters, a member of the Commerce, Science and Transportation Committee. "I will continue working with our farmers and biofuel producers to keep Michigan and our country at the forefront of innovation."
---
Sen.-Elect Roger Marshall (KS – R)
---
"Ethanol and biofuels are such crucial part of Kansas agriculture. Having leaders in Washington who defend the farmers that fuel and feed the world is imperative. It's been an honor to defend them in Congress, and it is an honor to now defend them in the U.S. Senate. We are so grateful for the partnership and friendships we have developed at POET and we look forward to many more years of victories for the American farmer."
---
Sen. Mike Rounds (SD – R)
---
"Corn and corn ethanol play a vital role in South Dakota's economy. During my time working as governor and as a U.S. Senator, I've fought hard to make sure the federal government protects the integrity of the Renewable Fuel Standard. Over the past several years, I'm proud of our successes in allowing year-round sales of E-15, making sure 15 billion gallons of ethanol is blended annually, and reversing the Environmental Protection Agency's (EPA) over-issuance of Small Refinery Exemptions. I thank POET for its continued work and innovation in the ethanol industry."
---
Sen. Chuck Grassley (IA – R)
---
"Over the years, I've fought for ethanol and biofuels producers both in Iowa and across the country. In Iowa, we produce more than 4.5 billion gallons of renewable fuels to give motorists an affordable alternative at the pump. Iowa's 43 ethanol refineries and 11 biodiesel facilities support nearly 50,000 jobs. We've come a long way from the creation of the Renewable Fuel Standard and there's more work to be done. I look forward to continuing to promote clean, home-grown energy and work toward greater American energy independence."
---
Rep. Cindy Axne (IA – D)
---
"Throughout my first term in Congress, I have been a champion in promoting biofuels throughout the Democratic Caucus and standing up against the repeated attacks on biofuels from the EPA. We all know that biofuels provide home grown clean energy, demand for our farmers, and good paying jobs in our communities. From renewing the Biodiesel Tax Credit to fighting to include COVID-19 relief for biofuels facilities, I will continue to make biofuels a priority in Congress."
---
Rep. Cheri Bustos (IL – D)
---
"Biofuels like ethanol and biodiesel are an important part of our economy and a critical element of tackling climate change. As we look to the future and the need to create demand for our farmers, we must invest in tools to reduce emissions and increase economic development to help our rural communities. I will continue to the fight to support these critical home-grown fuels."
---
Rep. Jim Hagedorn (MN – R)
---
"Since taking office, I have utilized my position on the House Agriculture Committee to expand trade and sustain independent farmers and our biofuels industry. I was also recognized, during each of my first two years in office, by Growth Energy with its 'Fueling Growth' Award for my bipartisan efforts on the Agriculture Committee and the Congressional Biofuels Caucus to end the EPA's misuse of small refinery waivers and administer the Renewable Fuel Standard the way Congress intended. I look forward to working on a bipartisan basis with my colleagues on behalf of farmers, agri-businesses and our rural communities."
---
Rep. Rodney Davis (IL – R)
---
"I am proud to lead on biofuels issues this Congress, and am particularly proud of the progress and success we saw this Congress by working together to hold this Administration accountable to ensure they uphold the Renewable Fuel Standard. As we look toward the 117th Congress, I am proud to once again lead the Biofuels Caucus alongside a new set of my colleagues to ensure that we continue to build on our successes and ensure that Rural America can once again thrive, and have certainty under the law."
---
Rep. Angie Craig (MN – D)
---
"Farmers in Minnesota's Second Congressional District and across the country have fueled our communities for generations, and they'll power our future. As a member of the Congressional Biofuels Caucus, I have continuously defended the Renewable Fuel Standard against the Administration's attacks, introduced legislation to increase blending infrastructure, and co-led efforts to secure support for biofuels in the COVID-19 relief package. I'll continue to fight to advance the future of biofuel innovation and push for the market stability that our farmers deserve."
---
Rep. Tom Emmer (MN – R)
---
"The biofuels industry is critically important for the state of Minnesota and my district. The state's 18 ethanol and 3 biodiesel plants are some of the largest employers in rural Minnesota communities while providing added value to nearly a third of our farmers' crop. That is why I have long fought for increased usage of this locally grown, cleaner burning fuel. From year-round sales of E15, to renewal of the biodiesel tax credit, to protection of the Renewable Fuel Standard, I have fought for this industry on a bipartisan basis. I look forward to continuing our work with our farmers, our ethanol industry and the members of the Congressional Biofuels Caucus to ensure that biofuel remains a significant piece of our fuel supply."
---
Rep. Ron Estes (KS – R)
---
"It's an honor to represent Kansas farmers and biofuel producers across south central Kansas. As a member of the Ways and Means Committee, I've promoted policies that support energy workers and encourage energy independence in the US. I'm proud to support free and fair trade deals with other nations on behalf of our biofuel producers."
---
Want to get involved? Join POET PAC today.
---