---
OMAHA, Neb. — Homegrown biofuels provide a pivotal solution to increase grain demand, biofuels industry leaders from POET, Growth Energy and CoBank told several hundred farmers at the Farmers Business Network's Farmer2Farmer conference on Thursday, Dec. 13, in Omaha, Neb. About 2,700 individuals from 42 states across the U.S. registered for the fourth annual event.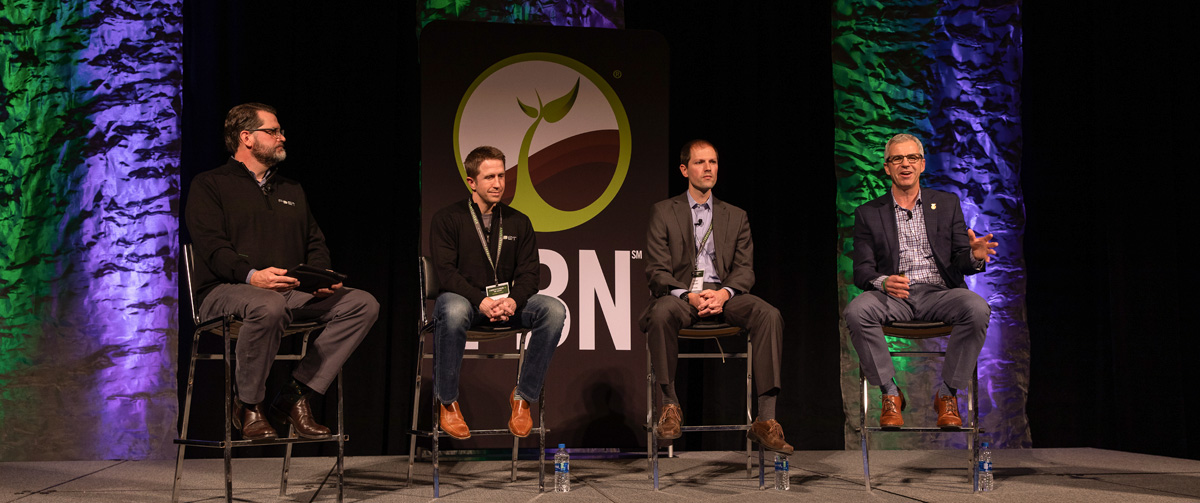 ---
Nationwide adoption of E15 — a federally approved biofuel with 15 percent ethanol and 85 percent gasoline — could mean 2 billion bushels annually in new grain demand. The Environmental Protection Agency (EPA) is expected to issue a final rule that allows year-round E15 sales in time for next summer's driving season.
---
That's big news for the agricultural industry during a time when commodity prices are stagnant, farm income is down and farm debt is up.
---
The message from panel presenters was clear about the integral tie between the biofuels and agricultural industries: When the ethanol industry prospers, agriculture also reaps the benefits.
---
But to continue to grow demand for biofuels and help get the ag industry back on its feet, both industries need to work together, said Kyle Gilley, Senior Vice President of External Affairs and Communications, POET. "The industry is not healthy and hasn't been healthy for a while. We have to work together — the biofuels industry and you — to get this back on track," Gilley said.
---
The panel presentation titled "How will Biofuels Like Ethanol Grow Demand for America's Grain?" was hosted by POET and moderated by Gilley. Brett Yerdon, Commercial Development Manager, POET; Troy Collins, Relationship Manager, CoBank; and Kelly Manning, Vice President of Development, Growth Energy spoke about the importance of growing demand for biofuels.
---
Collins discussed how, looking historically over the past several decades, biofuels have been a key driver of farm income and growth. The Renewable Fuel Standard (RFS) has also driven a significant increase in corn and soybean production, Collins noted. He presented data showing those trends.
---
Continuing to grow ethanol demand through opportunities like year-round E15 is important for those trends to continue, Collins said. "From my perspective, a flat ethanol demand is not enough. We need to keep growing that ethanol demand to keep up with the increasing production with you all. You're very good at what you do. Yields are increasing year after year … and are likely to continue."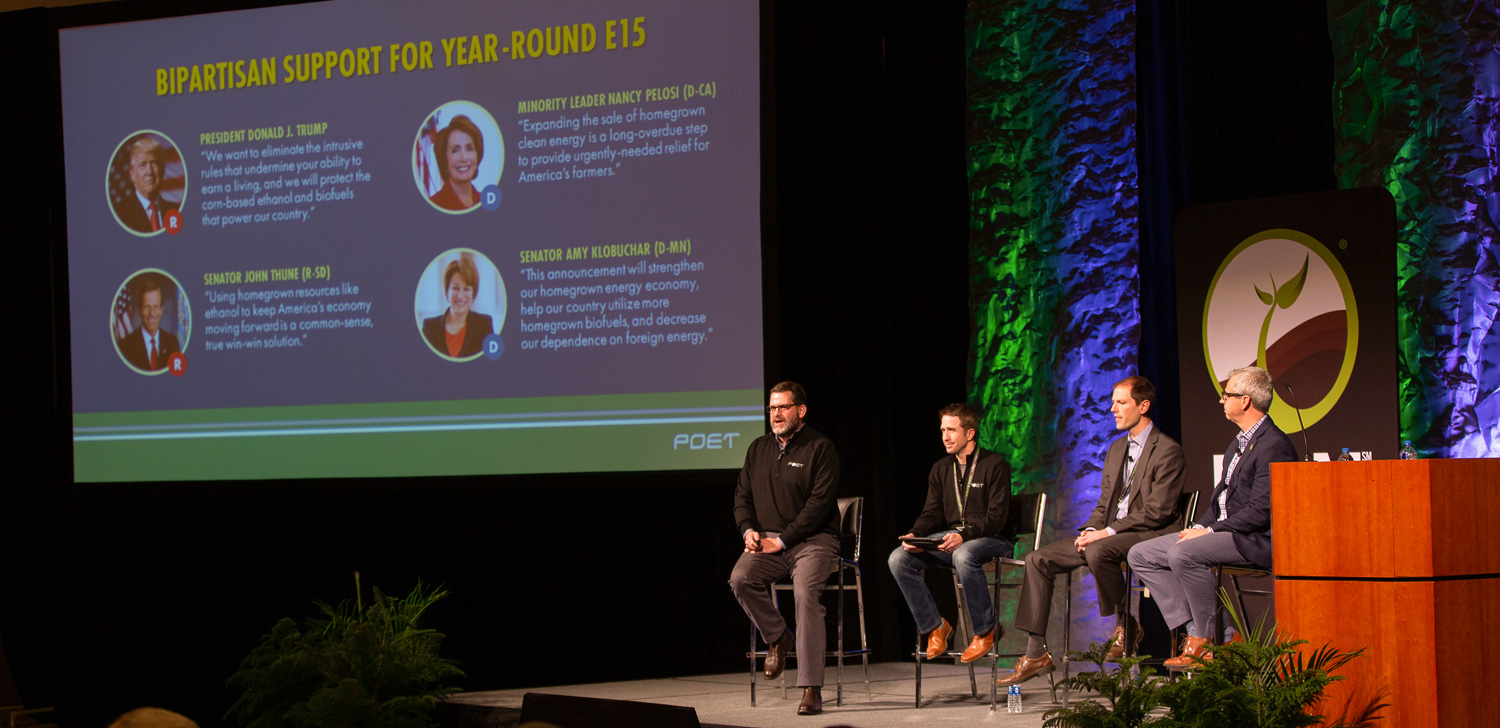 ---
Farmers like Dean Buesing, who came to the conference from Granite Falls, Minn., with his wife and attended POET's presentation, agrees that year-round E15 is great news for farmers. Buesing, who farms with his brother and nephew, avidly follows the ethanol industry, including the work of Growth Energy, the biofuels industry's largest trade association.
---
He's excited about more retail stations adopting E15. "I see that happening now that Casey's is in it," he said. Casey's announced a Prime the Pump partnership in October, with plans to expand its offerings of E15 to more than 500 locations in the next several years.
---
Manning with Growth Energy discussed the market strategy to continue to grow demand for biofuels both in domestic and global markets. The goal is to deliver 2 billion new gallons of domestic sales by 2022, which is the equivalent of 700 million bushels of new grain demand, and to deliver 2.5 billion gallons of total U.S. exports by 2020, which is the equivalent of 850 million bushels of grain demand.
---
Manning spoke about the global opportunity to grow biofuels demand internationally in six of the largest fuel markets: China, Brazil, Japan, Canada, Mexico and India. Together, those markets have a combined potential of 12.6 billion gallons of new biofuels demand.
---
Yerdon covered the economic impact of the biofuels industry and discussed POET's deep roots in agriculture. When considering opportunities for future growth, POET has a long-term vision. "POET takes the long view of ethanol and agriculture. POET is built on farmer DNA," Yerdon said.
---
After the panel presentation, audience members asked several questions, including what the biofuels industry will focus on next after achieving year-round E15.
---
"Two key additional near-term steps needed to get the biofuels and farm industries healthy are to work with the Trump administration to eliminate the current China tariff on ethanol. We also need to work to initiate efforts to deliver a lower-carbon liquid fuel to the marketplace based on the octane benefits of ethanol while maintaining the RFS," Gilley said.
---
The hope is that a lower carbon fuel would lead to an E20-E30 blend.
---
He also stressed the importance of farmers working together with the biofuels industry to continue to grow demand for higher blends of biofuels beyond E15. "Our opponents that are on the other side of this issue have no interest in getting anything in the market beyond what's in there today. We have to rally ourselves up to get beyond that in order to make that a reality," he said.
---
Overall, Gilley said farmers shouldn't disregard their political capital, especially in the upcoming 2020 elections. "Don't underestimate the political influence you have," he said.
---
The Farmer2Farmer conference also featured keynote speakers including Adam Savage, Executive Director and Co-Host of Discovery Channel's MythBusters; New York Times best-selling author Captain "Sully" Sullenberger; and NASA engineer Adam Steltzner.
RELATED: Farmer2Farmer Q&A Follow-Up
---
---