---
Corn stover leads a paradoxical life. It is an answer and a riddle in one, a symptom and a treatment, a frustratingly problematic solution. In philosophical terms, it's akin to a Gordian knot — one that POET hopes to unravel.
---
For the unversed, stover is what's left above the soil after corn is harvested: stalks, leaves, husks, sheaths, shanks, tassels, silks, and more. Today, only about 50% of the corn plant is made directly into bioproducts, while the rest is typically either left to decompose or collected and used as silage or bedding for livestock. Because corn is the most-produced crop globally, the scale of stover's availability — approximately 178 million dry tons annually — and its potential value as a renewable fuel source are massive.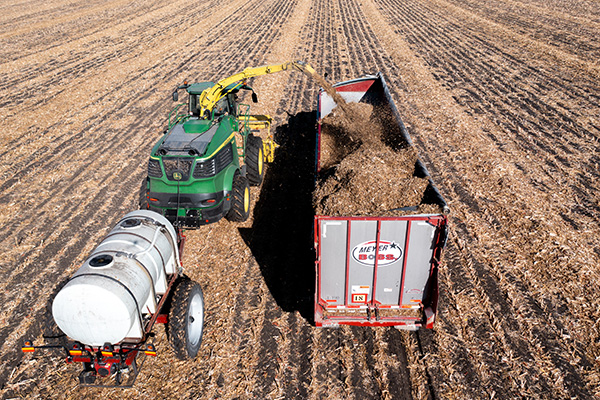 ---
Unlocking that value has proved challenging, but POET believes it is a worthwhile endeavor.
---
"Project Freedom" is a new biomass-to-power project in which stover will be used to provide renewable power to POET's bioprocessing facility in Emmetsburg, Iowa. The system is scheduled to begin operation by mid-2023. The power will be generated in the form of thermal energy via steam created by burning the stover, reducing the facility's reliance on natural gas by up to 65%. But while reducing emissions from its bioprocessing plants certainly represents progress in POET's sustainability goals, Project Freedom brings much more to the table.
---
Serving the farmers and the environment
---
In short, Project Freedom offers corn farmers a system of stover management that is easier, simpler, and more beneficial than the traditional method. This exciting project will create an additional revenue source for farmers while supporting sustainable agriculture practices and solidifying agriculture's place in America's developing bioeconomy.
---
Many may remember POET's Project LIBERTY, a joint venture between POET and Royal DSM at POET's Emmetsburg, Iowa location. It was a commercial plant that used corn stover (rather than starch) to produce what is known as cellulosic bioethanol. Project LIBERTY ran for about seven years before production was paused in 2019, and the facility was transitioned to a research and development hub.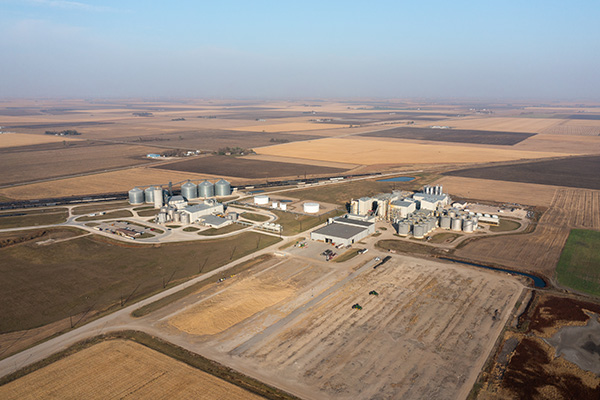 ---
"Project LIBERTY provided a wealth of foundational knowledge in utilizing corn stover," said Jason Martin, Director of Strategic Development for POET Bioprocessing. "We have been able to take what we learned and use it to supplement Project Freedom. The technologies go hand-in-hand, and we're excited to continue our growth in this area of sustainable practices."
---
Project Freedom will help demonstrate how new and sustainable agriculture products
add value in an increasingly climate-conscious world, leading to increased opportunities for developing additional products and revenue streams for producers moving forward. In addition to a new revenue stream, the upsides to this project include reduced
competition for soil-based nitrogen, less tillage, and a greater chance of success for
cover crops.
---
The advantages to producers are numerous, but this project doesn't just benefit the farmer; it's better for the environment too. Healthier soil leads to better yields, which are good all around. Less tillage means lower fuel costs and reduced greenhouse gas emissions, and cover crops allow for lower fertilizer costs and sequestration of carbon. In the future, those cover crops may even be used as renewable energy feedstocks themselves.
---
"POET has been collaborating with farmers for more than three decades to cultivate an ag-based bioeconomy for the future, primarily by growing bioethanol use in the U.S.," said Christian McIlvain, President of POET Grain. "Now, the future is here, and we're excited about the potential to utilize corn stover to bring even more value to farmers while moving one step further on our path to decarbonization."
---
That sentiment is shared at the Emmetsburg facility, which General Manager Daron Wilson believes is an ideal spot to launch Project Freedom. "There's a lot of excitement here for this project," Wilson says. "Being a part of an effort that can lower our carbon footprint while also bringing more value to local farmers is extremely rewarding."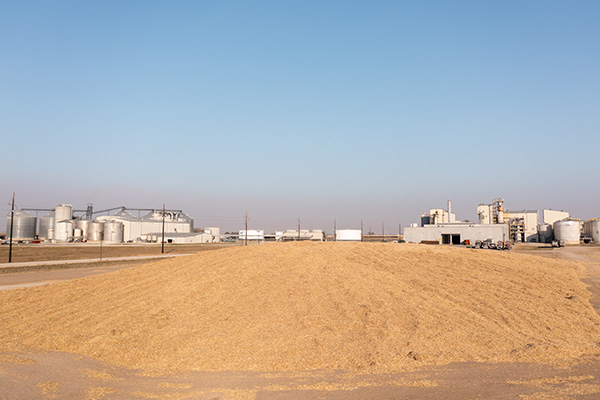 ---
The science behind the project
---
Like many other seemingly simple innovations — resealable chip bags, upside-down ketchup bottles, windshield wipers with more than one speed — it begs the question: Why hasn't this been done all along? After all, corn has been used as an energy feedstock for more than 40 years. Why are we just now cracking the code with stover?
---
One reason is that, historically, corn stover has proved challenging to harvest because of certain disadvantages that can result from its removal. Stover decomposition or removal significantly impacts the soil's microenvironment. Left to decompose on the field, it acts as a fertilizer — depositing potassium and phosphorous, among other nutrients. However, that places a heavy demand on nitrogen in the soil to break
it down.
---
Aware of these challenges, no one is better suited to take them on than POET. The world's largest biofuel producer partnered with Iowa State University to target the appropriate amount of biomass that can be removed from an acre of land. The biomass collection rate will be variable but based on factors associated with farming practices and field conditions. POET has also identified the necessary steps to minimize concerns related to biomass collection.
---
"We've done a significant amount of research into this technology," said Martin. "We know exactly how much stover our producers can take from their fields without causing any issues. We're already working as needed with each of our farmer partners participating in the project to help them navigate the science accurately."
---
Factors like these, which underscore the hidden complexity of stover harvesting, have compelled organizations like the USDA Agricultural Research Service and the Natural Resources Conservation Service (NRCS) to develop research-backed tools and guidelines for stover-associated risk assessment, which in turn have aided in the development of Project Freedom's novel approach.
---
"POET has taken into account our own research as well as the procedures recommended by USDA and NRCS to make the best recommendations to our producers," said Martin. "As with everything else we do, we took our time to go through all the possible challenges and drawbacks of this technology and found solutions that will fit our farmers' needs. We're ready to take on this new initiative and are excited at the potential it holds."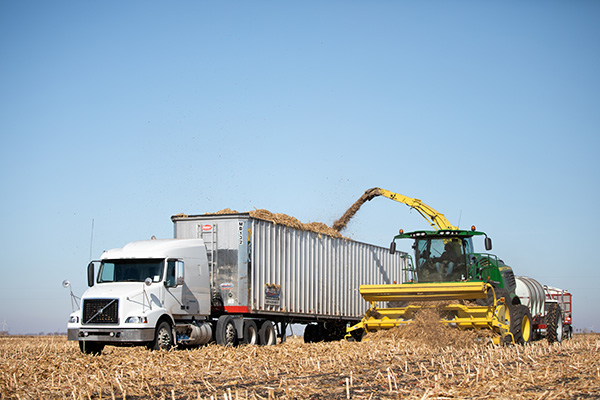 ---
Sowing seeds for future sustainability
---
Several elements of Project Freedom remain proprietary, but the system will be operational this year. Despite being one of the cheapest, most abundant forms of renewable biomass, turning stover into steam and electricity is still more costly than the natural gas that currently powers many of POET's bioprocessing facilities. However, new government incentives may make it feasible, and POET sees the project as an investment — and as an example of the innovative thinking that will be required to curb carbon over the long term.
---
"I'm very excited about Project Freedom," says McIlvain. "It's another great example of POET's efforts to create value for biofuels and agriculture, and this initiative will offer a slate of benefits to rural America and our environment."
---
At full capacity, Project Freedom would offset more than 82,000 metric tons of CO2 at the Emmetsburg facility, but the minds behind the project hope it will do much more. Project Freedom is not an isolated emissions reduction effort — it's a blueprint for a more comprehensive design intended to benefit farmers, improve crop yields, promote regenerative agriculture, and showcase the results of a long-term commitment to sustainability.
---
"Sustainability has always been at POET's core," said McIlvain. "Our mission is to be good stewards of the Earth and to convert renewable resources to energy as effectively as humanly possible. With Project Freedom, we're able to do exactly that, taking our sustainability efforts to the next level."
---