---
"She's been just a fantastic fit," says POET Chief Executive Officer Jeff Lautt. "Melissa has this passion for wellness, but also people in general. She's a positive person and tremendously endearing."
---
And did I mention she leads one heck of a High Intensity Interval Training Class?
---
As the first Director of Wellness for POET, Ellefson's dedication is focused on team member overall health. She not only wants the team to be physically healthy – but mentally, spiritually, and emotionally healthy, too.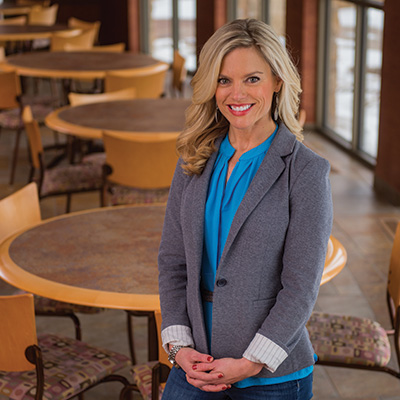 ---
A graduate of the University of South Dakota with a Bachelor of Science Degree in Health Sciences Ellefson came to POET in July.
---
"It was really a God thing how I ended up working at POET," she says.
---
Ellefson has spent most of her life in the field of fitness, nutrition and coaching. She has always valued wellness, but wellness took a different meaning on New Year's Eve in 2009. Her husband, Matt, was diagnosed with advanced lung
---
cancer. He was told that without treatment he would have approximately eight months to live. With aggressive treatment, Matt faced a five year survival rate of less than five percent.
---
Remember, this was almost exactly five years ago.
---
The Ellefsons, who have five children, chose to fight Matt's cancer aggressively. He spent five months participating in a clinical trial in Houston, TX to treat his body – and continued to lean on family and his faith to nurture his soul. With
---
a few bumps in the road and three recurrences, Matt blew that five percent chance out of the water this New Year's Eve.
---
So when Ellefson talks about gratitude being an important component of wellness, she means it.
---
"That really changed everything for us, we don't look at life the same – and we never will," she says. "Every single day is to be celebrated."
---
"I've shared this with many of my fellow POET team members," Ellefson continues. "When I tell them I want for you to live a full and healthy life, I mean it from the depths of my soul. My wish for them is to experience a life of abundance and vitality and not wait until they experience a health crisis of their own."
---
And through her emails and tips on fitness, nutrition and spiritual well-being, there isn't a better person to help them achieve this goal.
---