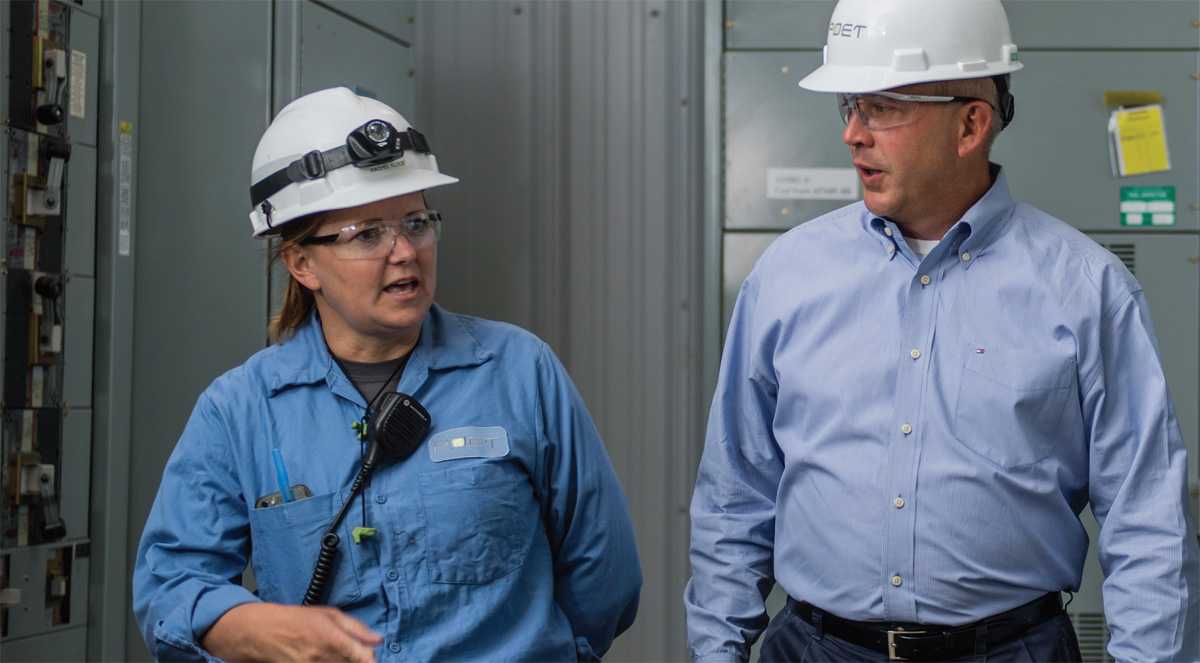 ---
When Rachel Kloos was growing up in Southern California, she and her family often spent time cleaning the shores of California's largest lake, the Salton Sea.
---
"My parents used to hang out there a lot, but by the time I was in high school, it was an environmental mess, so I learned a lot about the ecosystem and water conservation," Kloos says.
---
That strong family commitment to the environment shaped her identity and drove her down a historically male-dominated career path. Kloos studied chemistry and environmental engineering at Creighton University in Nebraska. She went on to work at POET's Sioux Falls headquarters before becoming the Plant Manager at POET Biorefining — Chancellor for the last seven years.
---
Across POET's footprint, Kloos and other women have led a change in how we think about science, technology, engineering and math (STEM) careers. More women today are entering the workforce in these critical areas. Of STEM professionals, nearly 15 percent of them are women, and it is thanks to the example set by predecessors who have followed their passions rather than being intimidated by antiquated gender roles.
---
More than 30 percent of science and technical positions at POET Research are filled by women, notes POET's Senior Vice President of Research Dave Bushong. The area of expertise that female scientists and engineers bring to POET include analytical chemistry, enzymology, microbiology and engineering.
---
"First and foremost, POET offers great science and technical positions. Our scientists and engineers have the opportunity to develop innovative technology in renewable fuels that have a global impact, and the women in research contribute every day to the success of POET's technical innovation," Bushong says.
---
Dani Hanson, who has always been passionate about alternative energy, works primarily with Project LIBERTY — POET-DSM Advanced Biofuels' commercial scale cellulosic biofuels facility in Emmetsburg, Iowa — and is proud to be part of an effort that no other company in the world is doing. Hanson is a Process Engineer for POET Design & Construction, and she would like to see even more women working as engineers.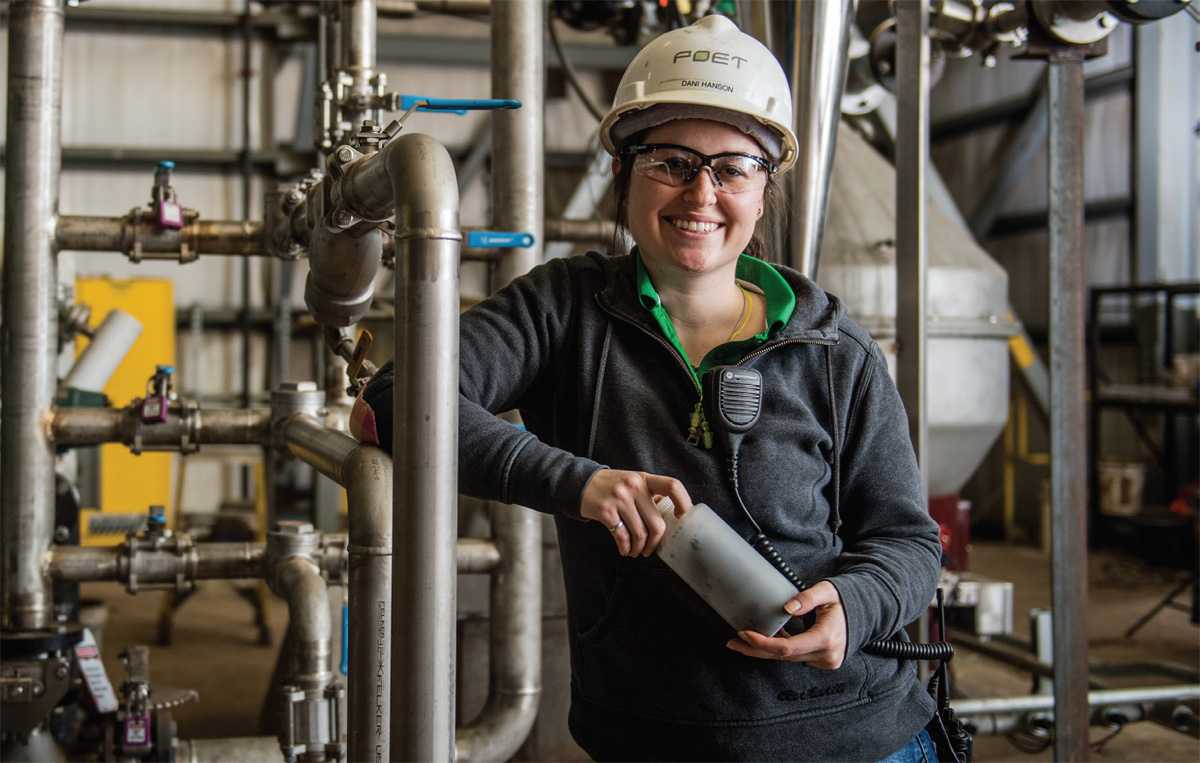 ---
"We're going to change the world of biofuels and the world as a whole," she says, "but we could benefit from having more female engineers, because we are both wired differently."
---
Hanson, like many others, garnered interest in STEM fields at a young age. In eighth grade, she participated in a girls engineering day in Rapid City, S.D., where chemical engineering at the South Dakota School of Mines "caught my eye," she says.
---
Camille Nelson, Research Scientist at POET, grew up on an acreage in Minnesota, where she was always curious about agriculture. "I was interested in how many people agriculture impacted and remember spending time looking at and studying crops surrounding our acreage," Nelson says.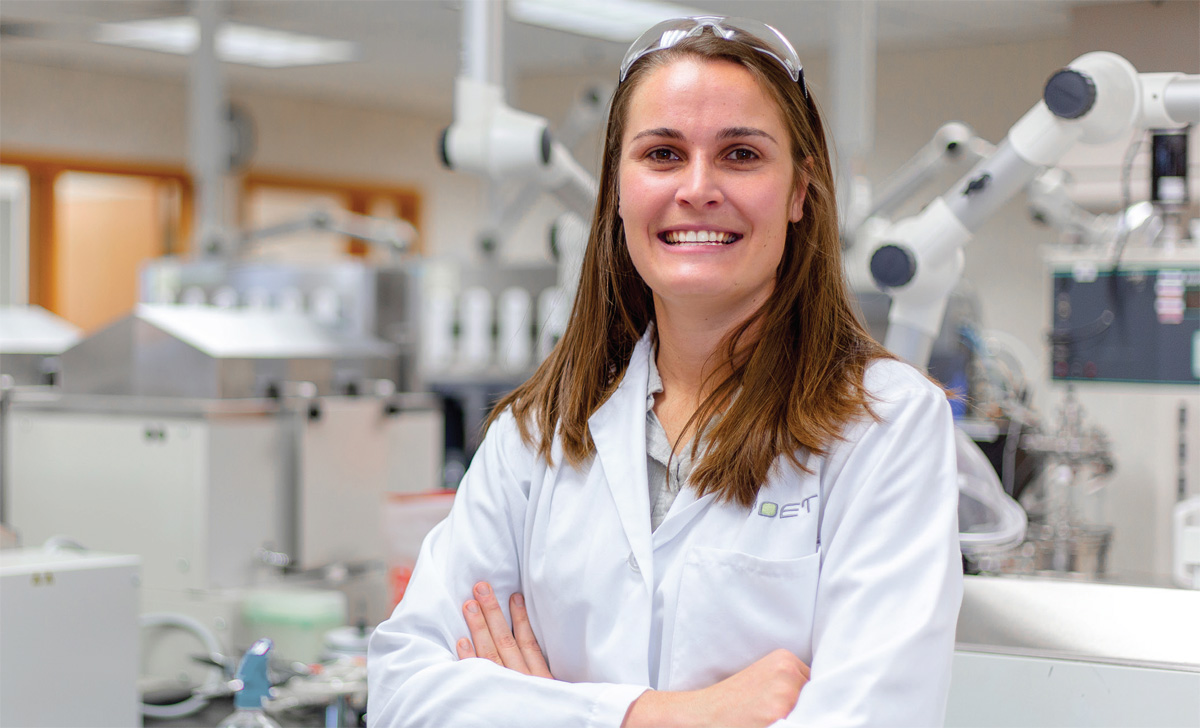 ---
At Iowa State University, she received her undergrad degree in agricultural engineering and her masters in ag and biosystems engineering. "The major had a really influential culture I was drawn to, and I always felt included," she says.
---
She has been a Research Scientist for POET since 2015. "I have a lot of female role models I look up to here," she says.
---
Mentorship is an important element of continuing to grow and advance at the workplace.
---
Nelson says women need to feel empowered "to contribute to these things that are advancing our society." POET offers a supportive work environment that, along with mentoring, also includes career growth coaching, skills training, schedule flexibility, and a genuine desire to make people successful, Bushong says.
---
Mentorship and encouragement happens outside of the workplace, too, as was the case for Gwen Biersbach, who today is a Senior Research Scientist at POET. She was a quality plant manager at POET for 13 years before she felt compelled to go back to school to receive her masters in research. She reached out to a former fellow student at South Dakota State University who was now one of the faculty, and he encouraged her to apply.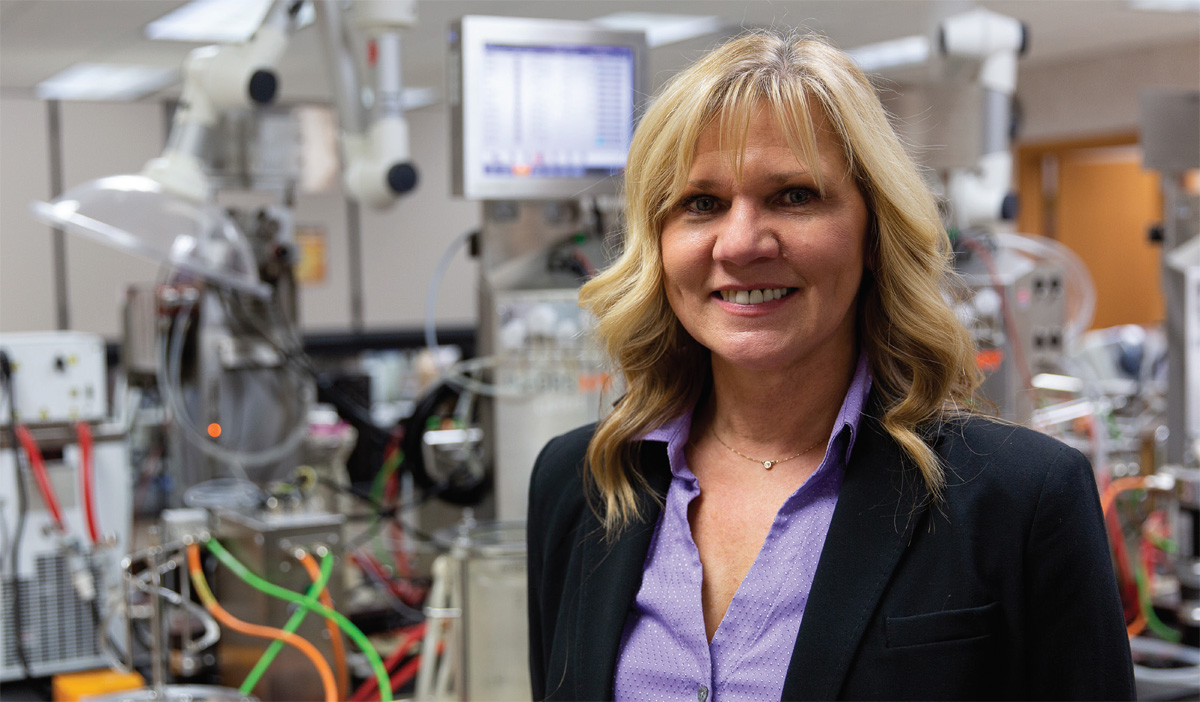 ---
"He was so welcoming and understanding," Biersbach says. "And it was so rewarding to see all the things that had happened in biotech since I was an undergraduate."
---
INTEREST IN STEM BEGINS AT A YOUNG AGE
---
Women at POET say the important work of getting more women into STEM careers begins at a young age. It must be cultivated early in life.
---
POET has recognized that need and holds outreach programs to generate interest and enthusiasm in young women who may be uncertain about a STEM career, Bushong says.
---
"Increasing the number of women interested in STEM careers is critical for business success as well as providing great careers for women," he says.
---
To begin that engagement in STEM for young women, Nelson says POET participates in significant outreach throughout its footprint.
---
"We do different activities at middle schools during the school year, because you never know what is going to impact people," she says.
---
Antje Skiff, who is a Mechanical Engineering Manager at POET, adds that POET partnered with Girl Scouts last summer, "to show them the basic principles of engineering," and Biersbach says they've hosted science fairs as well, where girls are interactive and excited.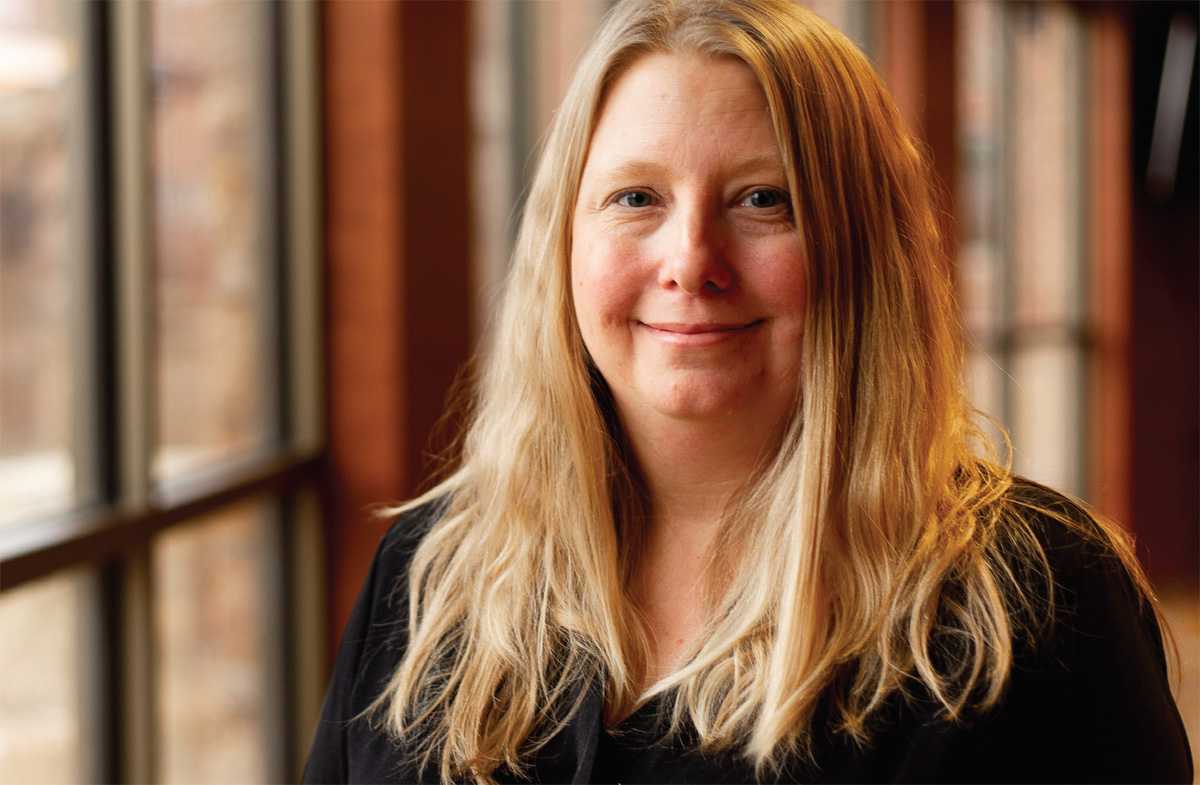 ---
"You might expect a bunch of eighth grade girls rolling their eyes, but on the other hand, I was surprised at how energized and attentive they were!" she says.
---
Biersbach admits that STEM is not a highly visible career choice.
---
"What do they do behind those brick walls?" she says. "I like to approach young adults and be able to tell them, this is how we approach our work. If they can't see or understand our work environments, why would they be interested?"
---
Biersbach also reminds young adults that of the 600,000 occupations waiting to be filled in the U.S., there is plenty to offer right here in the Midwest.
---
"We live in a rural state, and it may seem there is not an abundance of career choices," she says. "But we need to realize that high-tech jobs are actually due to the rural economy — particularly as it relates to the biofuels market, which depends on farmer input. Career paths like agronomy, commodities, accounting, manufacturing, engineering, marketing, research, finance, information technology or even human resources are all fields that are being supported because of agriculture."
---
Kloos also works to show her children positive role models. "I want my kids to visibly see that you can do whatever you want to do, and there is no limit!"
---
Last fall, she took her 17-year-old daughter to a presentation given by POET Nutrition President Greg Bruekelman, where he talked about leadership and the key influ-encers in his life.
---
"And she was just soaking this up!" says Kloos. "Even for weeks thereafter, she was referencing his talk, and I thought to myself, if she spent a half hour sitting in the back of a room listening to him and that influenced her, how much of an influence could I be? I want to have the reputation that I am a resource and I am here to help people."
---
ENCOURAGEMENT IN STEM
---
Skiff says we need problem solvers more than ever — women and men who can continue to "help the world innovate" — and Biersbach agrees.
---
"In the biotech world, there is so much going on, and it is always changing," Biersbach says. "We have new tools to deal with problems that weren't even surmountable a few years ago. But because we have so much information to get our arms around, we've got to almost change our approach to how we deal with problems."
---
She suggests group-oriented tasks and sharing of ideas, and Skiff encourages young women not to be discouraged in that.
---
"Do not be afraid, and don't let anyone stop you!" Skiff says. "We can make the world a much better place through STEM innovation."
---
And the work that women in STEM do is rewarding and making a difference for the next generation.
---
"Our work can seem mundane, but there is always a new problem to solve, and if you talk to us, we're pumped, excited and passionate about what we do!" says Biersbach. "We are changing the world to make things better for the next generation. We have a positive environmental impact, and we have a positive impact on economy and agriculture. That makes me so excited about my workday!"
---
"We are always learning," Nelson adds. "It feels like the more we know, the less we know! But I have learned so much that I would have never known had I not taken this job, and that is very motivating to me."
---