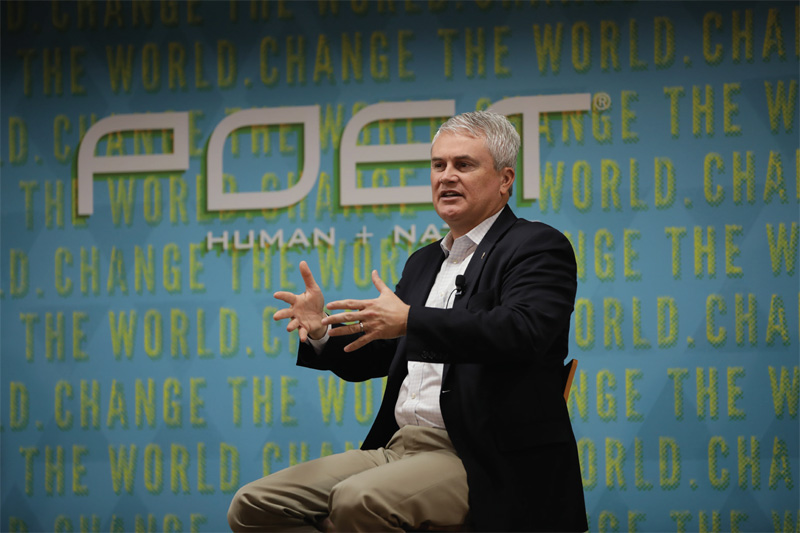 ---
Congressman James Comer, who represents Kentucky in the U.S. House of Representatives, brings his personal experience working in agriculture, including managing and operating Comer Family Farms, to his work on the House Committee on Agriculture and on the 2018 Farm Bill. Comer represents the largest corn and soybean-growing district in Kentucky and sees the great opportunity to continue growing biofuel production in the state, along with the benefits that the biofuels industry brings to the nation overall. We asked Comer about the importance of the biofuel industry in Kentucky, why consumer choice is worth fighting for, and why the development of the biofuel industry is critical for economic growth for the U.S. as a whole.
---
QUESTION: Tell us about your background in agriculture and how it informs the work that you do.
---
ANSWER: Throughout my career I have worked to promote agriculture and support my fellow farmers. As a student at Western Kentucky University I majored in agriculture, where I learned more about the background and practices of our industry. After serving six terms in the Kentucky General Assembly while managing and operating Comer Family Farms, I was elected as the Kentucky Commissioner of Agriculture. During my tenure as Commissioner I traveled throughout the Commonwealth to advocate for Kentucky agriculture and promote initiatives that advanced the lives of rural Kentuckians. As one of the few farmers in Congress, I bring a firsthand knowledge to the House Committee on Agriculture and in our ongoing negotiations as a conferee for the 2018 Farm Bill. I advocate for federal policies and programs which benefit our producers, rural Americans and the industries that support agriculture.
---
Q: Can you share with our readers why the biofuels industry is important to Kentucky?
---
A: Kentucky's growers, especially my constituents in the First District, have made important contributions to the biofuels industry. I represent the largest corn- and soybean-growing district in Kentucky, providing a high-quality, consistent supply of grain for biofuel production. Under Secretary Bill Northey had the opportunity to see not only the success of Kentucky biofuels when he came to Commonwealth Agri- Energy in Christian County, Ky., but also the incredible opportunity for growth that the announcement of yearround E15 will bring. As consumer preferences shift to renewable energy options, these emerging industries hold the opportunity for new jobs in Kentucky and a growing demand for the corn produced in my district.
---
Q: Your district currently offers E15. Why do you think consumer choice at the pump is so important?
---
A: Consumer choice is a fundamentally American principle. When you walk into the grocery store you can choose from a wide variety of foods. When you want to buy a car, you have a range of makes and models to choose from. Why shouldn't American consumers have the same kind of choice at the fuel pump?
---
As a supporter of an "all-of-theabove" energy strategy, I believe consumer choice at the pump is key to our long-term energy independence and biofuels play a vital role in our fuel mix. E15 and E85 are available at stations throughout my district. At those stations consumers regularly see significantly lower prices. That means more money in the pockets of Americans and a growing demand for American corn. It's a win-win for American consumers and American farmers.
---
Q: Why is the development of the biofuels industry critical for economic growth for the U.S. as a whole?
---
A: Rural America feeds, fuels and clothes the rest of the country. Energy policies that benefit these hardworking contributors who are truly the backbone of our nation's economy have a resounding impact on prices and availability of goods across the nation. As fuel costs are lowered across the board, more industries have working capital to develop and innovate their processes, raise wages, and lower prices of their products and services.
---
Q: If you could share one last message with our readers who are invested in the future of agriculture, what would that message be?
---
A: While commodity prices are low right now, I am confident in the future of American agriculture. People will always need food, fuel and fiber, and farmers will be there to meet that demand. Working toward sound federal polices — such as year-round E15, a Farm Bill that provides the certainty our growers need and trade deals that increase global access for American commodities — the federal government can help ensure that future is bright. I will continue to bring my passion for agriculture to Congress to help ensure we keep moving in that direction.
---
American agriculture continues to be on the forefront of innovation. From precision farming to genetic research, we continue to see rapid growth in the way we farm. One way I am working to advance the future of agriculture is by putting more tools in our farmers' toolboxes through new crops like industrial hemp. I am proud of my work as Agriculture Commissioner to establish the hemp pilot program in Kentucky that has become the model for other states to provide their growers the opportunities hemp can bring. Today, I am working with Senate Majority Leader McConnell to advance provisions of the Farm Bill that will remove further hurdles to hemp as an agricultural commodity and give not just Kentucky farmers but all farmers another way to build on their success.
How do I join POET PAC?

poetpac.com | (605) 965-2377 | poetpac@poet.com
Contributions to POET PAC are not tax-deductible for federal income tax purposes. Contributions to POET PAC will be used in connection with federal elections and are subject to the limits and prohibitions of federal law. The maximum an individual may contribute to POET PAC is $5,000 per year ($10,000 per couple). Corporate and foreign national contributions are not permitted under federal law. Please make checks payable to POET PAC. Federal law requires us to use our best efforts to obtain and report the name, mailing address, occupation and name of employer for each individual whose contributions aggregate in excess of $200 per calendar year. Your contribution to POET PAC is strictly voluntary.
PAID FOR BY POET PAC
---