---
"NASCAR®'s most famous crewman," Danny "Chocolate" Myers was Richard Childress Racing's (RCR) gas man for the No. 3 and No. 29 from 1976 until 2002. He was the backbone of the pit crews famously known as the "Junk Yard Dogs" and later "The Flying Aces," one of the most efficient over-the-wall pit crews of the time. He helped the team rack up six NASCAR® Cup Series Championships with his good friends, driver Dale Earnhardt Sr. and owner Richard Childress.

---
Chocolate came from a racing family (the Myers brothers were pioneers in the sport) and started out with humble beginnings alongside Richard Childress. As young men, the two friends sold programs, peanuts and other snacks together at Bowman Gray Stadium in Winston-Salem so they could gain entry and watch the races. That was the foundation of a relationship that is still rock solid today. You will find "Choc," as he calls himself, daily as the curator of the RCR Museum in Lexington, N.C., and cohosting SiriusXM's program "Tradin' Paint" on NASCAR® Radio from his office. I had the honor of sitting down and asking him about his best and worst days at the track.
---
QUESTION: What made the No. 3 team and RCR so dominant in the 1980s and 1990s?
---
Choc: Back then, things weren't so specialized. There were fewer on a team and we were tight. I think what made us so dang good is we created a bond where we didn't [just] really like each other. In a round-about way, we loved each other. Nobody wanted to let the other guy down. You didn't worry about letting yourself down. You didn't want to let your friends down. And I certainly didn't want to let Richard and Dale down.
---
What was your toughest day at the track?
---
Choc: Yeah, wow, I think for me it's kind of crazy. Daytona happened [referencing the fatal crash that took place on Feb. 18, 2001, on the final lap of the 2001 Daytona 500], and we didn't really know what happened. That flight home … I mean we saw the wreck, but we didn't know how bad it was until we got home. "Dale wasn't hurt," we thought. "He was Superman." We were wrong. It was so emotional and so hard on us. We just lost our best friend, our hero and the guy we make a living with. We didn't know what we were going to do, and we were back at work on Monday trying to figure out how we were going to carry on and at the same time plan a funeral. It was crazy.
---
What was your happiest day at the track?
---
Choc: I'd have to say my top two were winning Daytona in 1998 and winning the Southern 500 in Darlington. See, my daddy was an early pioneer in NASCAR, and he lost his life in a crash at the Southern 500 in 1957. My dream was to be a driver in NASCAR and go back to Darlington and win it. The driving part didn't work out, but winning with the No. 3 team sure did. That was awesome.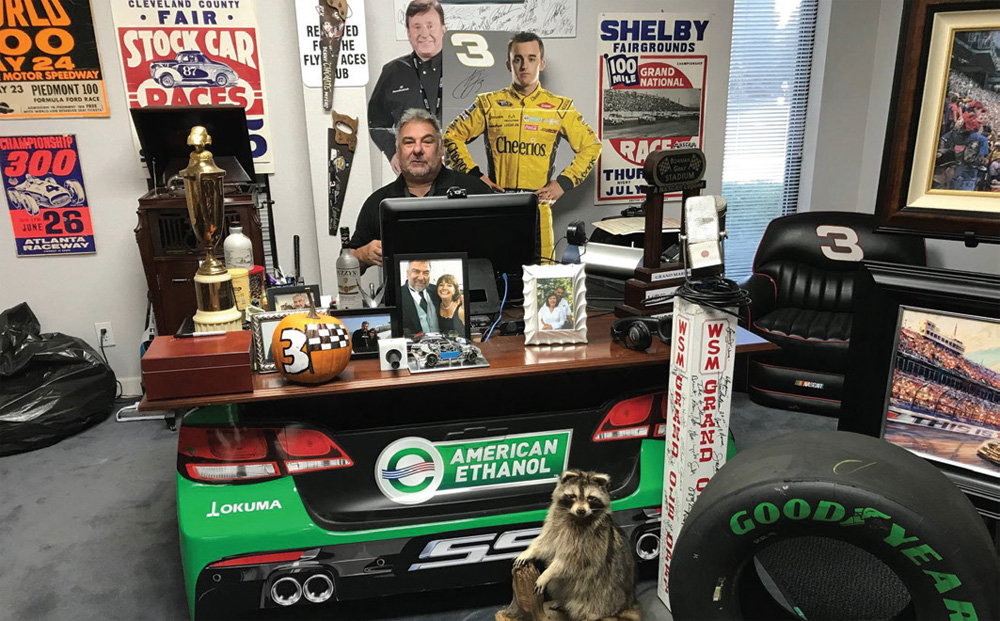 ---
How has being a gas man changed? And how has the pit crew changed?
---
Choc: I started out as a gas man; now they are called the fuel men. That's changed, and the fuel has changed too. Back in my day, there was lead in the fuel, and it didn't have ethanol. It had bad stuff in it to get that high octane, and you could feel it for a few days after a race from breathing it in. It was obviously not good for you, and ethanol made a difference for the better. Also, back in the day we didn't have time to practice a pit stop. Maybe we could do it on Sunday before the race, but that was it. Like I said, there weren't very many of us. We had to work on the car and get it ready first and foremost. Now they have an indoor facility to practice pit stops year-round.
---
You've been around the sport for a long time. What's your take on what's going on with the fans and attendance, and do you think NASCAR can return to the glory days? If you had a magic wand, what would you do?
---
Choc: Well, if I had a magic wand I would try to let the people understand — make the people understand — that the racing we've got today is better than it's ever been. … I work really hard doing SiriusXM NASCAR radio, and I let everybody know that NASCAR isn't the only thing that has changed. Everything in our society has changed. But as far as the competition — the playing field, the racetracks, the race cars, the people — we are better than we've ever been. This is good stuff. … I think that TV has been one of the greatest things to happen to the sport. It made us international but also has kept people maybe away from going to the racetrack. I'm very positive. I'm the glass-half-full kind of guy. I love our sport; I grew up in it. I support it every day. I talk about all the things that are good about it, and I think the competition today is unbelievable. I think NASCAR does a pretty good job of letting us be ourselves. Some of the people don't think that we can do what we want to do, but I think we can. You just can't be stupid. You got to have a little bit of common sense. Common sense isn't really common anymore.
---