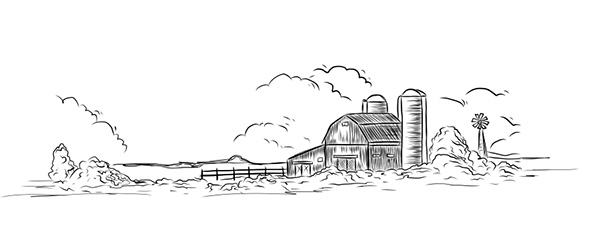 ---
POET has a storied past, with deep roots in many rural communities across the Midwest. From day one we have sought to embody a spirit of innovation and sustainability, never losing sight of our original mission to bring value to America's farm families.
---
Let's go back in time about 40 years, to the family farm I grew up on in southeast Minnesota. To say the 1980s were a tough time to be a farmer would be an understatement — to say U.S. agriculture was dying would be more accurate.
---
Land values had dropped, interest rates had skyrocketed, and thousands of farmers were being forced into bankruptcy. In addition, farmers were being paid by the government to set aside 20 percent of their land and receiving subsidies on every bushel they grew.
---
There was simply too much grain, and the outlook for rural America was pretty bleak.
---
That's when we began producing bioethanol, and in the last four decades, bioprocessing has without question become the most significant value-added agriculture story in history.
---
When bioethanol scaled up from less than one percent of the nation's gasoline supply to more than 10%, farm income tripled. Land values more than doubled, adding more than a trillion dollars to farmers' balance sheets. Today each major bioprocessing plant contributes more than $200 million per year to its local economy, and the bioethanol industry contributes $57 billion annually to the U.S. GDP.
---
Can you imagine where U.S. agriculture would be today without bioethanol?
---
Bioprocessing didn't just create the lifeline needed to revive rural America — to this day, it continues to create markets for farmers and drives the value of every bushel grown on their land.
---
The bioethanol industry processes 40% of the U.S. corn crop each year. POET alone purchases 7% from more than 40,000 farmers across our plant network — that's almost a billion bushels, or a million semi-loads. We use that grain to produce three billion gallons of bioethanol each year, which is helping to replace millions of barrels of imported oil with clean, renewable, American-made energy.
---
And we're not only fueling the world; we're feeding it too. POET also produces 14 billion pounds of animal feed that's shipped to over 25 countries, proving that bioprocessing enhances the global food supply. Add to that a billion pounds of corn oil as well as purified alcohol for consumer products and bioCO2 for a wide variety of applications.
---
That said, most people don't realize just how much agriculture and bioprocessing touches their daily lives. There's no question agriculture has been an integral part of our past and present — and I believe it has the potential to be an even bigger part of our future.
---
Crop yields have increased steadily over the past century and even more dramatically in recent decades, and as they continue to improve, we will need a balanced supply and demand for grain to maintain a profit margin for agriculture. Ever-increasing grain yields without equivalent demand leads to oversupply, which leads to decreased value and subsidized grain like we saw in the 80s.
---
But demand leads to profit margin, that margin leaves room for investment, and that investment leads to the innovation and infrastructure that can open the door for agriculture to thrive. That's why it's critical that we continue to seize new opportunities for ag-based products, like carbon capture, renewable diesel fuel, and global feed markets. It's up to all of us to continue to embrace the technologies that will ensure the long-term prosperity of the Heartland.
---
There is no question we can continue to create profitability for farmers while fueling the ag-based bioeconomy of the future — a future where we harness Earth's regenerative capabilities, where we use the resources given to us in the ways we believe God intended, and where rural communities can prosper for generations to come.
---
Now that's a future to look forward to!
---