---
If you had asked Emily Boynton 20 years ago if she imagined herself managing an ethanol plant someday, she would have laughed.
---
Yet, as she approaches 18 years at POET Biorefining – Caro in Caro, Michigan, Boynton is also transitioning to the role of General Manager.
---
It's not a path she ever envisioned herself taking. Boynton was recruited to Caro from House of Raeford, a poultry plant in Athens, Michigan, where she worked as a Quality Manager.
---
While there, she became an expert in regulation and product safety, working with her team to ensure excellence in all areas. It's this commitment to quality that makes Boynton a perfect fit for her role at POET, but she didn't see the connection at first. In fact, she didn't believe she was qualified for the position.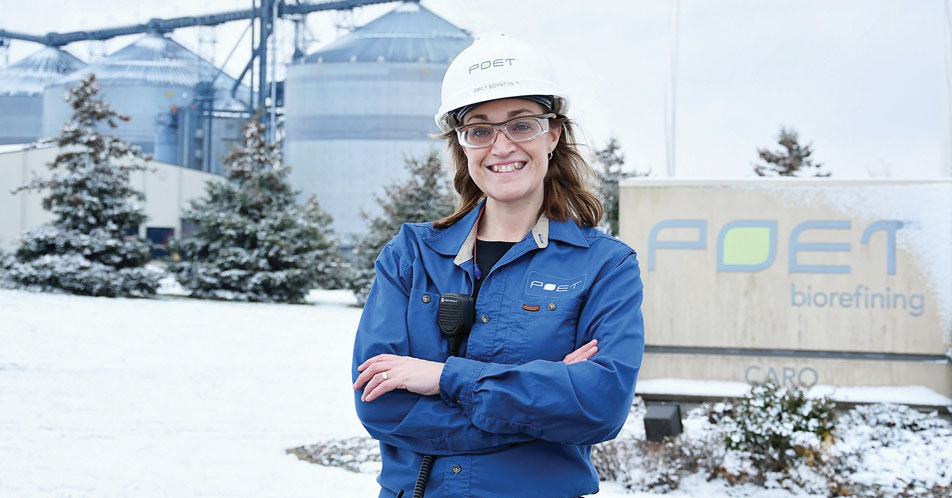 ---
"In the interview, after they told me what I'd be doing in the role, I said, 'You need a chemist, and I'm a microbiologist.' I didn't know anything about the industry. I remember asking, 'You put this in gas?'"
---
But POET saw potential that Boynton didn't yet recognize. The job was offered to her, and she joined the team as a Lab Manager — a title which later changed to Quality Manager. Joining POET as the Caro plant was being built provided Boynton with perspective from the ground up.
---
"I remember sitting around tables listening to everyone with all this industry experience, and over the years, you just continue to learn," she said.
---
Boynton's evolving role with POET
---
The majority of Boynton's career at POET was spent in the quality division, where she oversaw lab work and fermentation, ensuring the quality of raw stock coming in as well as co-products and ethanol going out.
---
While it sounds fairly technical, Boynton developed much of her leadership skills here.
---
"As a Quality Manager, you have to have strong, influential leadership," she said. "You don't really have any power over the people you're managing as far as hiring or firing, but you have to influence them to want to make the right product every day."
---
Her 14 years in the quality division ended up forming the strong foundation Boynton needed when the time came to move up."It really taught me that you don't have to have a title to influence people to follow you and more importantly, to do what's right," she said. "It pays dividends to do what's right every day."
---
When POET Biorefining – Caro's Plant Manager position opened up in 2017, it was time for Boynton to take another leap of faith. Faced with the opportunity to move into that leadership role, Boynton hesitated but was encouraged by mentors who believed in her abilities.
---
The Plant Manager role was filled with new challenges every day — the type of environment Boynton says she thrives within.
---
"What I love about POET is sometimes you feel like you're drinking from the fire hose, and then they say, 'Now we're going to turn the water on,'" she said. "I absolutely love that kind of challenge."
---
Just as Boynton felt she was hitting her stride in that role, the general manager retired, putting her in the position, yet again, to pursue more responsibility.
---
"I had this drive to keep our team moving forward when we're drinking from that fire hose," she said. "The team itself is exceptional, and I can't say enough about our management and our team members, and how they all work together and support one another."
---
With forward movement always front of mind and the strength of her team behind her, Boynton stepped into the role of General Manager in July 2019. Though she says she has much to learn, she is confident in what lies ahead for POET, both at POET Biorefining – Caro and company wide.
---
"The vision of where we're going is so strong," she said. "It's as strong as it was 17 years ago, and I want to say it's actually stronger."
---
POET's leadership provides mentoring and encouragement at every stage
---
Though she came in with no ethanol industry experience, Boynton has excelled at POET over the years. She credits her success to POET's leaders, whose mentorship and encouragement she says she is honored to have received.
---
"When I was in college, I thought I'd be in a lab for the rest of my life, but as I've been mentored and exposed to challenges and learned how to overcome obstacles, I saw that I wanted to strive forward," Boynton said. "I was encouraged and mentored heavily throughout my time at POET, which resulted not only in confidence in what I could do, but in giving me the skills I needed to know that I could achieve it."
---
POET's commitment to mentorship has resulted in the growth of numerous leaders from within the company, of which Boynton is a prime example. She also serves as an excellent representative of successful women in STEM roles — a pursuit POET cares deeply about and continues to foster.
---
Shon Van Hulzen, POET's Director of Quality Control, has long served as a mentor for Boynton.
---
"Emily has a diligent, enthusiastic and engaging approach to leadership," he said. "She embraces new challenges and is always ready to fill the gap and do whatever is needed by her team or the company. She puts people first and desires to see everyone be successful."
---
But Boynton hasn't just benefited from mentorship herself, she also serves as a mentor to her team members. Nicholas Bauerschmidt used to work in the lab under Boynton, and when she moved up to the Plant Manager role, he was primed to take her place as POET Biorefining – Caro's Quality Manager.
---
"She's a very good teacher, and if you're ever in a situation where you underperformed or are looking to step up, you can lean on her knowledge base," Bauerschmidt said. "She's good at breaking things down, working with you until you find that missing piece that was in your gap of knowledge, and building you back up so you can move on."
---
At each stage of an employee's career, POET aims to provide a solid foundation for growth and development.
---
Leadership beyond the plant's walls
---
Part of the mentorship that POET employees receive includes a strong emphasis on community involvement. For Boynton, her decision to take a job with POET back in 2002 rode heavily on its location. At the time, she had two job offers on the table — one located in Chicago and the other with POET — and two young children to consider.
---
"The opportunity to raise my children in a rural community was too much to pass up," she said. "It gives you a more intimate experience. There's true caring about each other, and we all want each other to succeed. It's given my kids a sense of home, safety and consistency."
---
Caro is a town of around 4,200 people, and when POET first arrived, there was some resistance from the community. The plant now employs 43 people, and according to Boynton, any tension or resistance is long gone, which she attributes to the company's involvement and support of the community.
---
"We do a lot of community events to make sure people have a chance to come out and see what we're doing," she said.
---
Recently, POET Biorefining – Caro hosted a "Somebody Cares About You" safety event, similar to a fall carnival. The plant is also actively involved in 4H, the rotary and the Caro Chamber of Commerce.
---
"We make sure we're good neighbors and we're here to help, and they've been reciprocal of that as well," she said.
---
In her new position as General Manager, Boynton will have the opportunity to interact with the community even more. Part of her role involves making sure team members are representing POET well in the community through volunteer service.
---
On her own time, Boynton has run a local soccer league with her husband and served as head judge for a local robotics competition.
---
"It really teaches you those soft skills that you have to develop over time," she said. "I tell our team, 'Even if you don't have a role where you can directly lead or supervise at work, go out in the community and pick up a project. You'll learn it there.'"
---
From jumping into a role she didn't believe she was qualified for at the beginning of her career, to an unwavering commitment to both her team and community, Boynton has proven herself to be a leader, every step of the way.
---