---
REDUCES GREENHOUSE GAS EMISSIONS
---
According to the United States Department of Agriculture, starch-based biofuel reduces greenhouse gas emissions by 43 percent compared to conventional gasoline, would further reduce greenhouse gas emissions by 50 percent by 2022 and has the potential to reduce emissions by as much as 76 percent. Cellulosic biofuel has a greenhouse gas reduction of 85-95 percent over 2005 gasoline baseline.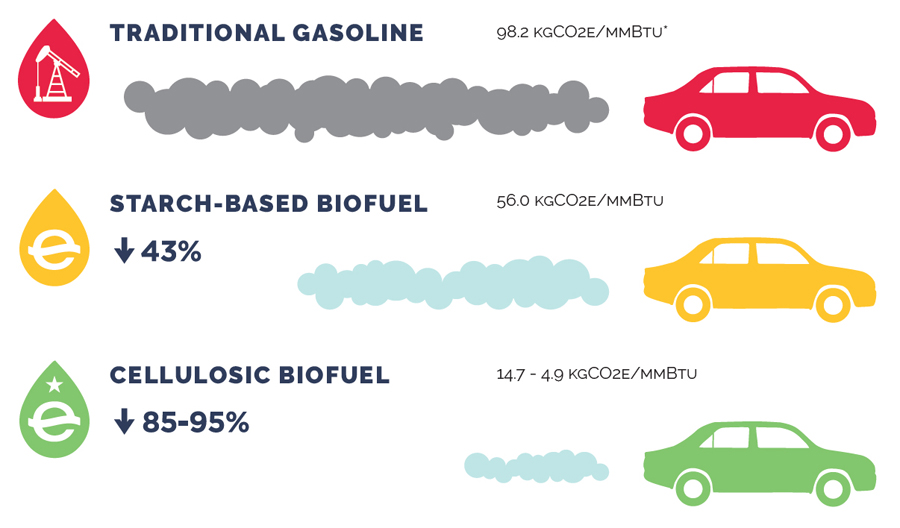 ---
COUNTERACTS DAMAGE FROM FOSSIL FUELS
---
The University of Montana found that the extraction and production of fossil fuels was responsible for destroying 7.4 million acres of vegetation from 2000-2013.
---
DECREASES GROUND LEVEL OZONE
---
Independent environmental research indicates that replacing E10 with E15 will cause a decrease in emissions of ozoneforming compounds and carbon monoxide, and no change in nitrogen oxides (NOx) emissions.
---
CUTS TAILPIPE EMISSIONS
---
According to the Biotechnology Innovation Organization, during the summer months alone E15 can reduce greenhouse gas emissions equivalent to taking 2.1 million vehicles off the road.
---
LOWERS PUBLIC HEALTH RISKS
---
In addition to the environmental benefits, the Energy and Environmental Studies Institute states that E15 can lower the public health impacts from transportation emissions, including reducing risks associated with cancer and asthma.
---
---