---
Although Minnesota Vikings linebacker Chad Greenway earns his keep on a football field rather than a farm these days, the lessons he learned growing up on a hog and crop farm near Mount Vernon, S.D. – working hard, dreaming big and taking pride in his community and in farming – have stuck with him.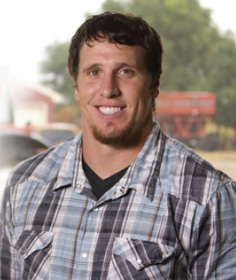 ---
Now in his fourth year in the National Football League, the 26-year-old Greenway – an avid ethanol user and supporter – is a leader on and off the field who cherishes his roots and tirelessly advocates for kids, small towns and farming.
---
"I've had a lot of good opportunities in my life and I've tried to take advantage of all of them," Greenway says. "The values I picked up on the farm and in a small community have always helped me."
---
The youngest of three kids, Greenway's earliest memories involve picking rocks, helping fix fences and cutting musk thistle in the dead heat of summer. To keep the farm going, Chad worked side-by-side with his two sisters and his parents, Julie and Alan (who are happily married, Greenway jokes, despite one's allegiance to John Deere and the other's allegiance to Case IH).
---
Julie and Alan's farm currently boasts about 5,000-6,000 hogs and 250 head of cattle a year, as well as 1,500 acres of corn and soybeans. Two years ago, Julie and Alan put in a feed mill, and started feeding their hogs with Distillers Dried Grains with Solubles (DDGS), a high-nutrient feed that is a co-product of the ethanol production process.
---
"They've noticed great results for the hogs," Greenway says. "It has been such a great help and great progress for my parents."
---
Greenway is reflective about how his childhood on the farm shaped his character.
---
"From growing up on the farm, I learned the value of earning a dollar and doing it the hard way," Greenway says. "I also saw my parents' dedication to a dream. My parents always wanted to have their dream farm. It may not look like what it looks like now, but they're always working toward a dream."
---
Greenway had his own dreams as a youth. While he was expected to help with farm chores like throwing bales of hay and loading hogs for transport in the early morning hours, he was also given the freedom to play sports. He was quarterback and defensive back on the Mount Vernon nine-man football team (his high school wasn't big enough to play full 11-on-11 football), played on the basketball and baseball teams and excelled in track & field.
---
"In the back of my mind I wanted to play professional sports, but I knew coming from a small community a lot of good things would have to happen to me to make that dream come true."
---
Good things did happen, specifically in the form of a football scholarship to the University of Iowa. As an All-American, he excelled as a Hawkeye, and then was a first-round pick by the Vikings in the 2006 NFL draft. After suffering a season-ending ACL injury in a pre-season game when he was a rookie in 2006, Greenway bounced back and rapidly became a team leader on defense, making a career-high 115 tackles in 2008.
---
Greenway still dreams big – a Super Bowl win is his obvious career goal.
---
"Something I learned on the farm that I apply in my life and to my career in professional sports is to put one foot in front of the other and to take one day at a time, to try to get better every day and to improve something every day," Greenway says.
---
As Greenway works toward his professional goals, he still finds time to advocate for causes near and dear to his heart, predominantly through his "Lead the Way" Foundation. One of his missions is to be a spokesperson for disadvantaged kids from small communities "who often get overlooked," he says. "I just want them to know it's possible to achieve their dreams."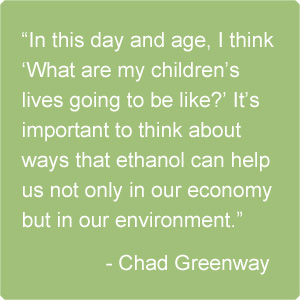 ---
Greenway advocates equally passionately for farmers.
---
"Farmers are often overlooked, although they produce so much of what we use every day," he says.
---
Ethanol-producing farmers have been the notable recent exception, Greenway says, and ethanol production has been a blessing for farmers and for small communities in South Dakota, Minnesota, and Iowa.
---
"It's a positive thing any time a farmer is asked to produce more of something, or any time a farmer is thrust into the limelight of our society," he says. "Ethanol has done a great job of making superstars of our farmers."
---
When an ethanol plant went up in Loomis (a town of 47), near Greenway's hometown of Mount Vernon (population 470), "people flocked there and wanted to work there. It was great for the farmers involved," he says.
---
"Ethanol was sort of a 'shock and awe' boom," he says. "Having these plants in South Dakota led to the creation of more jobs and the creation of more infrastructure, which makes smaller communities more productive and adds more kids to the school systems. It's creating more opportunities for people, and all you can ask for in life is an opportunity."
---
The fact that ethanol is helping the United States reduce dependence on foreign oil is also positive, Greenway notes.
---
"In this day and age, I think 'What are my children's lives going to be like?' It's important to think about ways that ethanol can help us not only in our economy but in our environment," he says. "If ethanol can become a stronghold not only in production but in usage, it will benefit my daughter and what the environment looks like in the future."
---
He's a small-town kid who's gone from farm field to professional football field, but he's still got plenty more big-time dreams.
---