---
Dan Loveland, POET's first and only Chief Financial Officer, was intrigued by POET long before he officially joined the company more than eight years ago.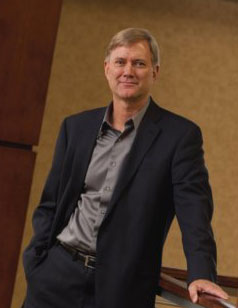 ---
The Sioux Falls native and University of South Dakota graduate had worked as an outside consultant to POET during the previous 10 years, providing financial reporting and tax consulting services. What he witnessed during POET's early years so enthused him that he didn't even blink when taking a career plunge that some acquaintances found risky.
---
"I gave up a fairly secure partnership position in public accounting for this opportunity [at POET], so the career change came with some risk. I'm not sure that some of my friends, family and CPA firm co-workers believed that I was making a smart move at the time," says Loveland.
---
Loveland was confident in the career change, however, and considered it a "calculated, manageable risk" because of his 10- year history "looking in through the window" with the company.
---
"I was attracted to the potential of both the ethanol industry and of POET… I knew there were lots of opportunities to grow personally and professionally," Loveland says. "It felt as though this would be an opportunity to be involved in an industry that could make a difference in helping our country become more energy independent by producing renewable energy here in the Midwest where I grew up."

Within a week of starting his new gig, Loveland knew he'd made the right move, and so did his wife, Kathy. And the new job motivated and inspired Loveland from day one.
---
"Kathy tells me she could see right away that we'd made the right decision. She could see the level of enthusiasm that I had for the work I was doing, even after a long, hard day at the office," Loveland says. "I knew it, too. I was facing a lot of challenges but it was fun being able to jump right in the middle of those challenges with an organization like this."
---
The challenges have been plentiful during Loveland's eight and a half years, a time during which POET has evolved into a complex, multi-billion dollar ethanol company that consists of more than 40 different business entities. When Loveland joined POET in 2001, the company operated seven ethanol plants and employed about 40 people in the newly-constructed office building in Sioux Falls. Today, the company operates 26 biorefineries and has a team of over 200 in Sioux Falls and 1,500 team members throughout the POET organization.
---
POET's investor base has also expanded dramatically during that period, says Loveland, noting that one of the company's biggest challenges is "financing growth in an environment of uncertain public policy and fluctuating commodity markets." Finding new sources of capital to grow the business entails constantly educating people in the financial markets about the sustainability of the ethanol industry and POET's vision for the future of biorefining, Loveland says.
---
Loveland's colleagues say that the CFO excels in his role as educator and in his dealings with potential lenders and investors.
---
"Dan does a great job of negotiating, whether it be with bankers or potential financiers," CEO Broin says. "He's an innovative leader, his attention to detail is second to none, he's always looking for new and better ways of doing things, and there's no problem he can't find his way around," Broin says.
---
Jim Kisch, Senior Vice President for Minneapolis-based Hays Companies, which provides property casualty insurance for all POET-owned companies, concurs that Loveland is an expert at educating potential business partners about the ethanol industry and "telling the POET story very well." Underwriters who are debating whether to do business with POET are often impressed by Loveland's professionalism and deep knowledge of his industry and company.
---
Loveland's effective communication skills date back many years, according to James Abbott, President of the University of South Dakota. Loveland and Abbott have been professional acquaintances and friends for about 20 years, since Loveland was the accountant for Abbott's cable television business in Yankton. Abbott was always impressed by his CPA's ability to "take a complex issue and explain it in a way that's understandable" to a non-accountant. According to Abbott, "there are two kinds of accountants — those who are able to synthesize a complex issue and make it understandable, and those who don't want to do that very badly. Dan is the first kind. He knows how to take a complicated tax issue and explain it in a way that would enable the client to make a reasonable decision."
---
Loveland has always been a creative forward-thinker with an ability to think beyond the ledger, Abbott says, noting that unlike some of Loveland's other friends, he wasn't one of those surprised when Loveland took the job at POET.
---
"My sense was that dealing with accounting issues and tax work was limiting because he has so much more ability than that," Abbott says.
---
Loveland explains that even though he had known since taking a high school accounting class that he wanted to pursue the career, it wasn't because crunching numbers was his passion.
---
"I've never really considered myself a 'numbers guy' or a math whiz. I look at myself more as someone who likes to put pieces of a puzzle together to show what the big picture looks like." And at POET, the 'big picture' is infinitely exciting, Loveland believes.
---
"This industry and POET have vast untapped potential. My dream for both is a world where biofuels and biorefined products can compete on a level playing field without extensive public policy intervention. That's not a pipe dream, but it will require a lot of work and innovation."
---
Enthusiastic visionaries like Loveland — who are working to make their dreams for the company and the industry a reality — are the reason POET's future is bright, according to CEO Broin.
---
"I think our industry is very exciting and very entrepreneurial. POET attracts people who want to take a bit of a chance, but also want to be part of a company that has potential to change the world," Broin says. "It's all about the people, and it's people like Dan Loveland who have gotten this company to where it is today."
---