---
U.S. ethanol and the biofuels industry were well represented at December's United Nations Climate Change Conference 2009 in Copenhagen.
---
POET CEO Jeff Broin and Growth Energy Co-Chair General Wesley Clark made the trip to Denmark to take part in the Danish Climate Consortium side event titled "The Global Potential of Biofuels."

Clark was keynote speaker at the event, which featured energy and agriculture experts from around the world. Clark told the standingroom only crowd that our world has the tools in biofuels production to accomplish our environmental goals.
---
"We have the technology now," he said. "We have the business leadership. What we need is the will. We can meet the challenge."
---
He outlined the consequences of America's dependence on foreign oil.
---
"We suffer the inefficiencies of cartel pricing and oil shocks. Even when demand is down, the cartels could manipulate production to keep prices high," he said. "Then there is the military cost to ensure steady access to foreign oil from parts of the world that are volatile, or outright hostile to Western values and policies. Taxpayers fund the defense of oil shipping routes with an estimated annual cost of more than $50 billion."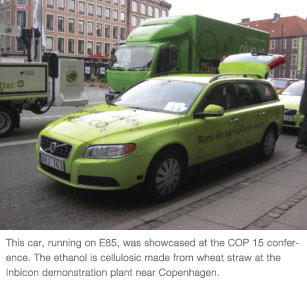 ---
Clark is a wellknown figure in Europe, thanks to his role as Supreme NATO Allied Commander Europe and his command of Operation Allied Force during the Kosovo War.

Broin took part in a panel discussion with other world industry leaders such as Brazil's UNICA (sugarcane association) CEO Marcos Jank; Novozymes President and CEO Steen Riisgaard and Denmark's Niels Henriksen, CEO of cellulosic ethanol producer Inbicon among others.
---
Broin described the steady improvements he has witnessed in ethanol production from grain.
---
"Through science and technology we have made biofuel production incredibly efficient; increasing yields while reducing energy and water use," he said. "Combine this with the efficiencies gained in agriculture through more sustainable practices and increased crop yields, grain ethanol production can now claim a reduction in greenhouse gases of as much as 59 percent compared to gasoline."
---
Those will continue, Broin said, and cellulosic ethanol will drastically increase the potential sources of biomass.
---
"… with the vast amount of biomass around the world, there is enormous potential to displace fossil fuels with clean and green renewable energy," he said. "And through biofuel production, we have the wonderful potential to create good green jobs, and revitalize rural areas throughout the world."

Steen Riisgaard, CEO of Novozymes, took part in the panel with Broin emphasizing the benefits of biofuels to the environment.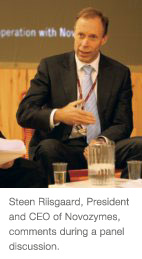 ---
"Biofuels are essential to limiting CO2 emissions in road transportation. They can readily be implemented into current infrastructure and can deliver up to 90 percent CO2 reductions compared to gasoline," said Riisgaard. "Biofuels create green jobs and economic growth and they reduce our dependence on fossil fuels. The world cannot afford to overlook this potential."
---
International media coverage for ethanol was extensive in Copenhagen, and ethanol advocates made important connections with policy makers around the world.
---
While in Copenhagen, Broin also attended a number of events to meet with policy leaders. He was at a reception at the US Ambassador's residence in Denmark. Others in attendance included U.S. Secretary of Agriculture Tom Vilsack, U.S. Secretary of Energy Steven Chu, California Air Resources Board Chair Mary Nichols and California Governor Arnold Schwarzenegger.
---