---
Chelsie Bickel is the Quality Manager at POET Biorefining – Groton, but that job title barely scratches the surface of what she brings to the table.
---
On the job, Bickel is known for jumping in wherever work needs to get done. She takes on extra responsibilities and projects, goes above and beyond to help out her coworkers, and promotes POET in the community by leading plant tours, hosting 4-H camps, and giving presentations at area schools.
---
But her energy doesn't tap out there.
---
Outside of work, she is a loving wife, mother of two, ambitious graduate student, horse-lover, rancher, collector of mid-century furniture and — wait for it — a mosquito expert. The Aberdeen native says she's always looking for something new to keep her busy, whether it's professional development or a road trip to track down vintage lamps.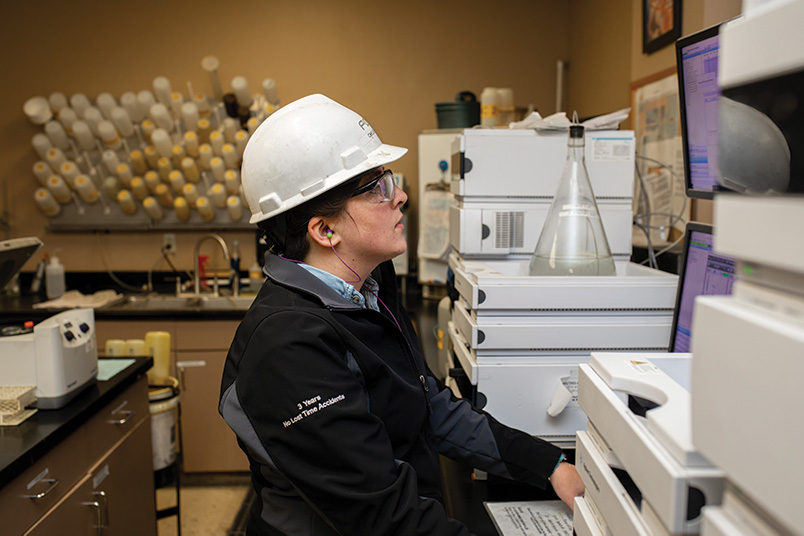 ---
From Managing Mosquitoes to Managing a Lab — A Shifting Career
---
After graduating from Northern State University with a biology degree, Bickel dove into the world of environmental science, beginning with internships in fisheries and habitat management.
---
"I spent a lot of time in waders, doing fish surveys, electro-fishing, and gill netting for fisheries management in northeast South Dakota," Bickel said.
---
After those internships, she transitioned to a job in entomology where she conducted mosquito speciation, trapping, sorting, testing for West Nile virus, and administering larvicide, all for the city of Aberdeen. Mosquitoes were a seasonal job, so Bickel also worked with the Day County Conservation District dealing with habitat management and planning for Pheasants Forever.
---
At the time, one of her husband's coworkers was married to the materials manager at POET Biorefining — Groton, and he referred Bickel to the company because of her background in science. She applied for the quality manager position and, six and a half years later, she's never looked back.
---
"It was a complete switch from working outside all day to being in an office, sitting at a desk and actually looking at the numbers," she said. "It's definitely been more of a challenge when it comes to managing people and learning the analytics, and, of course, the ethanol process was completely new to me."
---
Though her day-to-day focus shifted, Bickel brought along a valuable perspective from her time managing mosquitoes.
---
"Groton is built on a slough, and where there's water, there are insects," she said.
---
Employees at the plant needed a way to stay cool in the summer, so Bickel advocated for screens that would let the fresh air in but keep the mosquitoes at bay.
---
"Mosquitoes at a plant are a hazard that not many people would think about, but my experience has really driven home some of the dangers." Bickel said.
---
Besides protecting her team from pesky insects, Bickel has proven herself to be more than capable as a quality manager –– a role that involves everything from managing the laboratory to coordinating research trials and running the fermentation process.
---
Bickel also works with plant management as a key product lead (KPL) for co-products, specifications, and regulations.
---
In that role, she focuses on the animal food safety program for the entire fleet, not just Groton.
---
"I always have to be doing something or I'll get bored, which is why I take on extra work from plant management and research," she said. "I love to be busy, I love to contribute and I love what I do here. It's never boring. If there's a boring day at the plant, you haven't made enough work for yourself."
---
Kelly Kjelden, Groton's General Manager, has supervised Bickel throughout her time at POET.
---
"It's not a great chore to come up with those things that make Chelsie a fantastic team member and manager," he said. "The first thing that comes to mind is her work ethic. She just knows what needs to be done and gets after it, even if it means coming in early or staying late, or popping in on a weekend, or even answering the phone in the middle of the night."
---
Kjelden adds that Bickel takes pride in a job well done, and that she is driven by goals, objectives and a desire to better herself for the benefit of her team and the company.
---
"She's a team player, and she's not afraid to cross the lines of her position to go help wherever it's needed," he said.
---
Working beyond the responsibilities of her job title is something Bickel takes seriously, whether that's in the lab or in different areas of the company.
---
"I'm very much of the mindset that a Quality Manager should be able to step in and do anything their lab techs are doing. If they need help with anything, I step in, and vice-versa," she said.
---
She also works closely with POET Nutrition to coordinate Preventive Controls Qualified Individual (PCQI) training, an FDA requirement for the food safety program. Bickel is a lead PCQI instructor, and she's working to bring more standardized training to the program.
---
Additionally, Bickel recently started an online MBA program through Pittsburg State University, which she hopes will enhance her understanding of higher-level business operations beyond the more technical aspects of her job.
---
These are just a few of the myriad ways Bickel invests in her work with POET, both in the day-to-day operations and the long-term vision.
---
"Chelsie has a bright future with POET, and I think she can do whatever she wants. She has that ability," Kjelden said. "I can see her in higher levels of leadership at the plant, if that's what she wants."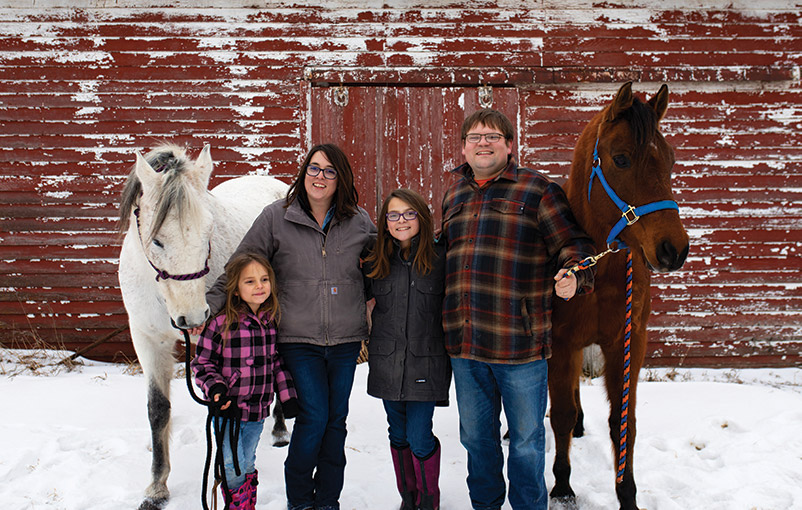 ---
Pursuing Her Passions, Both at Work and at Home
---
Bickel's commitment to POET goes beyond her role as Quality Manager or her additional pursuits. She has a passion for science that drives her to promote POET within the community, particularly to young people.
---
"I love talking about what I'm doing, especially if it's something I'm super passionate about, and reaching out to kids about science is something I wish I had more of in my youth," she said.
---
Bickel has volunteered to judge local science fairs on multiple occasions, and sometimes she even gets her coworkers to participate as well.
---
"You get to give the kids feedback, and they tend to ask you a lot of questions about what you do," she said. "I get to tie in their projects to some of the things we do at POET and maybe plant the seeds for future interns."
---
If there's an opportunity to share her heart and passion for science, you can bet that she'll be there, whether that's with area students or her own young daughters.
---
In 2020 Bickel had the opportunity to speak at the annual Women in Science conference in Aberdeen, an event for girls in grades 7-12. Prior to the pandemic, the Groton plant offered tours for area students, and Bickel would regularly volunteer as tour guide. Last summer, she hosted 30 fourth-graders for a 4H science camp, and they enjoyed some simple experiments using lab equipment. And on the weekends, you can often find her girls, Kamryn and Karsyn, tagging along while Mom gets work done in the lab.
---
"It's one thing to get up on stage and talk about what you do, but to bring someone in and actually show them is really cool," she said. "We usually host a couple of high school chemistry classes, and I get to walk them through the plant, pull samples with them, and do experiments."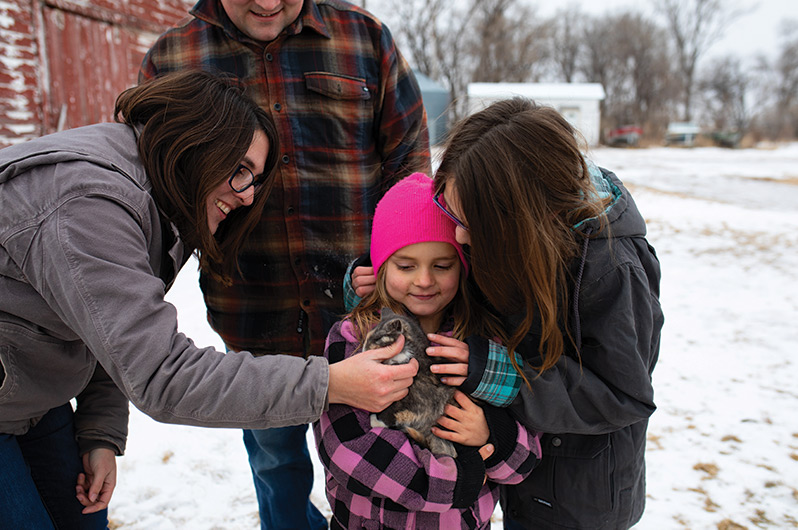 ---
Though she could talk about science for days on end, Bickel tends to an array of other hobbies at home. She and her husband own a small ranch east of Groton, where they raise cattle and own a few horses that their daughters ride and show on the weekends.
---
Inside the house is their impressive collection of mid-century furniture, dating back to the 1950s and 1960s.
---
"My husband and I started this collection about ten years ago," she said. "The style of our house is very mid-century, and you just can't buy solid walnut dressers anymore. We spend a lot of time going to auctions and estate sales."
---
Whether it's time spent driving to furniture sales or horse shows, or enjoying the outdoors on the ranch, spending time with family is of the utmost importance to Bickel.
---
Between her personal and professional pursuits, it's hard to imagine how she manages everything. If you get the chance to talk to her, however, you'll hear it in her voice — an unmistakable sense of passion and drive that keeps her coming back every single day.
---