---
When Jeff Pinkerman, Chief Financial Officer for POET, first started with the company in 2016, he and his wife Brenda were immediately interested in becoming involved with Seeds of Change. "I have always been interested in doing a mission trip," said Brenda. "When we decided to move to Sioux Falls we found out about the Seeds of Change trip and I was really intrigued by it."
---
Each year, with the exception of 2020 due to the COVID-19 pandemic, Seeds of Change sends volunteers on a service trip to Africa through Mission Hope, one of the organization's three core programs. When the opportunity came to travel to Kenya with Seeds of Change in 2016, Brenda and her youngest son Ben decided to take a trip that would change their lives. "I was really impacted by the level of poverty in Kenya and, as a woman, was really shocked by the way women are treated there. They are very much second-class citizens in comparison to men."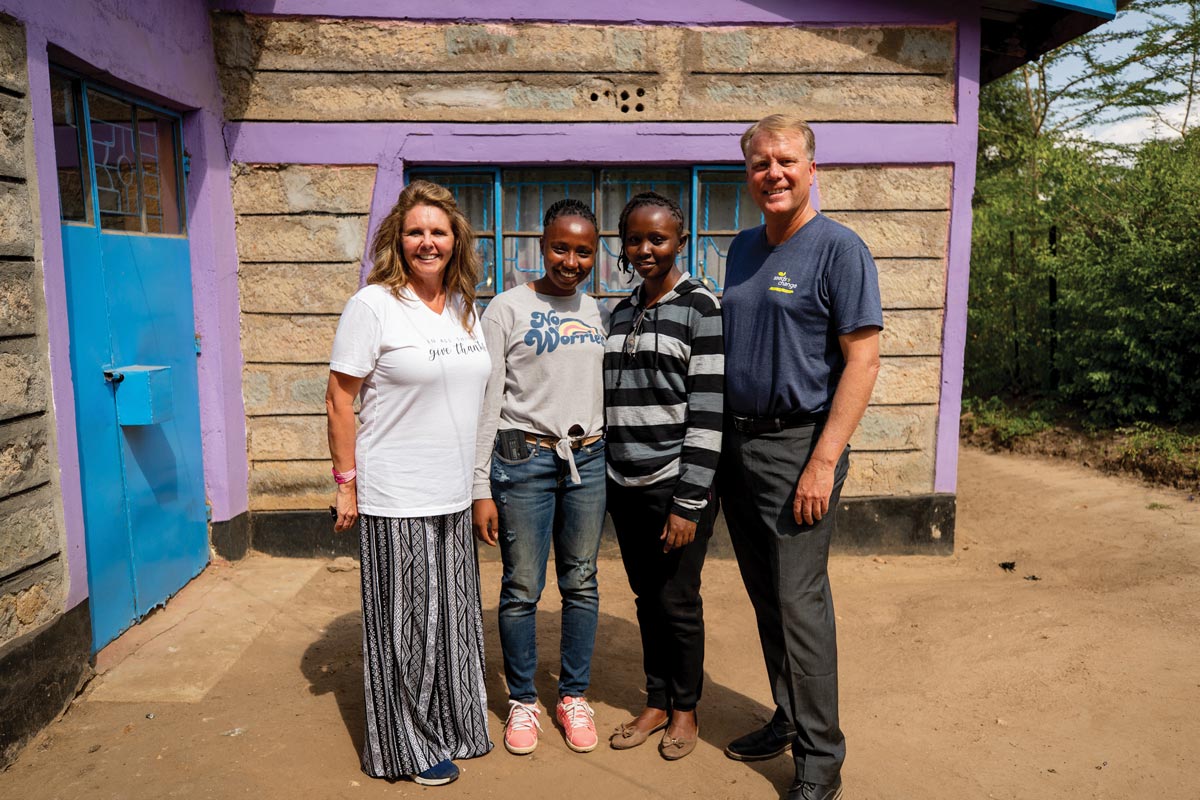 ---
During their time in Kenya, Brenda and Ben got to build relationships with some of the students at an all-girls school supported by Seeds of Change. On one day in particular, Brenda and Ben worked on a craft with the girls to get to know them better. The craft seemed simple: the girls were asked to trace their handprint on paper and cut it out. "It was very eye-opening when we realized that these girls had never used scissors before and they were struggling," said Brenda.
---
She decided to help each girl cut out their handprint, which allowed her to speak with each one individually. That's when she first got to know Mary. "Mary was the last one. I would get done cutting out a handprint and all of the girls wanted to be next except for Mary. She was very patient. I told her 'You were so patient. Thank you for waiting!' and Mary replied, 'You traveled halfway across the globe. I knew you were going to help me cut my handprint out.'"
---
Brenda immediately appreciated Mary's wit and charm and found a connection with her. When she found out Mary's name she told her it had been her mother's name. "She picked up that I said it past tense," said Brenda. "I told her how I had lost my mom when I was young and she went on to tell me about losing both of her parents at a very young age." Mary then described how difficult it had been dealing with the loss of her parents.
---
After her parents died, Mary was shuffled around from relative to relative. At one point in class one (the Kenyan equivalent of first grade), she was taken out of school to be a housemaid for her uncle, setting her back in her education a couple of years. Because of this instability while growing up, she was very excited to find a school sponsored by Seeds of Change.
---
After hearing about Mary, Jeff knew he needed to return with Brenda to Kenya as soon as possible to meet her himself. "I heard a lot of stories from Brenda and Ben about Mary, and I kind of felt like I knew her," said Jeff. "We would talk on Facebook when she had access to the internet." Jeff and Brenda decided to return to Kenya the next year on another trip with Mission Hope.
---
During the time between the Pinkermans' 2016 service trip and the 2017 trip, Mary faced several challenges, including the deaths of her brother, grandmother and other family members. "When we arrived in 2017, Brenda could tell something wasn't right. Mary was not herself and we had also heard she'd had some trouble at school," said Jeff. "After visiting with her we found out that in addition to the passing of her close family members, her family home had been set on fire by hostile relatives."
---
When Mary's parents died, they left their home and the few acres of land to their children. In Kenya, it is very unusual for women to inherit anything. When Mary's brother died it opened the door for hostile relatives to attempt to take away the property. With the male heir gone, the family members tried to seize the house and land that was left to Mary and her older sister Irene. Luckily the villagers stood up for the girls and stopped the individuals from seizing it. Unfortunately, the combative relatives then looted the home and set it on fire in retaliation. Mary and Irene were homeless. "I had no hope," said Mary. "I thought I would drop out of school and live on the streets."
---
Hearing Mary's story impacted Brenda profoundly. "When you hear something like that it was clear that these girls truly were homeless and did not have anywhere to go," she said. "Mary was really stressed out about what she would do during the school's break because she no longer had a home to return to."
---
After learning about the difficult year the girls had faced, Jeff knew what needed to be done. "By the end of the meeting we said, don't worry, you are our daughter now," he said. "It was a big moment for all of us. It really changed our lives and hopefully theirs for the better as well."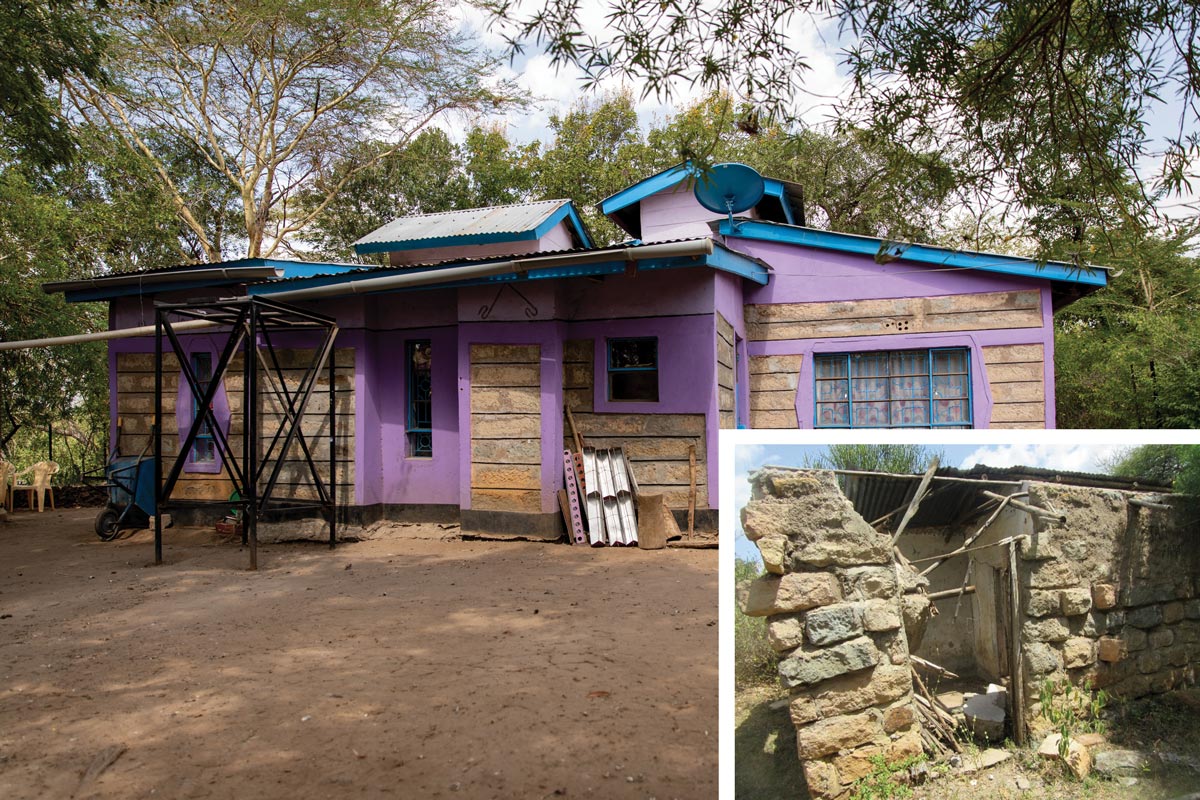 ---
Shortly after the family decided to help Mary, Irene graduated from University with an Engineering Degree. Unfortunately, even though she was a smart young woman with a degree, she was not able to find a job and had no funds to continue her studies. The prospects for employment in Kenya are not particularly good for anyone, but especially a young woman without any connections. "Together we decided she would go back to her parents' property to rebuild her home and start a farming operation," said Jeff. "When she moved back, the house was still charred. There were no windows or doors. She slept in the burned structure as the home was slowly rebuilt."
---
Eventually, with the help of Mission Grow – Seeds of Change's agricultural initiative – Irene was educated in effective farming practices, which are critical for the operation to survive the area's extreme climate.
---
"Here the weather is too harsh," said Irene. "It is so hot and with the lack of rain it makes farming challenging." By using water conservation techniques and planting drought-resistant seeds, Irene was able to plant Chinese cabbage, pigeon peas, corn, beans and cowpeas. She also built a chicken coop, dug a deeper well and put in water tanks to capture and store rainwater.
---
Irene established a successful farming operation on the land left to her and Mary by their parents. The operation is doing so well that she has hosted several farm days on her property to educate local farmers about improved techniques. "Having Mission Hope and Mission Grow come together in that way has been really exciting for us," said Brenda.
---
After two years of establishing the farming operation, Irene has returned to University to pursue her master's degree in Engineering. Mary is also enrolled in a university program through Mission Hope, where she has flourished. She is studying social work. "She is a mentor and a leader at her university. She's looking people in the eye and she has confidence and true hope," said Brenda. "Wherever she ends up she will have the opportunity to help a lot of people. I really think she has the heart for it."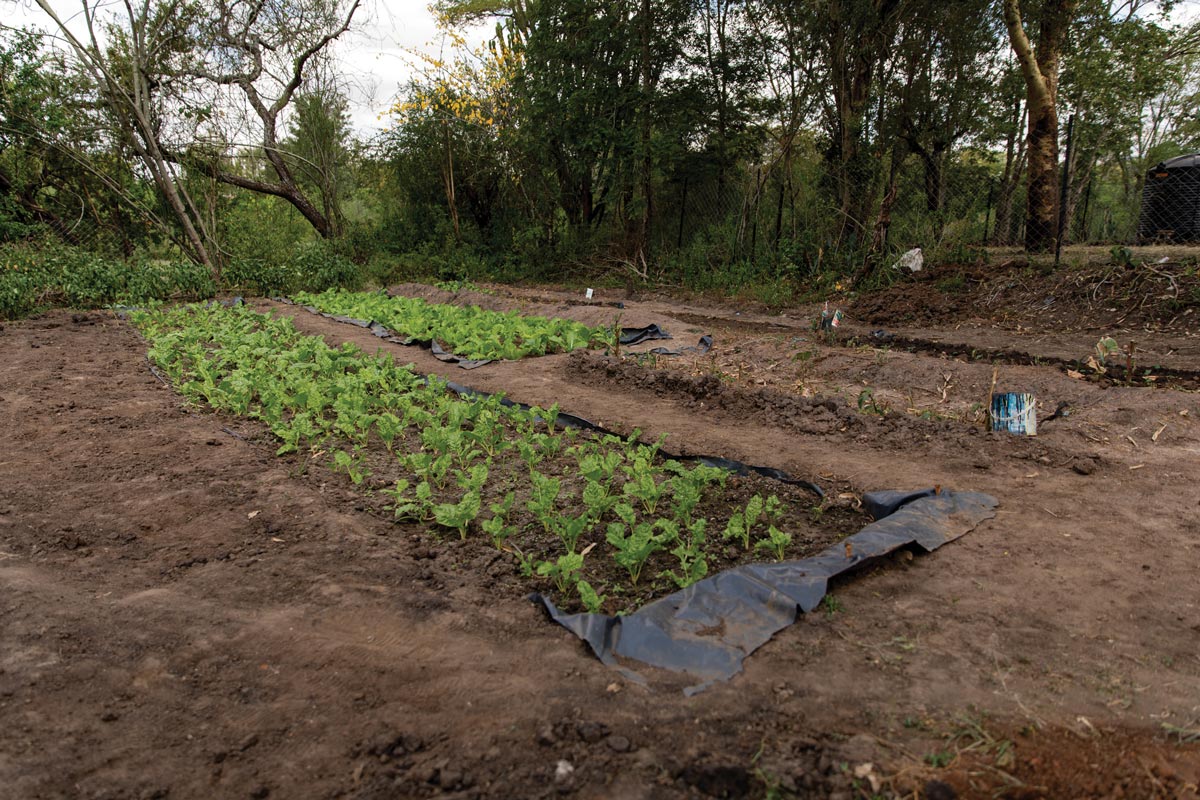 ---
Mary feels lucky to have this opportunity through Seeds of Change and hopes to use it as a way to help others. "I'm motivated each day when I wake up to do something good so that I can help others out there to get an opportunity, to be like me and not to lose hope in their life," said Mary.
---
For the Pinkermans, becoming involved with Seeds of Change has changed their life for the better. "We are so blessed to work for an employer that truly cares about people and provides opportunities like this," said the Pinkermans. Today they both serve on the Seeds of Change Board of Directors and actively recruit others to get involved with the organization. "I would encourage people to get involved with Seeds of Change and learn more about it. You will find that any funds that you donate are going to change someone's life," said Jeff. "I think that is what gives people joy in life – to be able to do something on their own and be successful to add to other people's lives."
---
Jeff and Brenda have been able to see the impact Seeds of Change has made firsthand through Mary and Irene. "You can see the pride in these girls. They know they are accomplishing something and they are getting to the point where they won't need our help anymore," said Jeff.
---
Even after the girls no longer need the assistance from Seeds of Change, Brenda and Jeff will always maintain their relationship with the girls and are grateful to the organization for allowing them to meet Mary and Irene. "The girls appreciate what kind of an opportunity they have been given, and it is all because Seeds of Change helped somebody come and notice the last girl in line."
---