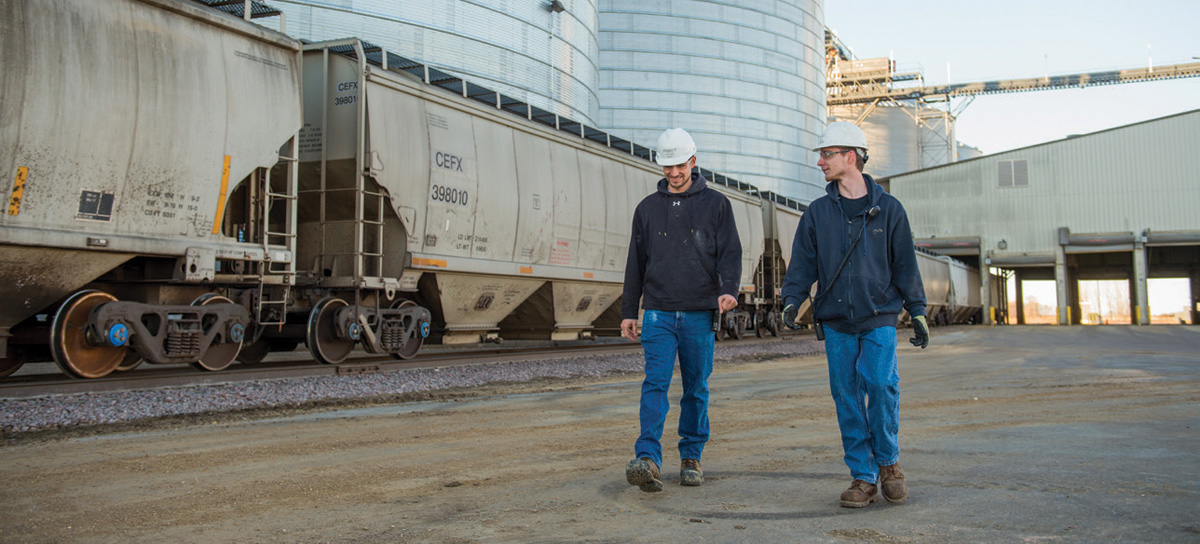 ---
When you work at a 24/7 production facility that produces 68 million gallons of ethanol every year, it takes commitment, endurance, loyalty and teamwork. But at POET Biorefining – Mitchell, do you know what else it takes?
---
Family.
---
Jason and Jeffrey Nedved are brothers who both work at the ethanol plant in Mitchell, SD. Jason began in April of 2014 and, after helping his brother also join the team, Jeff came on board in October of that same year. They both work in operations.
---
"I enjoy going to work every day," Jason says. "And I really enjoy the process of making a renewable energy source."
---
The brothers have ambitious schedules with a lot of responsibility. They both work rotating 12-hour shifts with crews of four, maintaining equipment, checking samples and running the plant in a control room. But they welcome the rigor.
---
"I like the schedule," says Jeff, "and I really enjoy the work. Running an ethanol plant suits me well."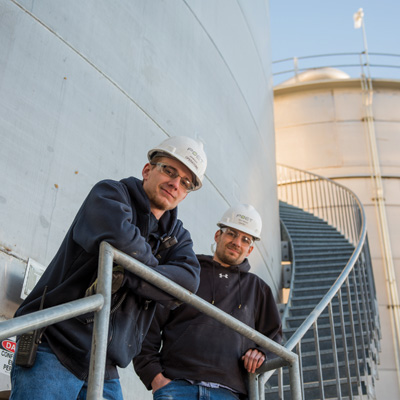 ---
And Jason appreciates the opportunity to be a part of something so big.
---
"I still find it really awesome how every time I come into work, we control the whole plant from computers," Jason says. "It's something different every day."
---
Becky Pitz is the General Manager at POET Biorefining – Mitchell, and she says the Nedved brothers are a great addition to the plant.
---
"We really enjoy them," she says. "They've been great team members for us."
---
And they work well together, which is fortunate. Because when they aren't in the office, they're still spending ample time together.
---
Under water.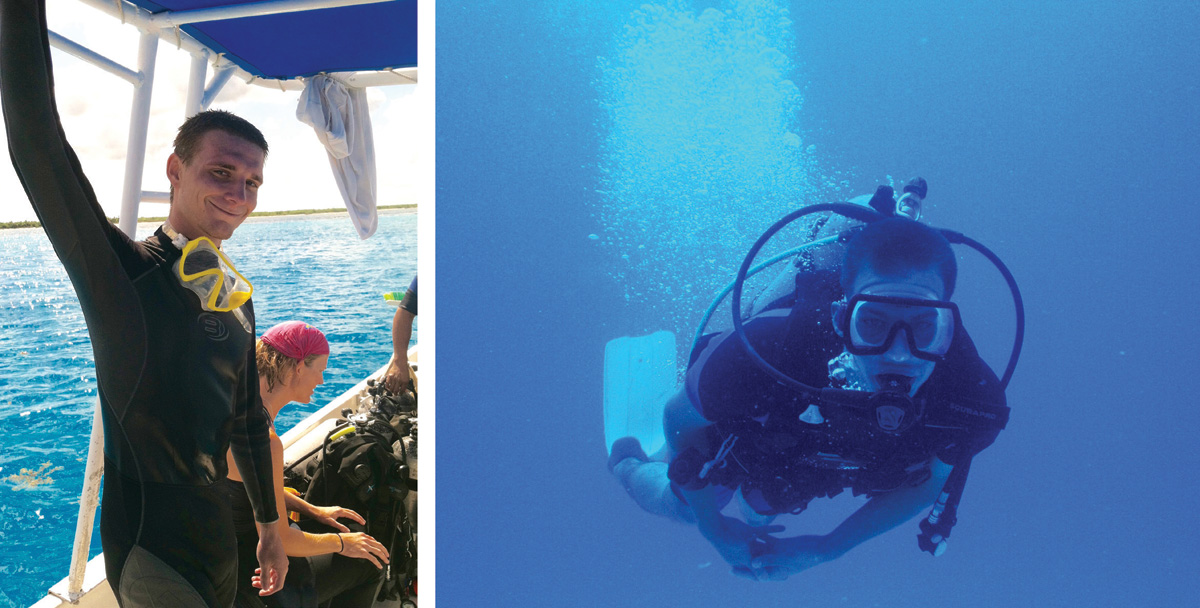 ---
SCUBA IS FAMILY ADVENTURE THAT BENEFITS COMMUNITY, TOO
---
Jason and Jeff's dad is Steve Nedved, and he owns and operates Dakota Scuba in Mitchell, SD. A few years ago, Steve says he originally got certified in public safety diving for the local fire department, where he is also the captain. He received all of his certifications to become a dive instructor and opened Dakota Scuba in 2014 just so he could train dive teams locally.
---
But the community was intrigued, and it wasn't long before a recreational component to Dakota Scuba took off.
---
"I never really imagined that South Dakota would be a spark for scuba diving, but one thing led to another, and pretty soon, we were getting equipment and opening a shop," Steve says.
---
Of course, Jason and Jeff jumped right in to help. In fact, they had been certified scuba divers since they were teenagers.
---
"My wife Nancy and I have always loved scuba diving and high adventure stuff," Steve says. "So we would try to expose Jason and Jeff to as many different opportunities as we could when they were growing up — camping, hunting, fishing, scuba diving — just exposing them to everything we like to do."
---
It paid off. Today, Jason and Jeff are both certified master scuba divers, which means they've completed at least 50 dives and specialty certification in five different areas. Steve says this certification is the "Eagle Scout of diving," and only 2 percent of divers even achieve this rating.
---
"They've got a lot of experience, and now they are working on their divemaster," Steve says.
---
A divemaster is a step up from where Jason and Jeff are now and is a professional dive leader who's completed over 100 dives. Divemasters can guide any certified diver as well as assist dive instructors, which is what their dad is.
---
"Right now, Jason and I can take on students who already have certification and just need refreshers," Jeff says. "And we help Dad when he's training students."
---
But their knowledge of diving isn't all for recreation. Along with work at POET Biorefining – Mitchell and helping at Dakota Scuba, Jason is also a volunteer for the Davison County Search & Rescue and says he is developing a dive team there. With his master diver certification, he's been able to help with serious rescue missions in the area.
---
Steve says rescue missions include going out in low visibility to look for submerged vehicles or drownings.
---
"We're searching in water with 0-6 inches of visibility, working in dry suits and in full face mask," Steve says. "It's very in-depth as far as the training."
---
Steve says the fire department and search and rescue teams received several calls last summer alone for public safety dives, including a serious rescue mission last year in Yankton, SD.
---
"Jason was also part of a rescue when a vehicle went into the Cabela's pond a few years back," Steve says. "We had to go in and retrieve the vehicle and the person out of there, and Jason was a part of that one."
---
Jason and Jeff are helping to change the world at POET Biorefining – Mitchell, but as rescue divers, they can save lives too. It's courageous work.
---
"Public safety diving takes it a step further in that you're really having to take on a serious job going in," Steve says. "But Jason and Jeff do a really good job with this stuff, and it's great for them as far as leadership experience."
---
And, diving is a lot of fun.
---
"Everything is different under water," Jeff says. "The color and the light and just how untouched all the areas are. It's a good way to lose yourself and leave the stress of life behind you."
---
Jason adds, "It's a whole new world down there."
---
BROTHERS BRING VARIED EXPERTISE TO THE TABLE
---
Jason and Jeff work hard, and General Manager Pitz says their passion outside of work and investment into community only adds to their potential at the plant.
---
"They are great team members," Becky says. "Jason doesn't really like to sit still! He likes to be moving about, is always inquisitive and wanting to learn things. He's a real go-getter, a quick learner and he always has a smile on his face."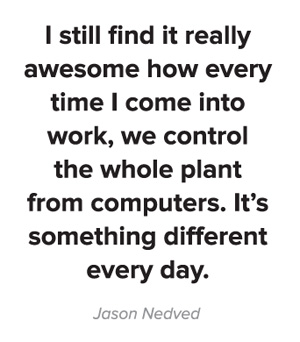 ---
While Jason has a zest for adventure and a fast pace to keep him on top of things, Jeff is "the thinker," she says. "He is a very smart guy. He's grown very quickly in a short amount of time."
---
"When you're staring at screens for hours at a time at work, and something goes wrong, I can stay calm and react to that really quickly," Jeff says. "I think that diving has really given me that cool head under pressure."
---
And a real appreciation for life.
---
Jason and Jeff both say they love being a part of a company that's changing the world and "looking at energy under a different light," Jeff says.
---
"POET is really leading the way," he adds, "and I couldn't agree more with our solutions that we're working toward with more renewable energy sources."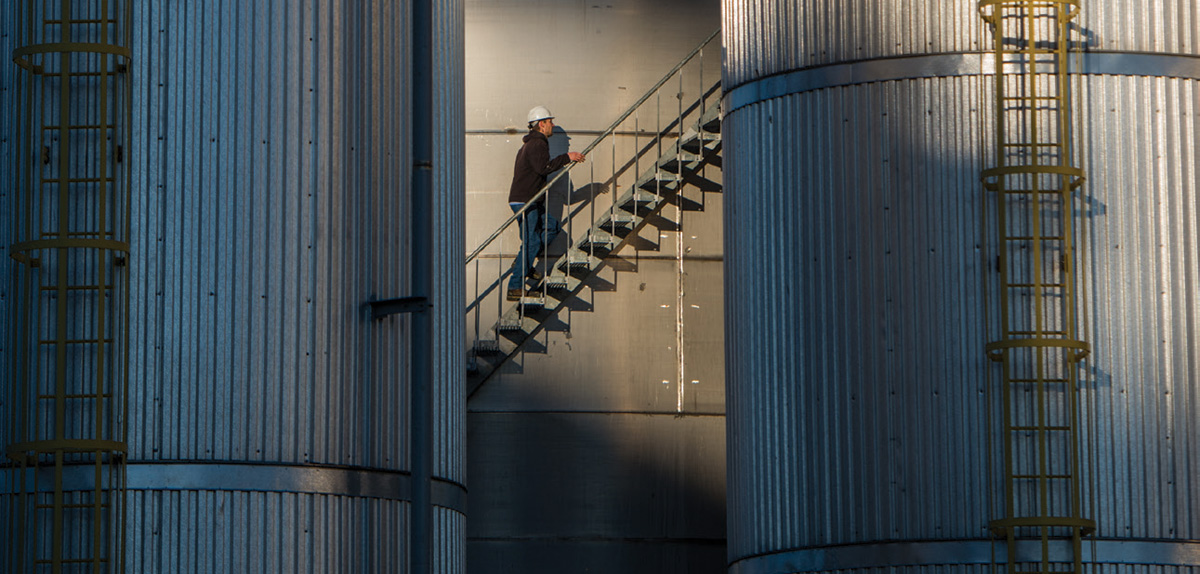 ---