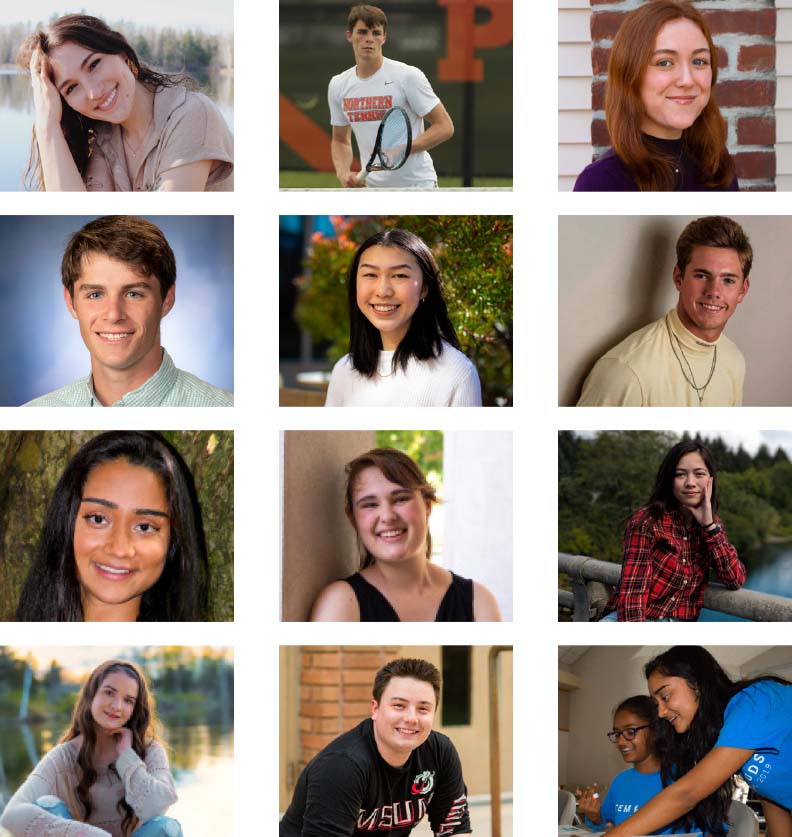 ---
In the five years since it started, the POET Never Satisfied scholarship program — named to reflect the determination and resolve of its recipients — has awarded 47 scholarships to students who share POET's mission to change the world for the better. The program seeks out those whose drive and ambition push them to see the world differently and who take creating change into their own hands.
---
The Never Satisfied Scholarship seeks to reward the future pioneers of industry and innovation for their hard work and encourage them to pursue their dreams. This year, the program awarded $5,000 scholarships to 10 exceptional undergraduate students. These students, though spread across the nation and enrolled in a variety of degree programs, all share the same ambitious goal to make the world a better place. The Class of 2021 truly embodies what it means to be "Never Satisfied."
---
Erica Albert
---
Hometown: Seaford, N.Y.
---
School: Binghamton University
---
Majors: Environmental Law and Policy
---
Erica Albert, like POET, is a champion for environmental issues. Albert, a sophomore environmental law and policy major at Binghamton University, focuses her research on the use of algae blooms to create biofuel. "For as long as I can remember, I've been passionate about the environment. That pushes me to want to be a part of change. I want to leave an impact by educating people on sustainability and how we can all be a part of that change." Albert plans to attend Columbia Law School to become an environmental lawyer. Her career goals include combating climate change and fighting for environmental justice. She plans to encourage corporations and individuals to embrace the promise of renewable energy in order to create a more sustainable future. Albert also plans to establish a nonprofit organization that educates youth on sustainable living to empower them to make a difference and fight climate change.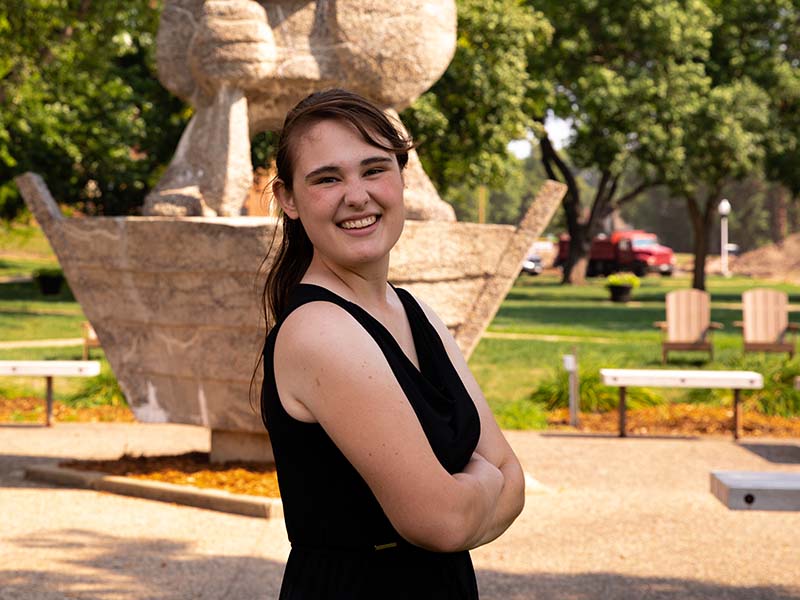 ---
Lily Blechinger
---
Hometown: Sioux Falls, S.D.
---
School: Augustana University
---
Major: Biology/Pre-Mortuary
---
Since learning about the harmful environmental and health effects associated with chemicals used in traditional embalming methods, Lily Blenchinger has advocated to change the field of mortuary sciences for the better. While still in high school, Blenchinger won the Augustana University Science Fair for developing an eco-friendly, non-carcinogenic embalming fluid. "I want to impact the world with positive change and bring innovation to my field. I want to impact with kindness too and make others' lives smoother and easier." Today the Augustana University sophomore biology major is ready to change the world through her passion to keep those in her profession safe.
---
Sarah Cheung
---
Hometown: San Francisco, C.A.
---
School: Yale University
---
Majors: Political Science and Computer Science
---
Making waves in her home community as a champion for youth voices, Sarah Cheung stands up for and represents her peers and other young people in the San Francisco area. A San Francisco Youth Commissioner, Cheung works with the city council to represent youth needs in city planning. Cheung is a co-founder of the nonprofit When Youth Vote — an organization focused on empowering young people to vote — and a volunteer at TeenTechSF teaching app development workshops. "My personal upbringing and experiences drive me to be never satisfied. Knowing that sometimes hard work isn't enough for people to achieve their dreams because of barriers and witnessing other people's stories drives me to continue in my advocacy." As a freshman double-majoring in political science and computer science at Yale, Cheung hopes to combine her passions for technology development and social justice to help shape the world.
---
Andrew Cochran
---
Hometown: Wooster, O.H.
---
School: Ohio Northern University
---
Major: Electrical Engineering
---
Andrew Cochran comes from a line of never satisfied individuals. A senior studying electrical engineering at Ohio Northern University, Cochran is inspired by his father, who promotes sustainable agriculture in his community. Cochran plans on pursuing a master's degree in electrical engineering to enter a research career as a college professor in sensor hardware development. He wants to improve sensor safety, efficiency and sustainability. "I want to inspire people to work hard at what they're passionate about. Not just meeting the minimum expectations, not giving partial effort, but doing the best that you can." Cochran views humans not as owners of the Earth, but rather stewards, and he wants to help others understand the necessity of sustainability.
---
Jaden Feterl
---
Hometown: Sioux Falls, S.D.
---
School: University of North Dakota
---
Majors: Biology and Spanish
---
Jaden Feterl refuses to give up on his goals. Feterl dreams of ridding the world of a disease that has affected so many lives: cancer. "I want to be someone who cared about people. That after talking to me, they'll look back and feel better about themselves." A freshman at the University of North Dakota, Feterl is double–major in biology and Spanish. He hopes to be able to use his degrees to work with engineers and other doctors to find a cure for cancer using nanotechnology. This method would be non-invasive and less physically demanding than normal treatments. "Never satisfied' means to have the idea that I'm not done yet, that I still have more to do. In ten years, I'll still have that drive, I'll still have more to do."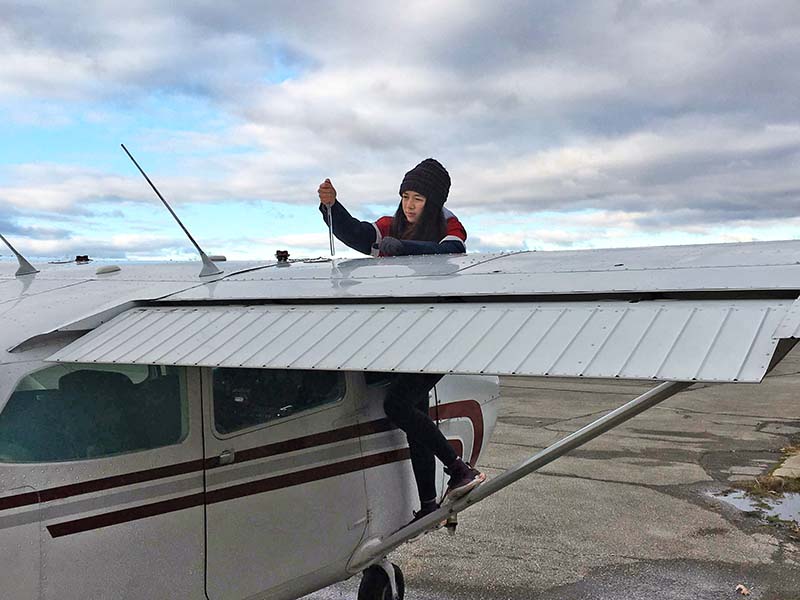 ---
Rachel Rosenzweig
---
Hometown: Gaithersburg, M.D.
---
School: MIT
---
Major: Aerospace Engineering
---
Rachel Rosenzweig shoots for the moon — and, quite literally, for Mars. Rosenzweig shows her never satisfied drive in her aspirations to be an astronaut. A freshman at the Georgia Institute of Technology and a solo pilot, she is studying aerospace engineering and hopes to become an astronaut candidate someday. Rosenzweig plans to help design aircraft and hopes to be able to work on the Mars space project. She wants to use her degree to help make aerospace programs more sustainable. "Flying and space exploration is very wasteful. That's a big issue; I think my impact on the world and everything beyond it is trying to figure out a way to remove and reduce some of
that waste."
---
Ashna Patel
---
Hometown: Pittsburgh, P.A.
---
School: University of Pennsylvania
---
Majors: Business and Computational Biology
---
Ashna Patel is determined to change the world and is already making progress towards her goals — one student at a time. Patel is the co-founder of STEM & Buds, a program that promotes the educational empowerment of at-risk youth by pairing students with mentors who encourage them to pursue their curiosities in science. "To be never satisfied means to be unconditionally and dependably selfless — realizing that whatever your role is, you can do it with a selfless heart." A freshman studying for a dual-degree in life sciences and management and business and computational biology at the University of Pennsylvania, Patel plans on becoming an environmental justice researcher and advocate.
---
Chloe Kreuser
---
Hometown: Stevens Point, W.I.
---
School: University of Wisconsin- Stevens Point
---
Major: Environmental Education and Interpretation
---
Chloe Kreuser is not satisfied with the status quo. A senior at the University of Wisconsin-Stevens Point, Kreuser is pursuing a degree in environmental education with a minor in sustainable energy. She plans to travel the Midwest educating young people about the potential for clean energy to create a more sustainable future. She plans to advocate for biofuels and their critical role of providing clean energy for future generations without the burdens of fossil fuels. "I want to leave this world as good as possible and have a positive impact on people; allowing people to see the light and be that light for themselves and others."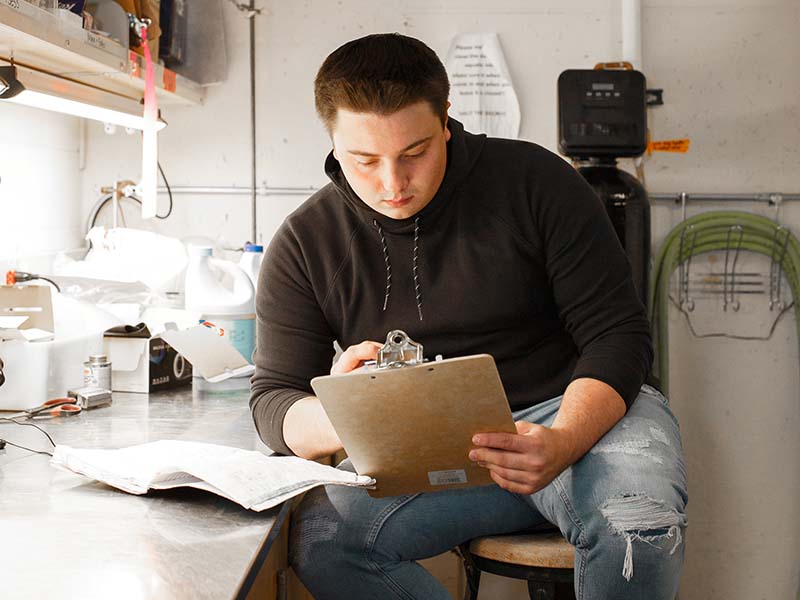 ---
Alex Seigel
---
Hometown: Moorhead, M.N.
---
School: Minnesota State University Moorhead
---
Majors: Ecology and Evolutionary Biology
---
Alex Seigel is truly a "never satisfied" individual. A senior at Minnesota State University Moorhead, Seigel is studying ecology and evolutionary biology with the plan to become a marine biologist. Seigel wants to work in ocean conservation, especially with coral reefs. He wants to educate people on the damage that climate change has on reefs and help implement protective measures for them for the future. "I want to not only help the world in everything I do, but also to inspire the next group of never satisfied individuals. I want them to know they can change the world a little
bit at a time."
---
Grace Timm
---
Hometown: Bainbridge, I.N.
---
School: Taylor University
---
Major: Biochemistry/Pre-Med
---
Working hard to make communities a better place for students on the other side of the world, Grace Timm is the founder of Shoes for Change, a year-long project that collected shoes and funds for students in Nairobi, Kenya. While personally delivering the shoes, she met a young boy with severe scoliosis. Upon returning to the U.S., she created a GoFundMe campaign to fully fund a spine fusion surgery for him. "Passion breeds passion and joy breeds joy. When you have an idea to make the world a better place, you don't stop until you do. I want to be a passionate and personable caregiver and to make my patients feel safe and heard." Already incredibly successful at making those around her feel heard and cared for, this freshman at Taylor University plans to dedicate her career to finding new ways to protect pregnant women from preventable labor complications and deaths.
---
Applications for the 2022 Never Satisfied Scholarship program open in November 2021. To learn more or apply, visit poet.com/scholarship.
---