---
As Nelson Mandela said,
"The youth of today are the leaders of tomorrow."
---
In a world hungry for visionary leaders, POET takes pride in offering an integrated internship and scholarship program designed to cultivate the next generation of innovators, trailblazers, and dreamers.
---
Nestled at the intersection of academics and real-world experience, the POET Never Satisfied program provides educational opportunities for aspiring young people with a focus on supporting their goals, igniting their passion, acquiring essential skills, and shaping a future brimming with
untapped potential.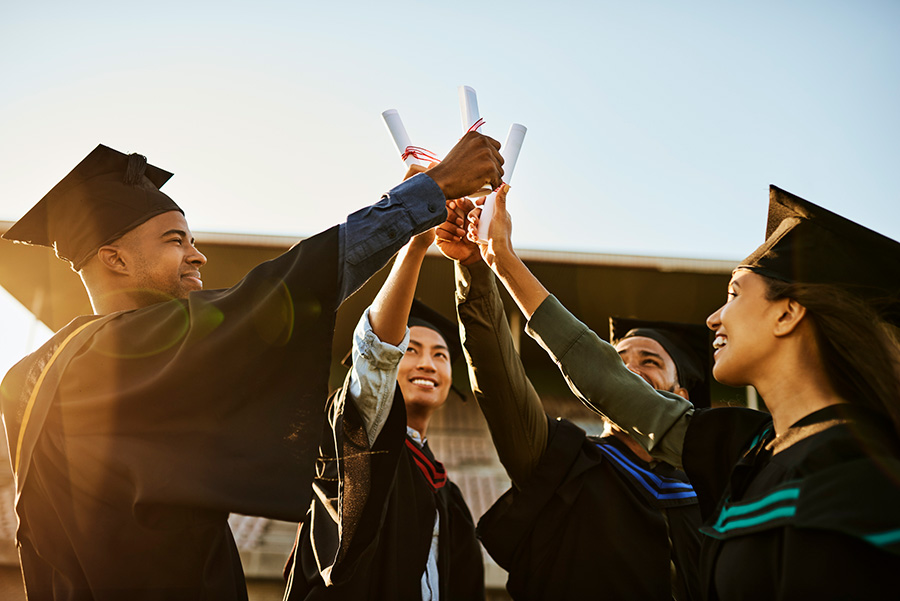 ---
"Both our internship and scholarship programs have grown into comprehensive and highly regarded initiatives that attract talented students from across the country," said Wendy Alexander, POET Talent Scout. "We're excited to wrap up another successful Never Satisfied season as we look ahead to the next."
---
Formerly two separate programs, POET recently merged its scholarships and internships into one Never Satisfied
educational initiative.
---
Scholarships
---
The POET Never Satisfied Scholarship program, established in 2016, awards $5,000 scholarships to students who are never satisfied with "good enough," who work hard to take change into their own hands and connect with POET's mission to create a brighter future. POET receives thousands of applications from some of the best and brightest young minds from across the country each year, from private colleges to state schools to Ivy League universities.
---
"These students are the next generation of leaders, inventors, policymakers, farmers, engineers, and communicators," said Miranda Broin, POET Director of Strategic Communications. "They already have the talent — we simply want to give them the support they need to achieve
their goals."
---
POET Never Satisfied Scholarships are open to any student enrolled in a two- or four-year post-secondary school for the upcoming fall semester, and one scholarship is reserved for a relative of a POET team member. Applications are open from January to mid-February of each year, and scholarships are awarded in the spring.
---
Never Satisfied Scholars also have the opportunity to engage in hands-on networking and mentorship with members of the POET team.
---
"POET isn't just here to support our scholars financially," said Broin. "We also work to connect them with industry leaders in their fields of interest, and we aim to be a resource for them long after they receive the scholarship. Every year, we're blown away by our talented scholars and their ambitions, and we look forward to seeing where their educational journeys will lead them."
---
2023 Never Satisfied Scholars:
---
Adam Knoblock | Ammaar Zindani | Bailey Feistner | Brandon Nesbit | Elis Daniela Zamora Alviarez | Josh Salmon | Mia Salgado | Molly Simmons | Samantha Giles | Sophia Schmaltz | Sydni Wietfeld | Tyler Bartolome
---
Internships
---
The journey from a college classroom to a fulfilling career can be a daunting one. That's why, for over a decade, POET has helped bridge the gap between academic learning and real-world experience with
POET internships.
---
The POET Never Satisfied Internship program has grown into a robust and respected summer program, and this year, the company hosted 43 interns across 14 of its locations in six states.
---
"The most valuable part of my internship was getting exposed to all parts of the business," said Adam Knoblock, who spent the summer as a merchandising intern with the POET Grain team. "Everyone I talked to who had interned with POET loved their internship and mentioned that you are treated as a full-time team member, not just doing busy work, which is something I experienced firsthand."
---
A POET internship provides engaging, real-world work experience that allows students to have genuine involvement in the day-to-day activities of the company, in addition to several learning events throughout the summer. Most are centered on how bioproducts are made, networking skills, emotional and physical well-being in the workplace, and how to develop a healthy work-life balance.
---
This year, interns also had the opportunity to attend POET's first Never Satisfied Intern Summit. The two-day, conference-style event was hosted in June at POET's corporate office in Sioux Falls. The agenda included professional development sessions, town halls with POET executive leadership, and networking opportunities.
---
Through these immersive experiences and hands-on projects, POET interns navigate the intricacies of the workplace in a supportive environment that values experimentation and fosters innovation.
---
"I chose POET because of the mission and values of the company," said Sydni Weitfeld, a 2023 process engineering intern and Never Satisfied Scholar. "POET's goal to use resources found on the Earth and restore a natural balance is vital to the future of energy consumption, and I admire the commitment to improving the process every day to reach those standards. I felt inspired by the team-oriented structure and the way every team member is working toward a common goal."
---
Most importantly, the internship program emphasizes collaboration and networking, connecting the students with peers and industry experts who will inspire and challenge them to reach new heights.
---
"At POET, you'll find yourself surrounded by supportive team members who are eager to share their expertise," said Alexander. "Our seasoned professionals mentor and guide our interns, helping them develop essential skills like critical thinking, effective communication, and adaptability. We strive to ignite a lifelong passion for leadership and innovation that extends far into their careers."
---
The company works to help its interns be confident and well-prepared to enter the working world, which is made especially meaningful when their careers take root at POET. The company has hosted 480 interns over the course of the program's history, with 21 percent of those interns so far becoming full-time team members at the end of
their internship.
---
"The Never Satisfied Program is a testament to the transformative power of mentorship and experiential learning and the unwavering pursuit of excellence," said Jeff Lautt, POET President and COO. "We send our scholars and interns out into the world with the knowledge that they are armed with the skills and passion to tackle the challenges that lie ahead, to shape groundbreaking industries, and to pave the way for a brighter future. As the program continues to grow, we look forward to supporting the next generation of leaders who will work alongside us to change the world."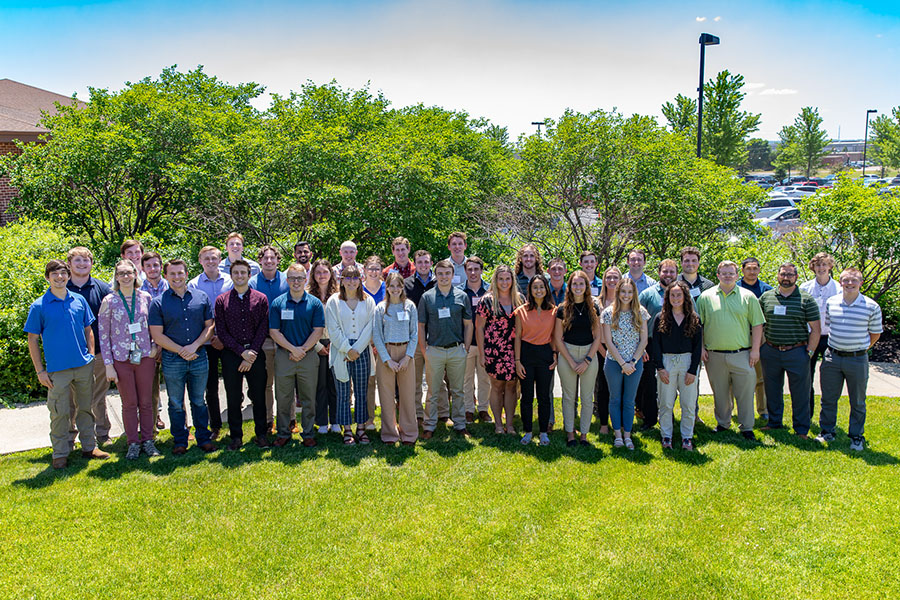 ---
POET Interns:
---
David Baden | Daniel Miller | Emma Bailey | Matthew Mitzel | Janelle Bergkamp | Luke Niemann | Brenden Blakney | Thomas Paulsen | Kate Blankenship | Weston Peschel | Everette Carroll | Lukas Peterson | Sorayda Castillo | Ryan Ptak | Gregory Duggan | Nabeel Raheem | Cooper Emery | Sophia Schmaltz | Arlo R. Forrester | Brady Schwartz | Jacob Fyffe | Zachary Sedakis | Cole Hasty | Shelby Solem | Rana Hegg | Joseph Sullivan | Jay Horning | Noah Surprenant | Adam Knoblock | Sydney Taylor | John Kunkel | Cody Thompson | Ethan Larson | Chad Unruh | Benjamin Laufman | Blayne Vandeveer | Andrew Ledbetter | Stephen Verhoff | Dustin McAdaragh | Olivia Warriner | Noelle McCarthy | Sydni Wietfeld | Grace Mernagh | Jessica Woodall
---