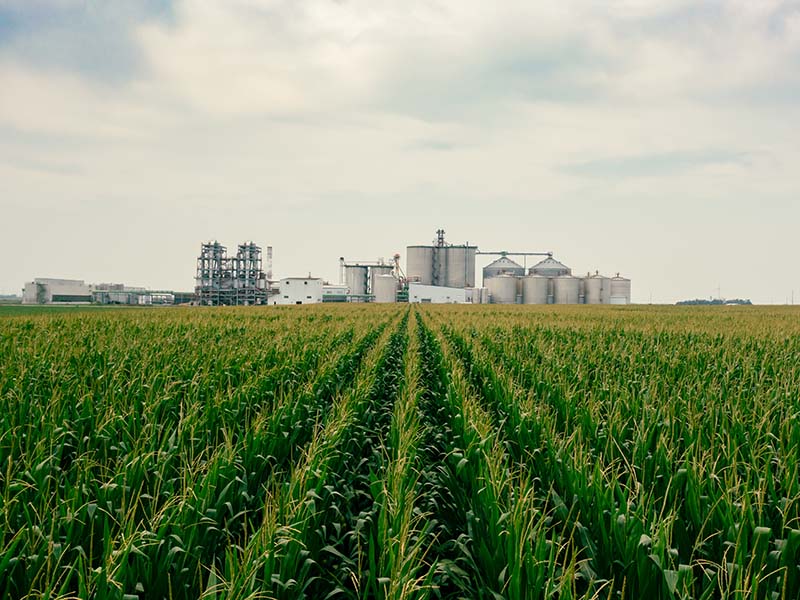 ---
There is a lot at POET Bioprocessing – Fairmont that stands out as unique in the POET family, from technology and co-products to the state in which it operates.
---
But where it counts — culture, plant performance, people — it is very familiar.
---
When General Manager David Cotten talks about his crew, the qualities he lists check all the boxes of a successful POET team.
---
"The culture here is very can-do," he says.
---
"The team wants to work, grow, develop and retire here. They want to be team members, to support each other and to make the plant successful." David Cotten, General Manager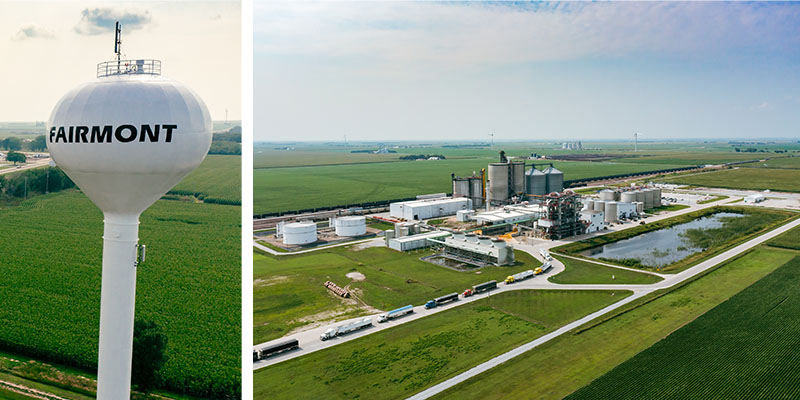 ---
Prime location for logistics, supply
---
POET Bioprocessing – Fairmont is located in southeast Nebraska, about 60 miles west of Lincoln.
---
The plant was built in 2007 by Advanced BioEnergy and later purchased by Flint Hills Resources before coming to POET in an acquisition in June of this year. The plant employs 60 team members.
---
Although the plant was built with a nameplate capacity of 100 million gallons, they have been able to grow to 137 million gallons through optimization since its startup, says Technical Leader Boundy Lovan.
---
Its location, near the intersection of two highways and just 14 miles from Interstate 80, is an advantage in both bringing feedstock in and getting products out. The plant produces about 250,000 tons of distillers grain annually.
---
"We truck our corn in, and we truck a lot of our distillers products out into the local market here. The only thing that we have to move by rail is predominately our bioethanol," Cotten says. "So that's a benefit about being where we are: easy access to corn, easy access to some of our customers from a feed standpoint."
---
POET Bioprocessing – Fairmont grinds about 42 million bushels of corn each year, sourced from local farmers. Cotten says they can count on a steady supply of high-quality feedstock.
---
"The quality of the corn is generally very good, and it's consistent," he says.

---
Nebraska: a leader in bioethanol
---
Nebraska is no stranger to the bioethanol industry. It is the second largest bioethanol-producing state in the U.S., trailing only Iowa, and it was among the first to pursue state programs to support the industry in the early 1970s.
---
As with other states in the Midwest, Nebraska has strong support for agriculture and business, Cotten says. The industry has a good relationship with regulators, and people want value-added agriculture — and bioethanol in particular — to succeed.
---
"It's pro-business: they love corn, they love farmers, they want industry in their state," he says. "It's a good state to operate in."
---
Fairmont itself is a small town of 515 people, which got its start as a railroad stop in 1971. The people there recognize the value of bioethanol to the economics of the entire area, Cotten says.
---
"They're invested," Cotten says.
---
"It's a small community. They're invested in the business, in the success of the business. They want the plant to stay here to provide jobs and income into the community." David Cotten, General Manager
---
"We have a full value chain here that we can take raw materials locally, hire local people and produce products that local customers want to buy," he says. "It's fun to see that full circle."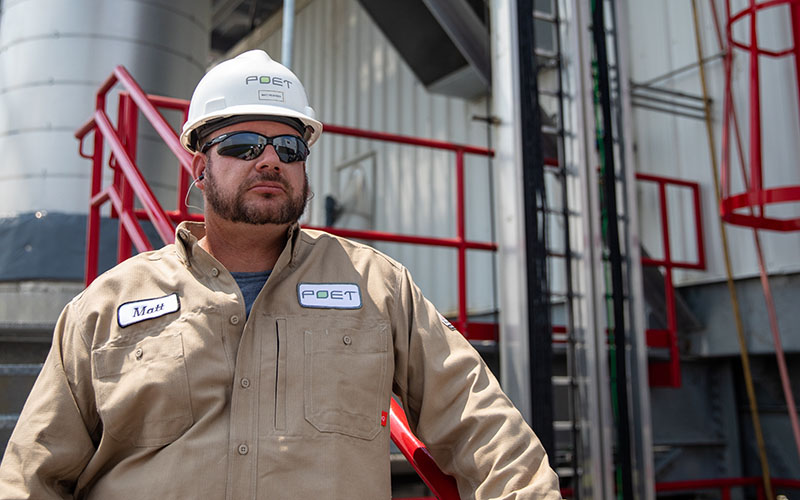 ---
Unique strengths
---
Cotten puts his plant in the "elite" category among bioethanol facilities, and much of that is due to operating discipline and processes in maintenance, environmental health and safety, he says.
---
"I think what we bring to the table is a very strong environmental health and safety culture," he says. "We have some really strong culture … around environmental compliance, stewardship in the community and safe
work practices."
---
Maintenance Manager Matt Pedersen says they have developed effective processes over the years that have enabled them to not only continue operating smoothly but also handle changes in technology and processes.
---
"Some of the best practices and predictive maintenance visions that we were driving to as a fleet … that's very beneficial in controlling my unplanned events and downtime," he says.
---
Keeping people safe is a top priority and a point of pride for everyone at the plant.
---
"We haven't had a lost-time in … I don't know how long," Pedersen says.
---
NexPro®
---
Perhaps the most unique thing POET Bioprocessing – Fairmont brings to the table is its NexPro® high-protein feed product. The plant produces 70-80,000 tons per year.
---
NexPro® represents a consistent 50% protein product, as opposed to standard DDGS with protein in the 24-30% range. This concentrated protein product opens up new opportunities within swine, poultry, dairy, shrimp and finfish nutrition.
---
"The future is in creating animal feed products that are consistent in quality and create value for our end users. Our NexPro® brand represents the work our team and business does each day to focus on food safety and quality to minimize variability in all aspects of working with our products. That focus is a key differentiator in our business and translates into a multiplier of value over traditional DDGs, which we're excited that Fairmont has," says Cotten.
---
The process has been a learning experience for all involved.
---
"We've done some things that we didn't think were possible and have de-bottlenecked and just kept working through it," Pedersen says.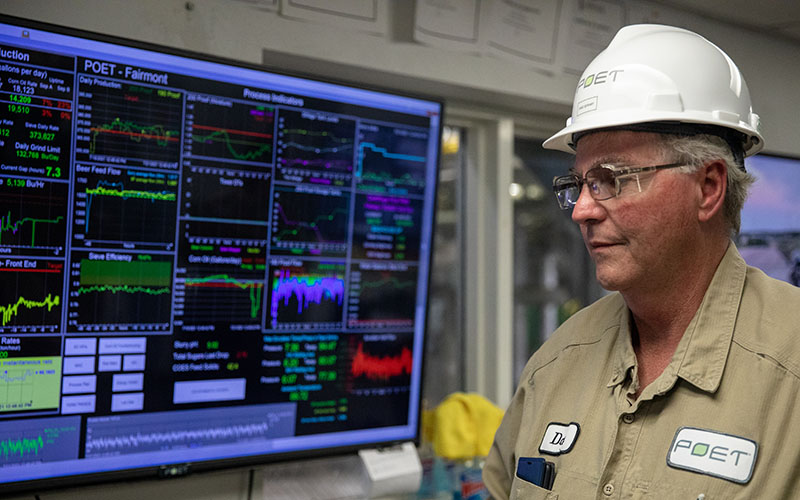 ---
"It's the people who make bioethanol."
---
There's a lot of biofuel experience at POET Bioprocessing – Fairmont. Among the 60 team members, one stands out in particular for his longevity in this industry. Plant Manager David Gerhart has dedicated his career to bioethanol, dating back to 1983 when he started work at the Hastings, Neb. facility.
---
"It was the first large-scale dry mill bioethanol plant built in the United States, and it was a 10 million-gallon plant at that time," Gerhart says.
---
Gerhart has been through expansions, evolutions in technology and more. What he has learned is that a good team is the most important component of a successful operation.
---
"Having such a long period of experience, I've seen continuous fermentation, I've seen batch fermentation, I've seen pressure distillations, I've seen vacuum distillations.
---
"And I've seen all walks of life of people," he says. "It's the people who make bioethanol. If you develop people, the bioethanol comes secondary." David Gerhart, Plant Manager
---