---
As Colleen Osborne stands in her backyard, a large two-humped camel stretches his long neck toward her, angling for a touch and a treat.
---
Happy to comply, Osborne scratches his ears and pops a carrot into his large, velvety mouth.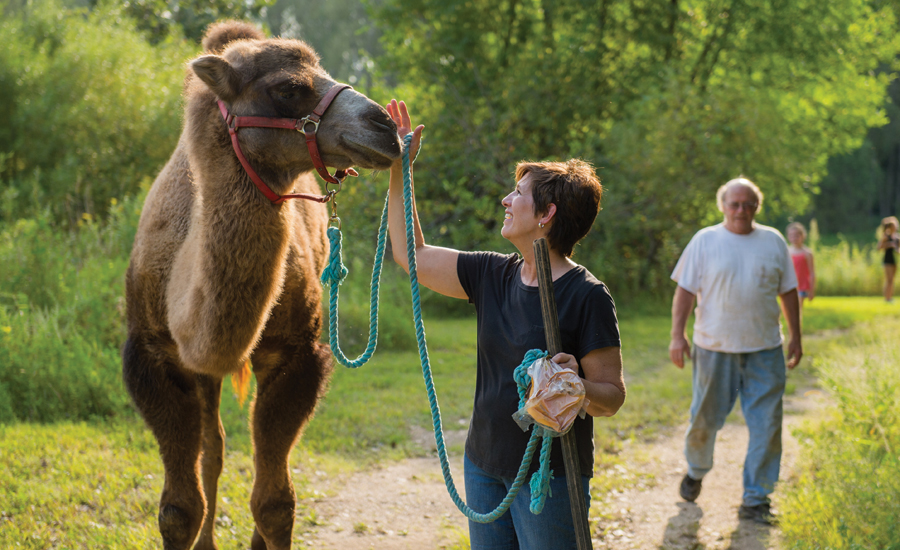 ---
The camel's bushy eyebrows bob in appreciation as he looks at Osborne with his googly, golf-ball-sized black eyes fringed with two rows of long eyelashes.
---
Osborne, Quality Manager at POET Biorefining – Jewell, looks back at the camel just as admiringly.
---
Moby, a 4-year-old Bactrian camel, isn't just an animal. He's a part of Osborne's family – and garners regular attention from curious passersby.
---
Of course, Osborne and her husband, Allen, are used to people stopping by their Dows, IA acreage to ask questions. They've been building their own house – frame by frame – since 2008, primarily out of old cedar telephone poles the Osbornes have transformed into planks of wood with a sawmill.
---
"We have just as many people stopping by to see the house as we do the camel," Osborne says.
---
The attention doesn't bother Osborne. She loves sharing stories about Moby and her house with others.
---
KEEPING IT INTERESTING AT WORK, TOO
---
Osborne takes this same open, honest approach to her work at POET.
---
"Colleen is a great example of our company culture at work," says Kevin Monroe, General Manager at POET Biorefining – Jewell. "Colleen always treats others with kindness and respect, is always striving to do her best and is never afraid of change."
---
Change is the key word. Responsible for the day-to-day management of all activities associated with the laboratory as well as facilitating the transfer of all incoming and outgoing data from the laboratory,
---
Osborne deftly monitors plant operations and quality.
---
"No day is ever the same," she says. "Everything changes all the time. Things don't get boring in the lab."
---
That's kind of Osborne's mantra. She doesn't like to be bored. In fact, that's how she ended up with a camel as a pet in the first place.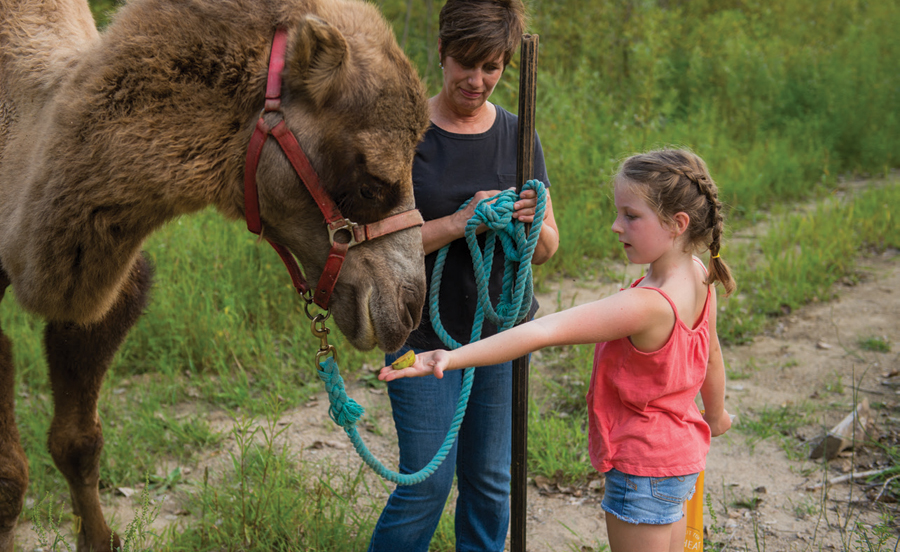 ---
One day, Osborne's husband mentioned that it might be fun to raise a camel. On a whim, the couple went to an exotic animal auction in Macon, MO. There, they met a 6-month-old Bactrian camel. "I fell absolutely in love," Osborne says.
---
They didn't take that camel home, but Osborne was smitten. The idea of owning a camel was something they just couldn't shake. "We started talking to a lot of people and doing a lot of research on what it would take," she says.
---
When they heard a couple from Bowdle, SD, was selling their herd of camels, the Osbornes met Moby. "It was love at first sight," Osborne says. "He was the one."
---
She says she thinks the feeling was mutual. So three years ago, they took the then 1-year-old camel home to their acreage outside of Dows, IA.
---
CAMEL CURIOSITY
---
People are naturally curious about Moby, and gawkers who see him from the road often can't help themselves from stopping,
---
"If he's in the pasture by the pond, all you see is this big, brown animal. So you see a lot of people slowing down, wondering what this animal is," she says. "When they see it's a camel, they always ask a lot of questions."
---
What does he eat? Where does he sleep? How do you take care of him?
---
Osborne is happy to talk about her beloved camel. "People don't expect him to be so extremely friendly," she says. "And Moby just eats up the attention."
---
Every now and then, a bus or two full of kids will show up, too. Osborne says. "It's a bit of a learning experience for them. They enjoy it, and we love it."
---
Life-long Dows resident Jeanette Wenzel says most people are surprised to learn a camel lives among them in their small, rural community. "It's not the kind of animal you expect to see around here."
---
Her granddaughter's preschool class visited Moby a couple of years ago.
---
"She just thought it was great," Wenzel says. "She came back and said, 'Grandma, I thought camels were supposed to live in the desert. And here we have one right here in Dows!' "
---
HOME SWEET HOME
---
Just as often, people driving by Osborne's acreage will stop to check out their house – a big, timber-framed house that the couple has been building, from the ground up, for the last seven years.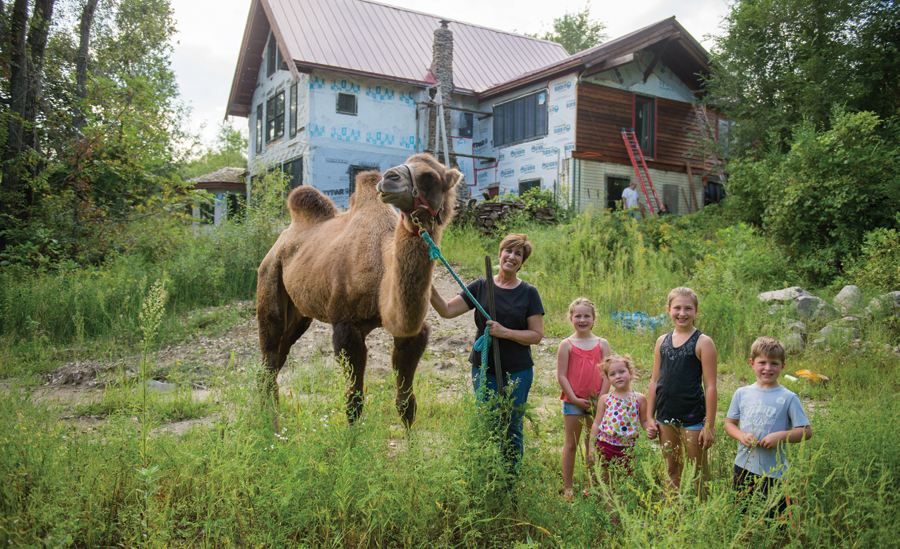 ---
"It's what we do in our spare time," she says.
---
Osborne's husband designed the house. Right now, he's making kitchen cabinets with some hickory their neighbors gave him. "I'm usually the one who ends up sanding and finishing the wood that he's cut," she says. "It's been a joint effort between the two of us."
---
The house is still considered a construction zone, with several walls that aren't dry walled or painted yet. "It's taken us awhile, but we've got a couple of rooms that are quite livable," she says. "It's nice. It's something we can call our own and pass down to our kids should they ever want it."
---
In the meantime, they keep working – and answering questions about their house projects and unique pet.
---
Between work at POET, work on the house and working with Moby, there's never a dull day in Osborne's life.
---
"There are some days I would take a little boring," she says.
---
But if that were really true, she wouldn't have Moby.
---