---
As ethanol producers and plant managers, the Michigan-based NUVU Fuels team has been involved with direct supplying higher biofuel blends to retail stations for more than two decades. That involvement eventually led to them building their own convenience stores. As they were working to convince retail stations to add higher ethanol blends into their mix, it became apparent that they needed to own some of their own retail to use in a demonstration at their ethanol plants.
---
They began by placing a higher blends dispenser at Carbon Green BioEnergy in Michigan and Iriquois Bio-Energy in Indiana. "We used that as part of our plant tours and as a way to connect with retail owners so we would have a pump to show them," said station owner Mitch Miller.
---
That endeavor led the group to open two convenience stores in Michigan in 2015 and 2017 at the grassroots level. From the start, NUVU Fuels has focused on offering higher biofuel blends to customers at their retail stations. A big part of that decision was that, as ethanol producers and managers, the NUVU Fuels management team knew the value that higher-octane, lower-emissions biofuels bring to consumers, the environment and the economy.
---
NUVU Fuels has led the way in offering Unleaded 88/E15 as their stations' main fuel blend. Miller, who is part of the NUVU Fuels ownership group along with Jason Jerke and Mike Petersen, said they had been waiting to hear confirmation of approval on year-round E15 sales so they could switch out Unleaded 87 with E15, which is also marketed as Unleaded 88.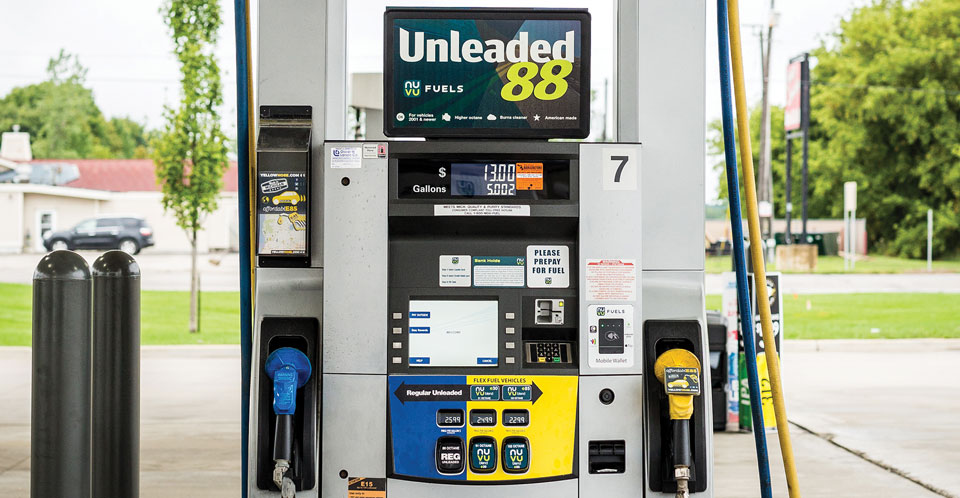 ---
In May 2019 President Trump announced the administration's approval of year-round sales of Unleaded 88/E15, a fuel blend with 15% renewable biofuel. Unleaded 88/E15 is approved for use in cars 2001 and newer. E15 is currently sold at more than 2,000 stations in 31 states. Those numbers are anticipated to grow even more. E15 continues to pick up momentum; New York most recently approved sales of E15, opening the nation's fourth largest fuel market to E15.
---
Soon after that announcement, NUVU Fuels moved to sell Unleaded 88/E15 as the primary product at their locations. "This decision was consistent with the purchase patterns of our customers, follows consumer demand and allows us to be highly competitive in the marketplace," says Miller. "Now that we can reliably offer E15 year-round, we confidently made it our biggest focus and offered our consumers better fuel choices to match their lifestyles. Higher biofuel blends give all drivers access to choices that are smart for their engines, kinder for the environment and better for their wallets."
---
Customers who fill up at NUVU stations have three choices: the blue hose on the left side is Unleaded 88/E15, and the yellow hose on the right offers E30 and E85. E10 is also still available at the stations. However, demand has significantly dropped.
---
Petersen saw the potential in higher blends from the beginning. "We saw the value of higher blends like Unleaded 88 and the many benefits they provide to consumers, the Midwest economy, the environment and beyond. We knew that our convenience stores would prioritize offering higher blends," he says. "Our belief is Unleaded 88/E15 will replace E10 as the nation's Regular Unleaded in the coming years, and we are getting ahead of that trend."
---
Customer response to Unleaded 88/E15 has been higher than anticipated. Each NUVU store is selling about 100,000 gallons per month of Unleaded 88/E15. "Customers are using the product. It's working well," Miller said.
---
That's the sentiment at other retail stations who are offering the product. Summer sales of Unleaded 88/E15 were up 46% in 2019 compared to 2018 on a per-store basis, according to Growth Energy, the biofuel industry's largest trade association.
---
"Unleaded 88 provides American drivers unrivaled value at the fuel pump and the explosive growth in summer sales demonstrate what we've always known — once consumers have access to this engine-smart, earth-kind fuel they will come back again and again," said Growth Energy CEO Emily Skor.
---