---
To hear Jeff Lautt tell it, it's no wonder that back in 2007, a bunch of POET engineers, thinkers, tinkerers and data geeks just knew they were on the cusp of something big when a certain Apollo astronaut told them that the future was in their hands, within their grasp.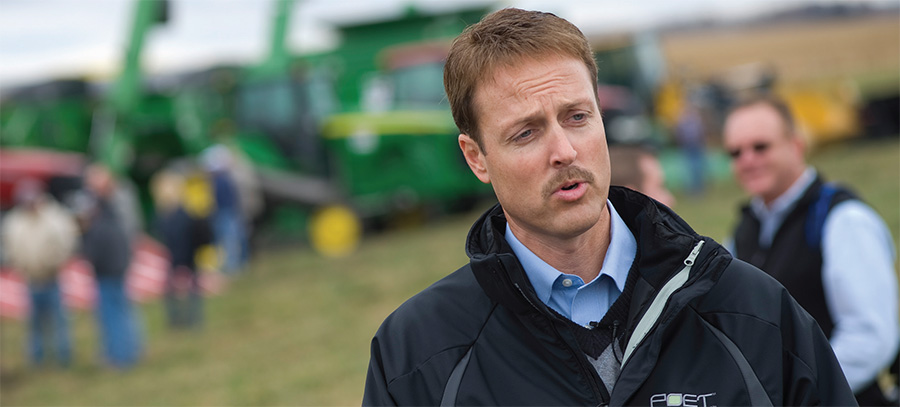 ---
Because when Neil Armstrong tells it to you straight, you listen. You can't help but be inspired to take that first step into the unknown venture of replacing gasoline with ethanol made from the leftover parts and pieces of the corn plant – you know, cellulosic ethanol.
---
PUTTING A MAN ON THE MOON
---
Jeff Lautt, POET's Chief Executive Officer recalled the day in late 2007 when the company's Founder and Executive Chairman, Jeff Broin, changed the name – and the very direction – of the Sioux Falls-based ethanol entity.
---
"We knew that Project LIBERTY was going to be similar to putting a man on the moon. And it was a great correlation, because the guy who put the first foot on the moon stood before all of our team members – engineers, researchers, economists - and said, 'Back in the '60s, when Kennedy said let's put a man on the moon by the end of the decade, we had three things: We had government support, we had capital and we had a lot of smart engineers,' " Lautt said. "So he says, 'Now, you're trying to crack the code on cellulose and you've got government support and you've got capital and I'm looking around here and I'm seeing a lot of smart engineers. If we did it in the '60s, you guys can do this today, I have no doubt.'"
---
Some seven years after Armstrong told POET team members they'd change the world (and 14 years after POET researchers conducted the first research on the viability of cellulosic ethanol), it's actually happening.
---
In 2014, POET is launching Project LIBERTY, the first-of-its-kind commercial cellulosic ethanol plant. And after the start-up kinks are worked out, the Emmetsburg, Iowa plant is expected to convert 285,000 or so tons of biomass into 25 million gallons of cellulosic ethanol annually.
---
CELLULOSIC ETHANOL
---
If you look to the future of renewable energy, there is one thing that's certain: The world's most abundant organic material, cellulose, offers the best promise to end America's dependence on the Earth's dwindling supply of petroleum. With more than 1.3 billion tons of cellulose – the cellular structure that makes up trees, grass and all things organic – available each year in the U.S., it soon will be possible to replace millions of gallons of oil-based gasoline every year in the U.S.
---
And Project LIBERTY aims to prove to the world that cellulosic ethanol is the future of renewable energy.
---
POET's entry into cellulosic ethanol began in 2001, when researchers in Sioux Falls conducted the first tests to try and unlock ethanol from corn cobs.
---
Whereas the traditional ethanol process converts the abundant sugars of the corn kernel into ethyl alcohol, or ethanol, researchers have to coax every bit of sugar from the corn stover, mix it with enzymes, yeasts and microorganisms to wring the ethanol out.
---
"I have to say, in the beginning, this was a very high-risk venture," Jeff Broin, POET Founder and Executive Chairman said. "I had a really strong feeling that this was something we had to delve into to see if there was an opportunity there. So then we started moving forward, we started knocking down the hurdles, we kept knocking on the doors to see if they would open – and they kept opening, and we kept moving forward."
---
One of those doors – and a couple of the key elements Armstrong talked about – was government support and financing. And in 2007, the company was awarded an $80 million grant from the U.S. Department of Energy to build Project LIBERTY in Emmetsburg.
---
And with the DOE onboard, things began to accelerate. Looking at the timeline arc for Project LIBERTY, progress grew by leaps and bounds.
---
• In 2007, POET begins testing biomass collection on 4,000 acres of farmland in South Dakota.
• In 2008, the pilot-scale cellulosic plant becomes operational in Scotland, S.D.
• In 2009, there's a breakthrough in reducing the cost to make a gallon of cellulosic ethanol.
• In 2010, the stackyard, where biomass for Project LIBERTY will be stored and tested in Emmetsburg, Iowa is completed. It's also the year that the first commercial harvest of 56,000 acres of biomass is completed.
• In 2011, Project LIBERTY breaks ground.
• And in 2012, POET, along with Royal DSM, the global Life Sciences and Materials Sciences company, come together to form POET-DSM Advanced Biofuels, LLC.
---
CHOOSING EMMETSBURG
---
But why Emmetsburg?
---
"We were really looking for an area of the corn belt that was as reliable of a corn crop as anywhere," said Larry Ward, Senior Vice President of Project Development for POET, who has been involved with each and every one of POET's 27 current ethanol plants. "We were looking at the stover crop at that point. And Emmetsburg, all things considered, is the garden spot, the sweet spot. And, it has the right kinds of infrastructure – roads, rail, pieces that we felt would be able to accommodate a second facility."
---
Project LIBERTY has risen alongside POET Biorefining – Emmetsburg, a plant that went online in 2005 that consumes some 19 million bushels of locally-grown corn and produces 55 million gallons of ethanol a year.
---
The synergy between the two plants, Broin said, will become the blueprint for other cellulosic ethanol plants POET-DSM Advanced Biofuels intends to build in the future. The future cellulosic ethanol plants will be built alongside existing corn-based ethanol plants where each can share resources and inputs to create renewable biofuels for decades to come.
---
"I say sometimes that we're building an ark in Emmetsburg," Broin said, laughing. "And I imagine Noah was pretty excited when the ark actually floated. I feel pretty similar to that. I think that when (Project LIBERTY) is running smoothly, we'll know that the ark floats and I think we can all get pretty excited about that."
---
Iowans couldn't be happier that POET decided to place Project LIBERTY in Emmetsburg, a community of some 3,900 people that was founded on the banks of the Des Moines River in 1856 by Irish immigrants.
---
"I think it's one of the most wonderful things that has happened to this community," said Emmetsburg Mayor Myrna Heddinger. "They've not only brought in all the construction workers to Emmetsburg, which has helped to fill our hotels and our restaurants and has helped out our economy, of course – but the people from POET have shown that they want to be part of this community. It's amazing what they've done."
---
"It's been an economic boost not only to the community and Palo Alto County, but for all of Iowa," Heddinger added. "You're talking about farmers in a 40-mile radius of Emmetsburg who will supply the plant with the corn stover it needs to operate. That is huge for this part of the state."
---
It's estimated that the farmers within that 40-mile radius of Emmetsburg could reap an additional $20 million in a new revenue stream just from corn stover.
---
"As corn farmers, we are continually working to do more with every acre," said Bob Bowman, President of the Iowa Corn Promotion Board and a farmer from DeWitt, Iowa. "As we increase our yields, we also increase the amount of residue. The next generation of biofuels like POET is creating, brings another opportunity for Iowa's farmers to be a part of the value chain."
---
Even Iowa Governor Terry Branstad said he recognizes the importance of cellulosic ethanol – not only to the Hawkeye State, but to the world – as Project LIBERTY comes online.
---
"I have been a supporter of biofuels from the beginning – back when we called it 'gasohol'," Branstad said. "The industry has advanced a lot since then and its success has been built on the strength of our strong agriculture base, the workers at the ethanol and biodiesel plants and the local Iowans that invest in its future."
---
"The use of biofuels reduces our dependence on foreign oil, provides good jobs, benefits to our local economies and offers a lower cost option to consumers at the pump," he added. "I am excited to see the tremendous growth we have had in biofuels here in Iowa, and welcome and support the next generation of biofuels."
---
BUILDING LIBERTY
---
But what does it take to actually construct a $250 million commercial cellulosic plant in the heart of Palo Alto County, Iowa?

---
"It's so hard to articulate to people how complex and how intricate the design of Project LIBERTY is," said Jeff Heikes, Vice President of Project Management – Engineering at POET. "It takes an army of people. It's been an all-hands-on-deck project, because we know how important it is to the POET-DSM joint venture, but also to the industry."
---
Simply, POET-DSM Advanced Biofuels creates cellulosic ethanol by taking the top third of the biomass from the corn plant and bringing it into the facility where it's put into storage, or processed directly. The stover is sorted, ground into like-sized pieces and then is pre-treated to extract the cellulose. Enzymes are added to change the cellulose into sugars that can then be brought into the fermenters that create the ethanol we use in our vehicles.
---
As simple as the process sounds, Heikes said POET is expecting that there will be hiccups along the way once Project LIBERTY rumbles to life.
---
"This is a first in the world, first-of-its-kind operation, and as we commission the facility, there are things that pop-up and things we didn't plan for, but we've been able to work through them all with due diligence this far," he said. "We have a great team of people who are dedicated to making this project work."
---
As the excitement builds, and the day soon comes when the first-ever cellulosic ethanol begins to flow from Project LIBERTY, there will be much celebration.
---
For Broin, the starting of Project LIBERTY is the apex of a long, arduous climb that many in the ethanol industry said couldn't be done. That there was no way you could coax that much energy out of corn cobs, stalks and leaves – and do it cheaply enough to compete with petroleum-based gasoline – to make cellulosic ethanol a viable player in the world's energy needs.
---
"It's the culmination of more than a dozen years of hard work by hundreds of people all coming together to do something that will change the world," Broin said. "That's really exciting for me, and I think it's pretty exciting for our team members and really do think it'll help us change the world in a bigger, brighter way.
---
"I believe that everyone benefits when we get our energy from the surface of the earth rather than below the surface of the earth," Broin continued. "Everyone on the planet can benefit from that – and will benefit from that. Of that, I have no doubt."
---