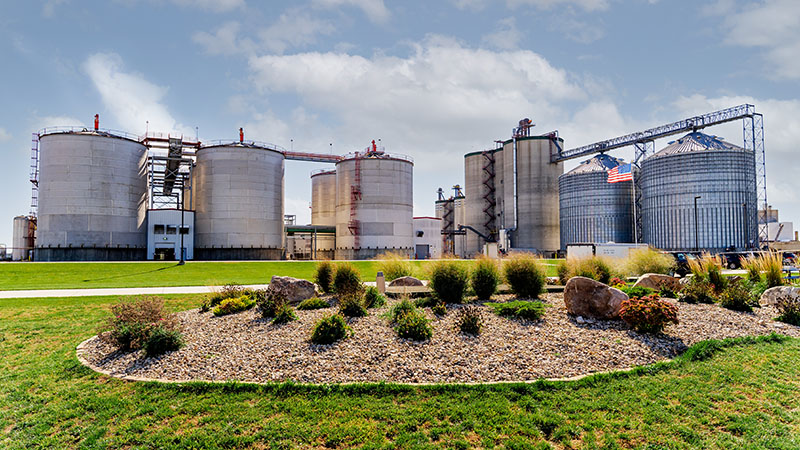 ---
At POET Bioprocessing – Shell Rock (Iowa), the leadership team brings a combined 60 years of experience to the challenge of innovating for efficiency. Kristin Clay, General Manager, Corey Williams, Maintenance Manager, and Ryan Cummings, Operations Manager, all started out at the plant in its first year of operations, and Nick Phillips, Environmental Health and Safety Manager, joined three years later.
---
Cummings started working at the plant shortly after startup by Hawkeye Renewables in late 2008. He moved over from a nearby sister plant at Fairbank, Iowa, where Cummings began work as an entry level, load out operator. He moved inside to become a cook operator and worked his way through multiple areas of the plant — distillation, the energy center, utilities, shift lead, materials manager — accumulating the experience he now taps into as operations manager.
---
"Back when we started, it was all about gallons out the door," Cummings recalls. "As the margin got narrower, we focused on making our distillers grains a good product that customers wanted over soybean meal. Then we worked into corn oil technology and moved on to NexPro high-protein feed. We took a plant making only bioethanol and transformed it almost into a feedmill."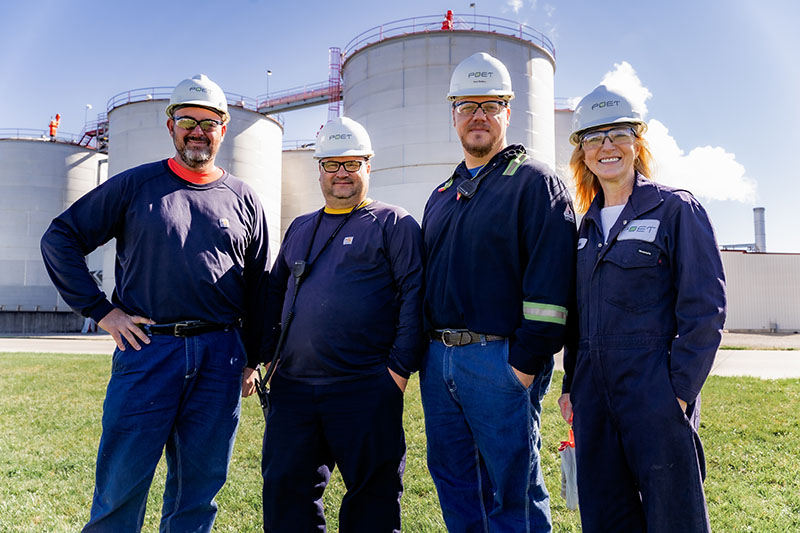 ---
"We now call ourselves a bioprocessing facility," adds General Manager Clay.
---
The 50-member team at POET Bioprocessing – Shell Rock produces approximately 130 million gallons of bioethanol, 220,000 tons of distillers grains, five million gallons of distillers corn oil (37 million pounds) and 75 tons of NexPro every year.
---
The newest addition to the feed product line, NexPro, is a consistent 50% protein product, compared to the standard DDGS with protein in the 24-30% range. "We ship it worldwide where it gets used as a feed for multiple species," Clay says. "But the coolest is its use in aquaculture
around the world."
---
Clay never thought she'd apply her science degree in her hometown in northeastern Iowa, but not long after the plant started up she learned they had an opening for a quality manager. When Flint Hills Resources (FHR) acquired the plant in 2011, she began managing quality assurance at FHR's six plants. This summer, when POET acquired the group, she stepped up to take on the General Manager's role at Shell Rock. She's pleased to broaden her knowledge from her previous focus on process and operations to include the business side and to return to a sole focus on her home base at Shell Rock. "The team here at Shell Rock is our greatest asset, and I view it as a privilege to be able to lead that team with the support of the larger POET network," she says.
---
Williams, Maintenance Manager, also started at Shell Rock during the first year of operations. "When we first started, this was a pretty new business, and we had new equipment. As we've evolved, we've changed our maintenance program," he says. Ongoing training brought a lot of the work in-house that used to go to third party contractors, he says, reducing cost and improving reliability. "My philosophy is if we do the work ourselves, we have more pride," Williams says. "It's been a benefit to the plant over the years." The team does in-house vibration analysis, infrared scans, ultrasound and has begun adding wireless sensors that enable 24-hour analysis instead of having a person collecting data on each piece of equipment.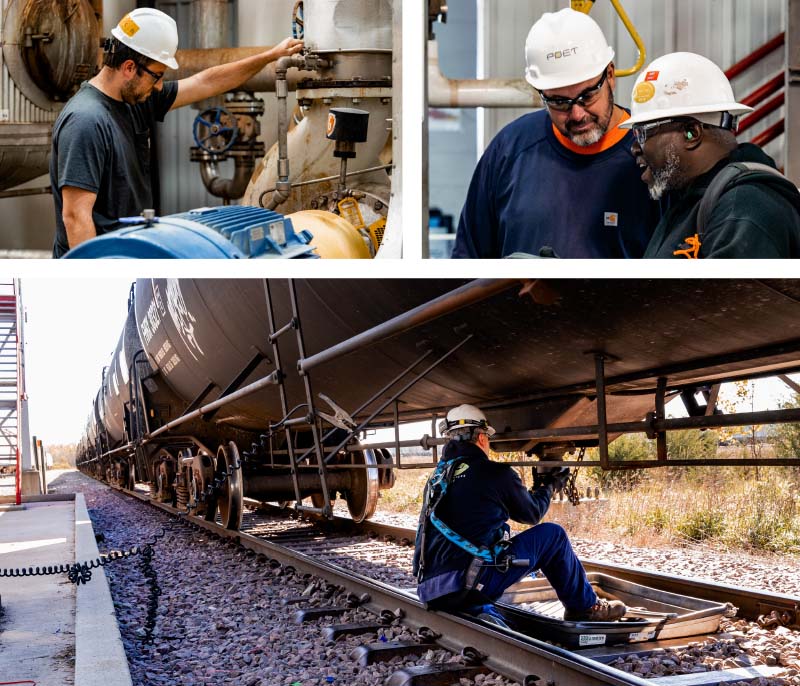 ---
Phillips joined the Shell Rock team in 2011, working to define and develop the environmental, health and safety (EHS) programs. "We've really matured in EHS programs over the past 10 years to where they are truly integrated business systems," he says. "We're not perfect, but we've done a good job in making all 50 people at the site be responsible for EHS rather than just one person. I may oversee the program, but everyone owns EHS at Shell Rock."
---
Inspections and safety took a big step forward when a confined space drone was added to the tool kit, and several team members became FAA certified drone pilots. "You don't have to have somebody climbing into dangerous equipment, and you don't need a watch and rescue team," Phillips says. "It really saves time. We can do all the cyclone inspections in about two hours, compared to a half hour each if you have to
climb into everything."
---
The team takes pride in other innovations employed at the bioprocessing facility. "We made our own DDG tube, brought a yardmaster here for rail innovation and designed our own buckets that allowed us to pick up our corn pile more efficiently," Cummings says. "Shell Rock figures out stuff on our own and brings in innovation wherever possible."
---
Willing to share their innovations as they join the POET family, the Shell Rock team also appreciates being part of a larger network. Williams says POET's Regional Engineer, Bill Miller, has been very responsive in finding resources to help manage maintenance issues. On the operations side, Cummings has seen a step up in merchandising. "POET has a big network of customers, which really helps us to move product," he says. And for Clay, becoming part of a 33-facility network is an asset. "Being part of the POET team has allowed us to tap into a much larger resource," Clay says. "When we have problems or issues, we can reach out to ask questions, and when we learn something we can also share that."
---