---
Policies at the state level can have a major impact on the production and consumer adoption of biofuels. Decisions made by governors, state agencies and legislators can incentivize investment, support rural jobs, improve air quality, protect the environment and public health, and save consumers and taxpayers millions. POET continues to work with state policymakers across the country to help achieve their goals by ensuring greater access and promoting expanded use of homegrown biofuels.
---
The following are a few focus areas:
---
FEULING STATE VEHICLES
---
Most Midwest states currently have policies for fueling government flex fuel vehicles, but unfortunately those programs are often underutilized and not properly enforced. Fueling state vehicles with E15 and E30 is a great way for government agencies to support family farmers and biofuel jobs, and help state agencies save taxpayers hard-earned money on the cost of transportation fuel.
---
LOW CARBON FUEL STANDARDS
---
Lawmakers in numerous states are considering enacting Low Carbon Fuel Standards (LCFS) as a way to battle climate change and improve air quality. California and Oregon led the nation in developing and implementing the LCFS, and neighboring Washington may be the next state to pass legislation curbing the carbon intensity of transportation fuel. A coalition of biofuel producers, environmental advocacy groups, agriculture associations and policy experts is working to develop a model LCFS program for the Midwest, and a dozen Northeast and Mid-Atlantic states are formally collaborating on new transportation fuel standards through the Transportation and Climate Initiative.
---
POET continues to partner with policymakers from coast to coast to ensure that the many environmental benefits of biofuels are appropriately recognized and accurately measured in each state's LCFS program. Supporting
---
INFRASTURCTURE FOR HIGHER BIOFUEL BLENDS
---
Providing economic incentives for fuel retailers to offset the cost of installing blender pumps is another important way that states can improve consumer access to higher ethanol blends. Supporting the installation of blender pumps is an investment in the future as more consumers start to realize the savings and recognize the many benefits of higher ethanol blends.
---
ENSURING ACCESS TO E15 IN CALIFORNIA AND NEW YORK
---
Even though it is an EPA-approved fuel, two of the largest fuel markets in the United States currently do not allow drivers the freedom to fill up with E15. POET is working to educate policymakers in California and New York on the many benefits of bringing E15 to their states, including saving drivers money at the pump and replacing toxic emissions that contribute to poor air quality and respiratory illness.
---
Recent analysis shows that transitioning from E10 to E15 in New York would cut carbon emissions by 748,000 metric tons per year – the equivalent of taking approximately 129,000 vehicles off the road.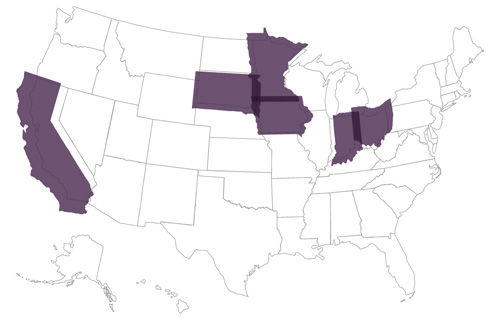 ---
STATES IN FOCUS:
---
CALIFORNIA
According to the state's Department of Motor Vehicles, California boasted more than 25 million registered vehicles on the road in 2017. Unfortunately, tailpipe emissions from those vehicles is contributing to some of the worst air quality in the country.
---
SOUTH DAKOTA
POET operates six ethanol plants in South Dakota. According to a 2015 economic impact study, POET's ethanol activities in 2014 accounted for $636 million of South Dakota GDP and generated $384 million in household income and $38.4 million in state and local tax revenue.
---
MINNESOTA
POET has four ethanol plants in Minnesota; POET's ethanol activities in 2014 in the state accounted for more than $318 million of Minnesota's GDP and generated $26.2 million in state and local tax revenue, according to a 2015 economic impact study.
---
IOWA
Iowa is the leading state in ethanol production, according to Iowa State University's Agricultural Marketing Resource Center. Iowa's ethanol production during 2016 and 2017 was estimated (on average) at record volumes of 4.1 billion gallons and 4.2 billion gallons, respectively.
---
INDIANA
POET is constructing a new biofuel facility in Shelbyville, Ind. POET Biorefining – Shelbyville will be the 28th starch biofuel plant in POET's network, and the fifth in Indiana. It is expected to add 45 full-time jobs and $110 million in annual corn purchases for farmers in the area, primarily within a 30-mile radius.
---
OHIO
POET opened an 80-million gallon expansion at its Marion facility. With this expansion in place, POET Biorefining — Marion has an expected annual capacity of 150 million gallons of clean-burning biofuel and 360,000 tons of high-protein animal feed per year. New production from this facility is expected to add 26 million bushels of annual corn demand for area farmers.
---