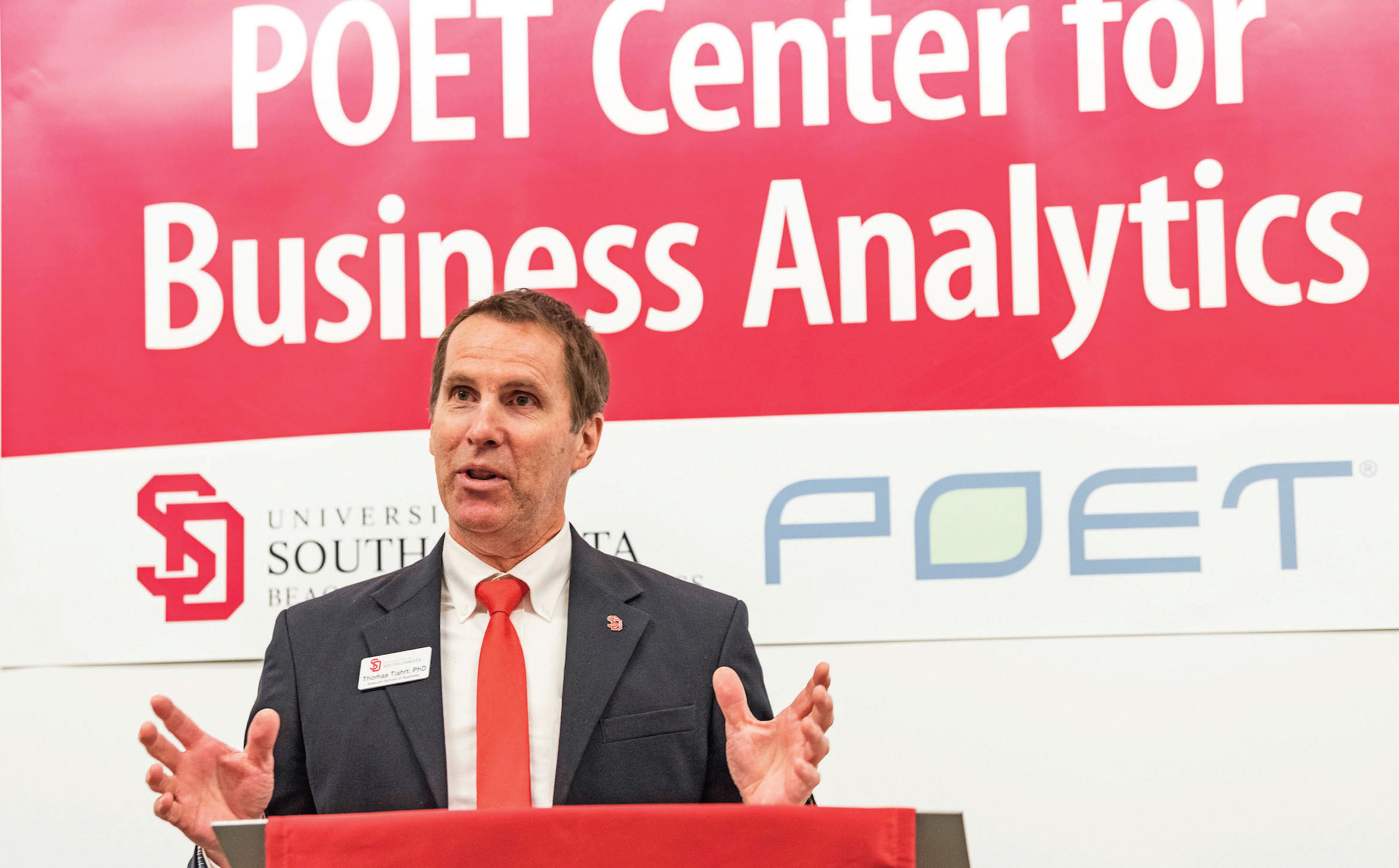 ---
In today's business climate, data is king.
---
The problem for many businesses is that there's often too much of it, and making informed business decisions based on that data — such as predicting the success of an advertising campaign or making optimal portfolio assumptions — requires complex analysis.
---
As the world of big data continues to take over industries from health care to finance, businesses are looking for employees who have the skills to process data and make strategic business decisions.
---
POET's most recent partnership with the University of South Dakota's (USD) Beacom School of Business is helping provide resources to equip students and professionals with the skills needed to understand that data.
---
"Business analytics is the direction that all businesses are headed. Whether bank, ag or tourism, we live in a datadriven economy today," says Venky Venkatachalam, PhD, Dean of USD's Beacom School of Business. "Data needs to be analyzed. The secret weapon is business analytics."
---
The main areas of focus for the POET Center for Business Analytics are teaching, industry engagement, research and executive education.
---
Most notably, the partnership has allowed resources for teaching and establishing USD's new Master of Science degree in Business Analytics (MSBA) program that launched in the 2018 summer term — the first new master's program the business school has offered in more than 30 years.
---
"The 30-credit hour program is intended to bridge the world of business analytics with data science and to predict future events for business to subscribe the optimal amount of resources for them," says Thomas Tiahrt, PhD, who serves as the coordinator of the Business Analytics Program and has been recognized as the inaugural POET Professor of Business Analytics.
---
Venkatachalam approached POET Founder and CEO Jeff Broin in 2017 to form a Center for Excellence in Business Analytics. The goal for the center is to form what Venkatachalam calls "co-value creation" for POET and the business school, as well as the state economy at large. The Beacom School plans to establish additional centers of excellence that will drive economic output in South Dakota.
---
"This is part of our strategic thinking for the business school and our commitment to economic development to help businesses like POET grow," Venkatachalam says. "Certainly the partnership is helping POET, and it's a strategic approach for the business school and the economy. It will grow if you have more business analysts helping various sectors of the economy."
---
POET also sees the partnership as providing benefits both to the company and to USD.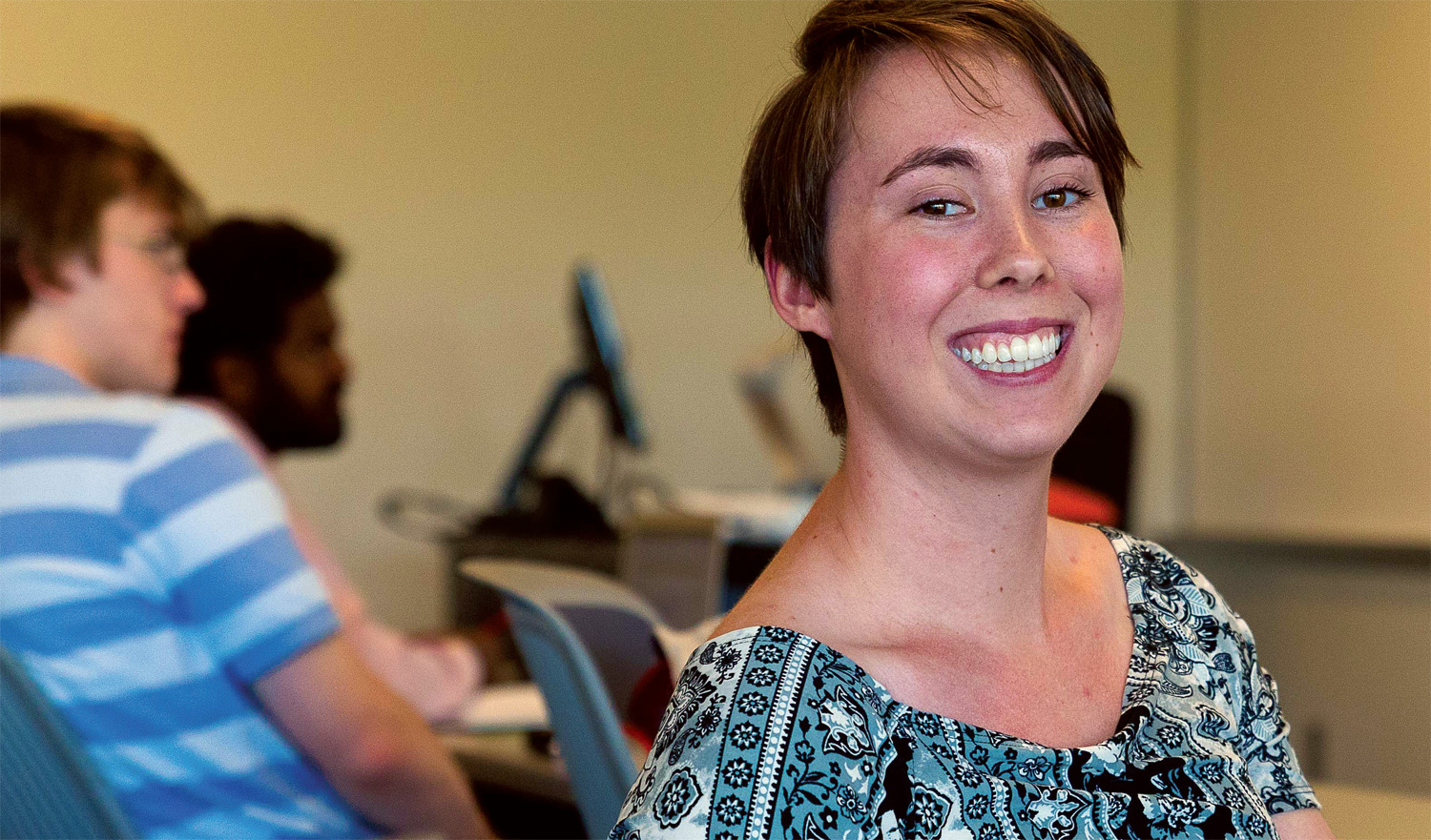 ---
"The Beacom School of Business is already ranked nationally, and our hope was to do our part in bringing yet another advantage to the school," says Jeff Pinkerman, Chief Financial Officer, POET.
---
POET already uses analytics within the business, and Pinkerman says the company would find value in recruiting individuals who are specifically trained in business analytics. That skillset could be applied in various ways. For example, POET mines data about its bioprocessing plants to optimize yields and learn why one plant may be performing better than another.
---
POET is already drawing benefits from the partnership. As part of the executive education focus, for example, POET team members including general managers, plant managers and engineers participated in a two-part negotiation training taught by POET and Beacom faculty Tyler Custis, JD, MBA, Assistant Professor of Business Law. Custis, who will teach the in-person portion of the course, said the content focused on understanding what negotiations or approaches will help POET team members conduct deals more productively.
---
The new master's degree program in business analytics aims to equip students with the tools to analyze and extract meaning from that data to help make an industry more profitable and more strategic.
---
"The goal for the center is to provide value through teaching, educating mid- to upper-level professionals, research and outreach to the business community. The program is also creating graduates they can employ in needed and critical areas," Tiahrt says.
---
BUSINESS ANALYTICS PROGRAM
---
Recent labor force data shows that management analyst and market research analyst positions are expected to grow 8-20 percent in South Dakota through 2024.
---
"With the world of big data and analytics everywhere, we think the market will be quite strong for our graduates. We've heard from employers, including POET, that use analytics in their business, and they tell us they would be able to use graduates who have these skills," Tiahrt says. That's what master's degree student Michaella Crouch is counting on.
---
Crouch, who graduated from USD in May 2018 with degrees in Math and Philosophy, was planning to pursue a graduate degree in public health. She realized during her junior year, while working on her honor's thesis, that she preferred working on the data analytics piece of the project. With the kick-off of the MSBA program in May, she was anxious to get started.
---
"The most interesting part is being able to take a realworld problem — and take all the data associated with it — and to make models and predictions to explain this and what this means to someone who might not understand."
---