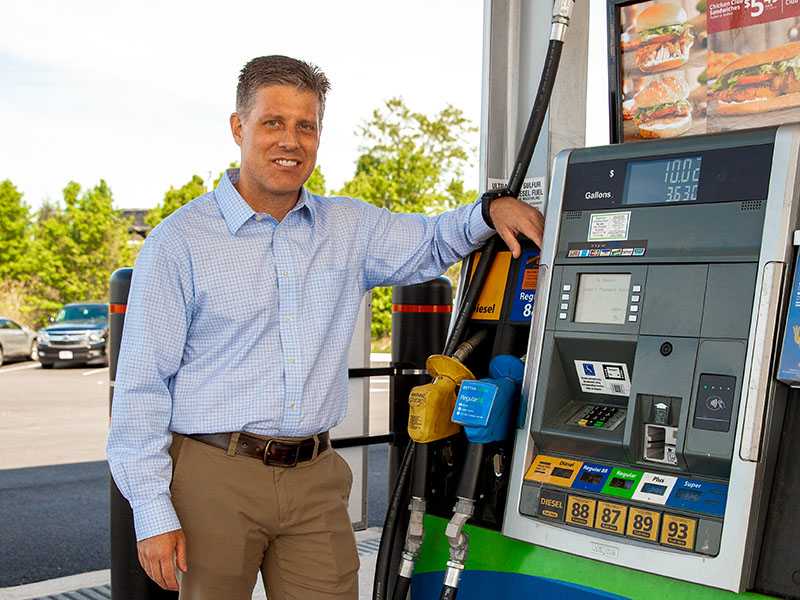 ---
The benefits of high bioethanol blends in fuel are becoming increasingly obvious. However, what does a retailer do when they're interested in learning more about selling E15 and other blends? What resources are available to help them navigate the transition from regular gasoline or E10 fuel to higher blends? How does a retailer market new biofuel to customers?
---
That's where Protec Fuel steps in. Protec Fuel Management is a bioethanol fuel marketing and solutions company. They work with distributors, retailers and fleets across the nation to provide a broad range of risk management products, as well as supplying over 200 retailers with bioethanol.
---
Steve Walk, COO and Managing Partner of Protec Fuel, discussed Protec's mission regarding the bioethanol industry.
---
"Protec Fuel's business model is to help make the C-store more successful, whether it is in the form of fuel commodity risk management to physical fuel offerings to constructing enhanced marketing techniques that utilize digital marketing and cell phone
search applications."
---
Protec offers clients a variety of services to help them through the process of switching to bioethanol. By answering questions, helping gauge the impact offering higher blends will have on their business, aiding with the transition, supplying bioethanol and helping with marketing and technology strategies to better reach consumers, Protec assists clients through the entire process of switching from regular gasoline to higher blends of biofuels.
---
"Protec is more than just a fuel supplier," said Walk. "We work directly with retailers from start to finish and beyond. By helping navigate the respective state's regulations and permitting of construction, to dispenser installation, to marketing and physical fuel supply of bioethanol, we cover all aspects of the switch to higher blends."
---
The biggest selling point of higher bioethanol blends for fuel retailers is the increase in customer foot traffic. The fundamental goal of retail fuel stations is to get customers at — and hopefully inside — the store. A retailer can increase their customer traffic by having a variety of fuel options, including higher blends of biofuels. This positions the station for greater exposure and a better likelihood that vehicles will stop. With the push towards lower-carbon fuel options in the transportation sector, having renewable fuel options like bioethanol blends makes retailers more competitive.
---
Walk points out that everyone benefits from an increase in biofuel blends.
---
"By helping make the station itself more successful, all participating parties benefit. Whether it is the bioethanol production plant, transport, jobber or station owner, they all enjoy the increased business. Most importantly however, the customer enjoys the lower fuel costs and the higher-octane fuel options."
---
Protec specializes in helping retailers increase their customer base. Recently, Protec developed a program to assist retail locations in utilizing proper digital marketing and awareness through various navigation portals. Aside from the marketing exposure this brings, it also allows for data capture on customer searches, desires and eventual purchases that can be used to further cross-sell into other product offerings both inside and outside the convenience store.
---
For Mike O'Brien, Vice President of Market Development for Growth Energy, the services that Protec offers fulfill all the needs of a new retailer looking to offer higher bioethanol blends.
---
"For new retailers, offering E15 is definitely a process," said O'Brien. "The retailer first has to see the value in E15. The discount the E15 gives over E10, the fact that it's a good margin opportunity. Next comes infrastructure, the tanks and pumps need to be compatible, making sure nothing needs to be replaced. There's a fair amount of discussion in that second step to make sure retailers have everything they need to sell E15 and feel comfortable selling it. Finally, comes labeling and marketing it. Once retailers get it into their stores, they realize that its good and makes money, but getting them to that point can prove a challenge."
---
That is exactly where Protec steps in. Being able to help retailers in every step of the process allows for a much easier transition to biofuels and more peace of mind in knowing how to navigate the switch. By showing the benefits of bioethanol, Protec encourages retailers to make the switch for their own benefit and the benefit of their customers.
---
"E15 is a great replacement for the E10 biofuel of today," said Walk. "Unlike the changes with E10, where stations across the country had to deal with phase separation issues regularly, sites will not have these issues and expensive frustrations, since 10% bioethanol is already sold."
---
For more information about Protec and bioethanol, please visit their website, protecfuel.com.
---