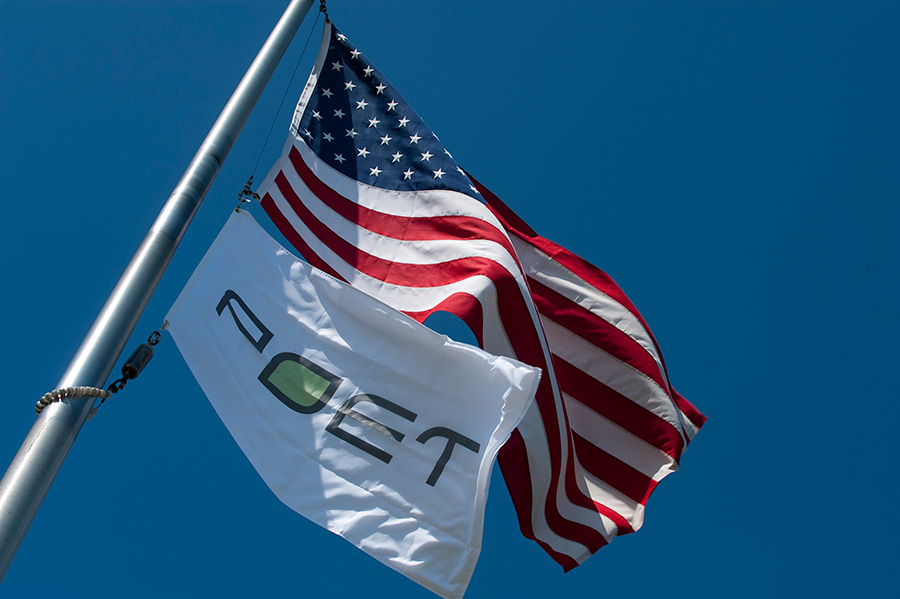 ---
It makes sense that an industry working for American energy independence and security would place a high value on military service. But even understanding that, the facts for the biofuels industry are impressive.
---
Veterans make up 16% of the bioethanol workforce, according to the U.S. Department of Energy. That's more than any sector in the entire energy industry, and it far surpasses the six percent national average. POET proudly employs 101 team members who are military veterans.
---
The biofuels industry benefits from the work ethic, leadership, experience and values of veterans nationwide. At the same time, many of those veterans see a sense of purpose and patriotism in what they do to grow our nation's use of clean,
American-made biofuel.
---
Morgan Skluzacek, Merchandising Coordinator at POET Bioproducts in Sioux Falls, has served in the Air National Guard for the past six years. She is not surprised by the number of veterans in the biofuels industry. People in the Midwest have that "American, homegrown" spirit, she says, that makes them value things like agriculture and the environment.
---
"I think that kind of goes hand-in-hand with the military because we are fighting for our country; we're there to do anything we can for our homeland and for those who might need help," she says.
---
Energy security is national security
---
Bioethanol displaces more than 700 million barrels of oil per year, and every gallon displaced makes our nation more resilient in dealing with disruptions in the global oil market and conflicts overseas.
---
President Biden highlighted the important role biofuels play in countering the bad actions of foreign nations when he announced that E15 would be available throughout the summer 2022 driving season.
---
"The President believes that the actions of a dictator half a world away should not impact what families pay at the pump here at home," the White House stated in an outline of the President's announcement.
---
Many of the veterans at POET say military service is about a purpose, a spirit of helping the world. That same spirit drives them in the biofuels industry.
---
"You do it because there's a higher calling to make the world a better place. You leave it better than you found it, which is what we're all about here at POET," says Michael Skoudas, Vice President, Sales and Marketing at POET Bioproducts. Skoudas served in the U.S. Marine Corps from 1986 to 1990.
---
Todd Springer, Maintenance Manager at POET Bioprocessing – North Manchester, is also a Marine Corps veteran who served from 1988 to 1991. He, too, sees similarities in purpose between his current industry and the military.
---
"At POET, I see the drive, the focus on making things better," he says. "In the military, you're going into an area to make things better...And I see the same thing that we're trying to do here. We're making things better for the world."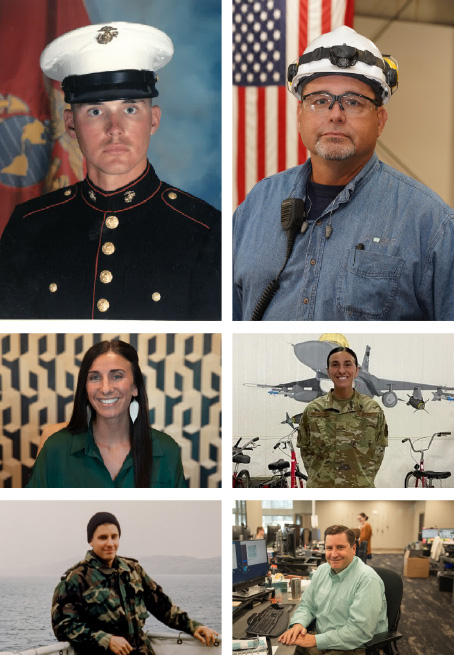 ---
Learning skills that translate
---
Many veterans at POET talk about the skills they developed in the military that eventually turned into careers in the private sector.
---
Kenneth Yaeger, Maintenance Technician at POET Bioprocessing – Laddonia, served in the U.S. Navy from 1977 to 1999. He learned to operate boilers on aircraft carriers, destroyers, and more.
---
"This is what I've done since I was 18 years old. I've been in maintenance," he says. "Here in Laddonia, I run the boilers and take care of the water, chemistry, and stuff here. It's what I've done my whole life."
---
Taking care of equipment is a key part of training and service, says Nathan Thompson, Inventory Specialist at POET Bioprocessing – Glenville and member of the U.S. Army National Guard from 2004 to 2014.
---
"If you got equipment that's yours, you're a maintenance guy for that piece of equipment," he says. "Whether it's a Humvee, a tank, or a plane, you're maintaining that thing, and there's a lot of skill level with that. For us at the plants, that's a great skill to have. The more technical, the better."
---
Becoming leaders for life
---
Personal skills are also an important part of military service, and those skills have been a key to career success for POET
team members.
---
Springer, at North Manchester, says the hierarchy in the military created opportunities to observe different leadership styles — both positive and negative — and employ
those skills.
---
"You have the people that you'd follow to the end of the Earth just because of the person that they are," he says. "And that's what I gravitated to."
---
"You're serving your troops, which is exactly what the POET leadership characteristics are about: leading with the servant's heart," Skoudas at POET Bioproducts says. "That's exactly what the military's about. You're serving your country. You're serving your fellow Marines. They come first. That's what you do."
---
The military places a priority on critical thinking and fast action in high-stress situations. That experience comes in handy, whatever work or life challenges are thrown their way.
---
"You can have the best-laid plans, but the minute the first round goes downrange, the plan changes, and you have to adapt and be flexible and figure things out," Skoudas says. "That skill and the ability to deal with those things has always served me very well in life and at POET."
---
Lifelong impact
---
The military is more than a job. It's a lifestyle. It's a purpose. It's a family. Those things stick with a person.
---
"Some of my closest friends are in the military," Skluzacek at POET Bioproducts says. "It's just like a big family. Just always having those people in your corner is a really good thing, and the trust is always there."
---
With 22 years in the U.S. Navy, Yaeger at Laddonia has already given a large part of his life to serving his country. He's ready to answer the call today.
---
"I'm almost 64 years old," he says. "If I had to go back today and do it again, I'd go. If I ever got called, I'd go back."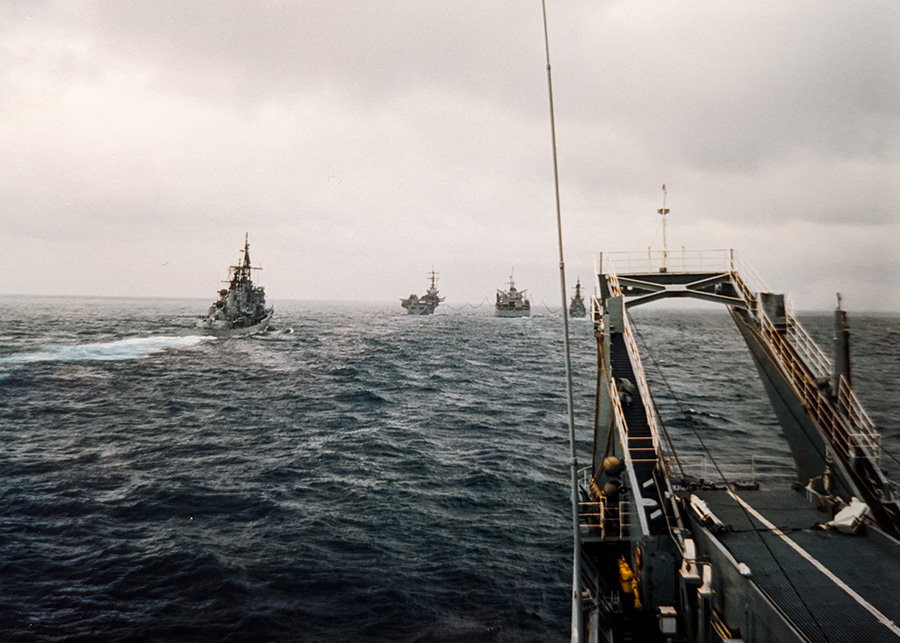 ---
Thank you to the POET team members who have served in the U.S. Military!
---
Adam Chedester
---
Adam Chrans
---
AJ Poeppe
---
Benjamin Warwick
---
Bill Dixson
---
Bob Byers
---
Brandon Fischer
---
Brandon McLellan
---
Brian Shields
---
Brian Torgerson
---
Brock Hambrock
---
Charles Hauxwell
---
Chris Hanson
---
Corey Edwards
---
Damon Klumb
---
Darren Thompson
---
Dennis Gnewuch
---
Derek Witt
---
Doug Stevenson
---
Douglas Janssen
---
Eric Smith
---
Hayden Hughes
---
James Bowers
---
James Eliason
---
James Randa
---
Jason Mitchell
---
Jeffery Sherrill
---
Jess Wickre
---
Jim Beezley
---
Jim Calvin
---
Jim Hill
---
Joe Mahaney
---
John Mikulski
---
Jon Perkins
---
Jon Podzimek
---
Joseph Scholte
---
Josh Berry
---
Josh Hedden
---
Justin Strawn
---
Kenneth Yaeger
---
Kirtley Hershey
---
Luke Fitcher
---
Matt Mcconnell
---
Melvin Tiffany
---
Michael Sidle
---
Michael Skuodas
---
Michael Starlin
---
Mike Smith
---
Morgan Skluzacek
---
Nate Tafolla
---
Nathaniel Thompson
---
Neil Anderson
---
Nick Titze
---
Rex Henning
---
Richard Albertson
---
Rick Green
---
Robert Braun
---
Robert Wood
---
Ron Bovee
---
Ryan Campbell
---
Samuel Fager
---
Scott Hall
---
Scott LeBrun
---
Scott Sawtelle
---
Steve Smith
---
Terry Freier
---
Tim Schlotterback
---
Timothy Jordan
---
Todd Springer
---
Tom Therkelsen
---