---
By mid-March of 2020, the COVID crisis had created a global shortage of hand sanitizer. Frontline workers were running out of a product that could, literally, help save lives.
---
The team at POET, meanwhile, had been looking at the viability of producing purified alcohol — the main ingredient in hand sanitizer — for the past few years.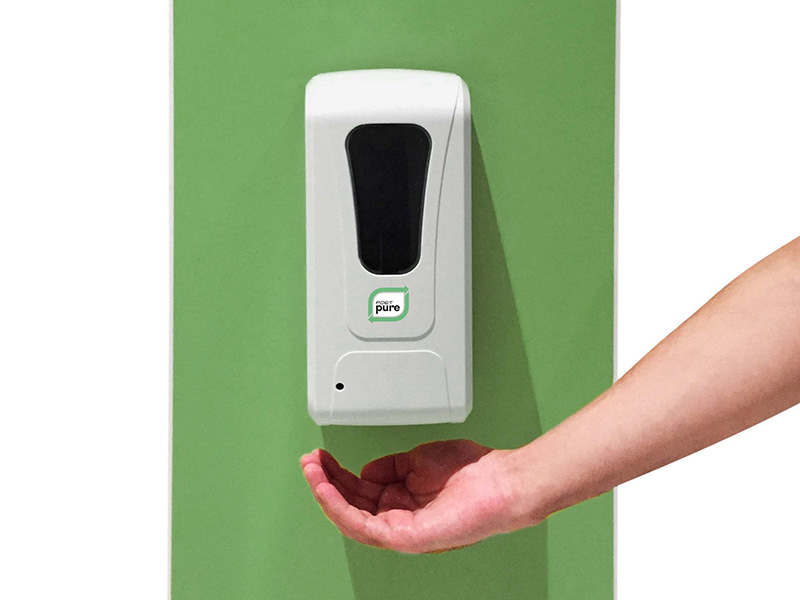 ---
By fall of 2019, POET's research team had already carried out quality trials and run the large-scale production numbers. Maybe, they thought, they would start producing big-batch purified alcohol within a year. Maybe two.
---
Then COVID hit. Then those doctors and nurses and firefighters and police officers needed hand sanitizer.
---
"We knew we could help, and we knew it was the right thing to do," says Doug Berven, POET's Vice President of Corporate Affairs. "So we made the purified alcohol production an 'all hands on deck' type of process. People worked around the clock on this."
---
By late March of 2020, after just a week of a facility retrofit and more trial runs, POET was producing high-quality, purified alcohol.
---
In early April 2020, POET donated its first 300 gallons of hand sanitizer to first responders: firefighters in Sioux Falls, police officers in Yankton, doctors and nurses in Chancellor.
---
That short-term push to produce hand sanitizer — that desire to help those in need — ramped up the timeline for POET's planned production of purified alcohol.
---
"The team saw a need, and they made it happen," says Berven. "Once we were up and running, we knew we could focus on the large-scale production we'd already been planning for. And we knew we wanted to make the best stuff out there."
---
So POET team members tested and reconfigured their purification processes to create two grades of purified alcohol.
---
They created POET Pure Ethyl Alcohol (USP) — which replaces synthetic and petroleum-based alcohols in things like cleaning products and cosmetics, personal care items and pharmaceuticals — to exceed the highest global quality standards.
---
They distilled their food-grade alcohol — POET Pure Grain Neutral Spirits (GNS) — six times to meet the highest purity standards, including the FDA's Good Manufacturing Practice (GMP) and the Global Food Safety Initiative's Safe Quality Food (SQF) Program. It also adheres to kosher guidelines.
---
By March 2021, POET Bioprocessing – Leipsic (Ohio) had been retooled and retrofitted with the capacity to produce up to 35 million gallons of purified alcohol annually. In July, POET Bioprocessing – Alexandria (Ind.) also began production.
---
Today, POET is the world's largest producer of ethyl-alcohol. A product that has proven its versatility.
---
Their purified alcohol — branded as POET Pure — can be found in everything from to personal care products to cleaning supplies to sanitizing solutions.
---
The all-natural, bio-based alcohol can be used to preserve food, kill micro-organisms and clean skin.
---
It can, according to Darin Cartwright, POET Vice President of Commercial Strategy, replace petrochemicals in hundreds of everyday products.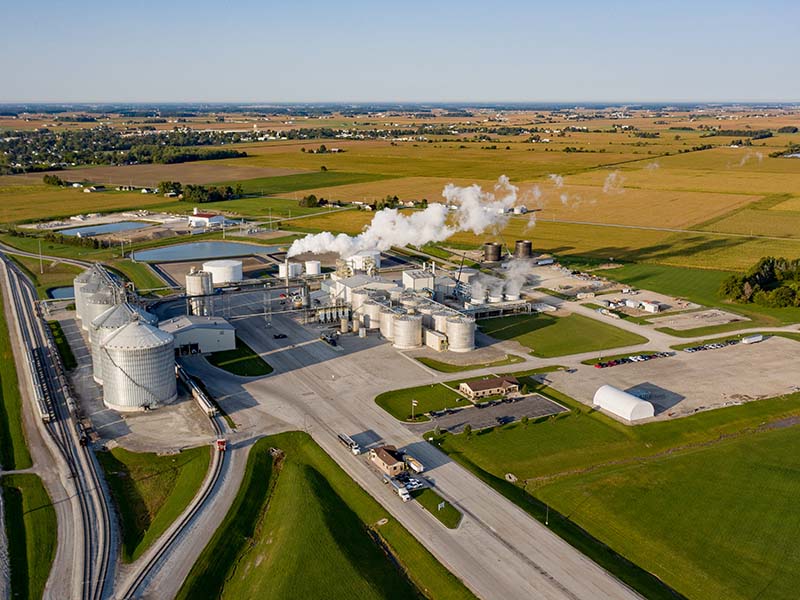 ---
"We have the opportunity as a society to replace synthetic, fossil-based alcohol with competitive, renewable alcohols produced from plants that afford many benefits to our planet," says Cartwright, the VP of Commercial Strategy for POET Biofuels. "Outside studies have shown those benefits."
---
One recent, third-party study compared products with bioethanol as the active ingredient versus those with fossil fuel-derived isopropanol.
---
That study — "Hand Sanitizer Carbon Intensity Analysis" by Environmental Health & Engineering — found that "the greenhouse gas emissions for bioethanol hand sanitizer are substantially lower than for fossil fuel hand sanitizer," says David MacIntosh, the Chief Science Officer and 20-year-employee of EH&E.
---
The carbon intensity produced by bioethanol, in fact, is roughly one-third that of the isopropanol. That means that substituting POET's renewable alcohol for the petrochemical would reduce GHG emissions by nearly two-thirds.
---
"That's a substantial difference," says MacIntosh, who also serves as Adjunct Associate Professor of Environmental Health at the Harvard School of Public Health. "We have seen that bioproducts are better than petrochemicals, better than fossil fuels. And this is all part of a bigger picture of what we've found with POET's bioproducts."
---
As VP of Commercial Strategy, Darin Cartwright has seen firsthand that, maybe more than ever, people are choosing environmentally-friendly products that bring big-picture positives.
---
"Companies and consumers both are seeking sustainable solutions at competitive prices," says Cartwright, who oversaw the new market development of POET Pure.
---
POET Pure, says Berven, is high-quality. It is price-competitive, better for the environment, and it gives American farmers yet another market for corn.
---
And it's just another in a long line of examples in which clean, naturally-grown, ag-based bioproducts have proven that they can replace toxic petrochemicals.
---
POET's high-quality corn oil extract, Voilà, is used for everything from biodiesel production to an industrial lubricant.
---
JIVE, POET's eco-friendly asphalt rejuvenator, relies on a biofuel-based oil to replace a dangerous petrochemical used in road construction.
---
"There's hardly anything you touch today that doesn't have some fossil and petrochemical base to it, whether it's your desk, your keyboard, your clothing, the pills you take in the morning," says Berven. "As we transition away from fossil fuels, we have to replace those things with plant-based solutions. We keep proving we can do that. The biofuel we sell is a plant-based solution. Our food-grade CO2 is a plant-based solution. Our purified alcohol is another plant-based solution.
---
Berven points back to why — and how quickly — the purified alcohol production process moved forward.
---
"Just look what this team has created in such a short timeframe," says Berven. "They worked long hours to get that hand sanitizer to those frontline workers, to make a difference."
---
Just over a year later, POET has parlayed that effort into full-scale production.
---
"Now we're producing purified alcohol because we know that makes a difference, too," says Berven. "It's better for the environment. It supports agriculture and rural America. Our purified alcohol is just another example that we can make anything out of a bushel of corn that they can make out of a barrel of oil. And now we can replace another petrochemical with something that comes from above the ground, and it's
better for all of us."
---