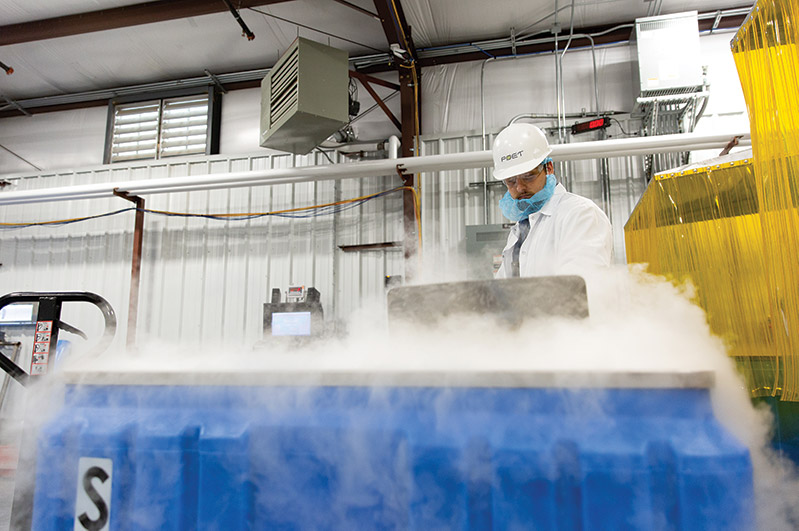 ---
Every year, POET's 27 bioprocessing facilities produce up to 2 billion gallons of bioethanol.
---
But that bioethanol production process is just the start, literally, of dozens of co-products — things like animal feed and corn oil and hand sanitizer — that POET captures or creates along the way.
---
In the mid-1990s, POET recognized the chance for large-scale capture of carbon dioxide (CO2), a natural co-product of bioethanol production, and started testing the idea at a pilot plant in Scotland, South Dakota. By 1998, they were capturing — and selling — CO2.
---
Today, POET's 13 CO2 plants supply the highest-grade, all-natural liquid carbon dioxide to customers across the U.S. for everything from fighting fires to flash freezing food to carbonating beverages.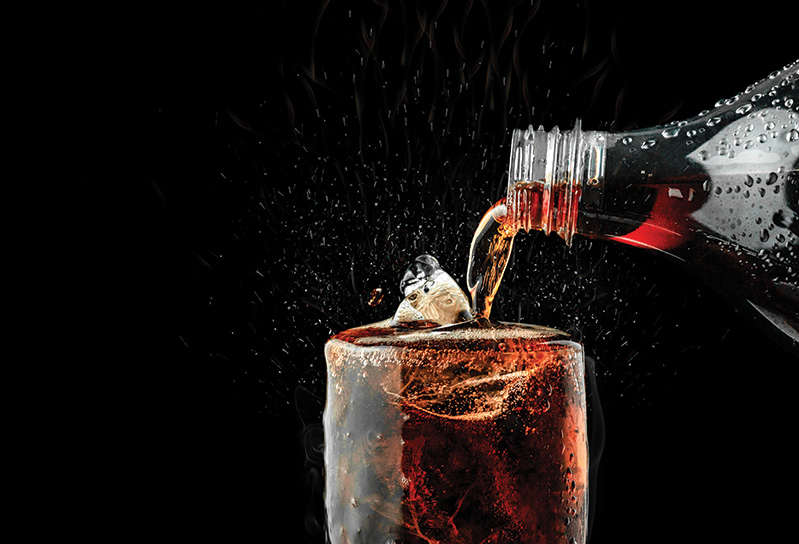 ---
Led by POET Ethanol Products' carbon dioxide group in Wichita, Kansas, the company now has the capacity to produce in excess of 600,000 tons of CO2 every year.
---
And, unlike other suppliers of CO2, they can do it with renewable resources.
---
"The pace of growth in our CO2 business is uncommon in the industry," says Christian McIlvain, President of POET Grain. "We've added eight new CO2 plants in the last eight years, making POET the fastest-growing CO2 production company in the United States. And there's a big market out there."
---
And that CO2 market is larger and closer to home than you might think.
---
"Most people would probably be surprised at the number of items they use in everyday life that CO2 impacts in some way," says McIlvain, who joined POET Ethanol Products 20 years ago. "Just start by looking in your freezer."
---
Carbon dioxide is a main component in the freezing process for everything from meat to fruits to vegetables. In fact, the top meat processors in the U.S. are POET customers.
---
POET utilizes its exceptionally clean stream of CO2 gas to supply a wide band of consumers ranging from municipal wastewater treatment facilities to the largest food and beverage producers in the U.S.
---
"POET currently provides an unmatched level of service to hundreds of individual customers across the United States," says Brad Jones, CO2 Sales Manager for POET Ethanol Products. "We are a full-service business meaning we handle everything from production, to transportation and transaction processing."
---
POET's own biorefining process produces and captures the CO2. Their production facility then turns that CO2 into its liquid form, and POET drivers deliver that liquid CO2 all over the country in POET-owned tanker trucks.
---
"We are the only truly fully integrated CO2 producer in the industry," says McIlvain. "When a customer is doing business with POET, we're really handling everything in the production process from A to Z."
---
POET's prices, says McIlvain, are competitive. They have to be.
---
"If you were to ask our customers what they think of POET's CO2 offering, we'd hope they'd tell you our customer service is best in class," he says. "Price may be what gets you in the door, but our customer service is what allows us to remain in the game."
---
Another, bigger-picture aspect that separates POET's CO2 from others is the fact that it's largely created from a renewable resource. It's environmentally friendly. It plays a part in boosting the farm economy.
---
"We're proud to be producing something sustainable," says Jones, who's been with POET since moving from Louisiana (in a "Gulf Coast world surrounded by petrochemicals," he says) in 2003. "Our CO2 comes from what grows from the earth, not what's buried in the earth. The large power plants and the refineries are, for obvious reasons, less environmentally friendly than bioethanol. We're not mining it. If you're a business trying to be more responsible, you know you're getting a more environmentally friendly, agricultural-based product."
---
Roughly a quarter of the CO2 production in the United States comes from deposits found beneath the earth, according to Intelligas Consulting. That means lots of invasive drilling, sometimes as deep as 10,000 feet. Other leading sources of CO2 suppliers include ammonia production facilities and oil refineries, both of which rely on their heavy CO2 emissions in order to capture some of that for resale.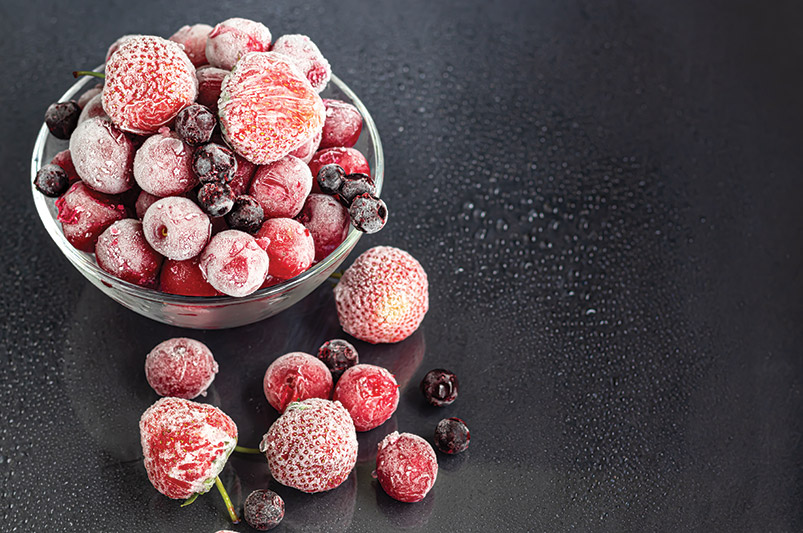 ---
The industrial production of ammonia emits more CO2 than any other chemical-making reaction, according to Chemical & Engineering News. Oil refineries, which according to the EPA emit roughly 180 million tons of CO2 every year, also manage to capture some of those emissions for resale. That accounts for approximately 15% of the U.S. CO2 production.
---
"One of the nice things about the CO2 that we offer is that it's principally renewable," says McIlvain. "Companies are increasingly interested in providing products to their customers that are in sync with the environment. Our CO2 is a better solution for companies who are in search of sustainable ingredients for their production process. Fortunately, that matters to many companies and many consumers, especially those in the food business, who already realize the importance of U.S. agriculture."
---
POET continues to seek out additional ways to create value within the CO2 business. Recently, POET Biorefining, located in Macon, Missouri was fitted with a new, state of the art dry ice production facility.
---
"We've talked about entering the dry ice business for a number of years and we took the step in early 2020," says McIlvain. "Things are going really well, but it was a lot of work. I've used this as a half-joke on a number of occasions, but 'Note to self: Never start a new business in the middle of a pandemic.'"
---
But when fuel demand dropped due to pandemic travel restrictions last spring, many POET co-products, including CO2, moved to the forefront. According to the U.S. Energy Information Administration, by mid-April 2020, average gasoline consumption in the U.S. had dropped to 252 million gallons per day, down from a 2019 daily average of 392 million gallons.
---
During that same period, both production and consumption of bioethanol had fallen by 50% from the previous year, according to Growth Energy. So when fuel demand plummeted, POET refocused some of their bioethanol-only energy into other bioproducts, like carbon dioxide and hand sanitizer.
---
The addition of dry ice production at POET's Macon plant came online at an opportune time. Dry ice usage is expected to increase with the shipment of millions of COVID-19 vaccines, many of which require temperatures of nearly 100 below zero.
---
"We have a long history of finding new ways to use everything we produce," says McIlvain. "If someone at POET sees an opportunity, we will pursue it."
---
So it has gone for POET's 30-plus years.
---
Like with everyone involved in POET's long line of innovative add-ons from the bioethanol production process, the CO2 team understands the value of finding more and more ways to turn corn--every bit of it--into quality products.
---
"Whenever we have looked at ways to potentially expand our business, we've always considered our customers to be partners in our efforts," says McIlvain. "We know people appreciate products that are good for the environment, that are renewable, that support American farmers."
---
"We do that with bioethanol, and we do that with everything else we make."
---