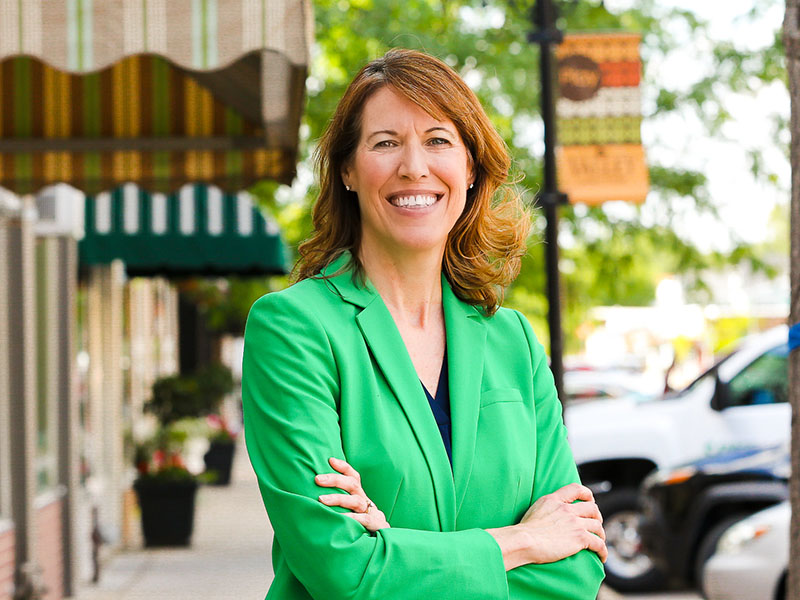 ---
Congresswoman Cindy Axne represents Iowa's Third Congressional District. A fifth-generation Iowan, Axne is a small business owner, parent and community activist. With numerous biofuel processing facilities in the state of Iowa, several being in her district, Rep. Axne has actively supported the future of the biofuels industry.
---
We talked with Rep. Axne about the impact of biofuels in the state of Iowa and what the future of the industry holds.
---
Can you tell our readers a little about yourself?
---
I'm Cindy Axne, and I am in my second term representing the third district of Iowa. I serve as a co-chair of the bipartisan House Biofuels Caucus as well as a member of the House Agriculture Committee and the Financial Services Committee. Throughout my time in Congress, I have been a strong supporter of our nation's biofuels industry and an advocate for farmers and rural communities.
---
Why is the biofuels industry important to you and the future of Iowa?
---
Recently, I was with Secretary Vilsack in Southwest Iowa, and he shared a somber statistic: Nearly 90% of farmers do not make enough income from farming alone to support their family and need off-farm income in order to make ends meet. We also know that opportunities in rural America are becoming harder and harder to come by. Frankly, this is concerning and needs many solutions, but by supporting and expanding a robust biofuels industry, we can provide more price support for our growers and more job opportunities in rural America.
---
Here in Iowa, we have seen firsthand the success of the biofuels industry for our rural communities and farmers. Bioethanol alone supports nearly 50,000 jobs in Iowa, adds billions of dollars to our state's economy and provides a strong market for our corn growers. Supporting rural Iowa has been a top priority of mine since coming to Congress, and we all know that a strong biofuels industry means a strong rural economy.
---
Why is the development of the biofuels industry critical for economic growth for the U.S. as a whole?
---
As I often tell my colleagues in Congress, every ball bearing for a Ford Explorer made in Detroit is manufactured in Clarinda, Iowa. The point being — we cannot succeed as a country if we don't support and invest in rural America. I'm proud of the work I've done as an advocate for rural communities and that includes being a champion for biofuels.
---
Beyond the economic impact, the science tells us that biofuels offer significant carbon and environmental benefits. If we're serious about decarbonizing our transportation sector, we need to invest in solutions that are available now and not look to technology that will take decades to deploy. Biofuels are that solution for our environment, for our rural communities and for our farmers.
---
Your district currently offers E15. Why do you think consumer choice at the pump is so important?
---
It's quite simple why we need consumer choice at the pump: We know that when E15 is available, consumer demand increases. E15 is affordable, supports our rural communities and helps decarbonize our environment. All these reasons are why consumers want the fuel and why we need to increase the availability of higher blends of bioethanol beyond my district and to the rest
of the country.
---
That's an issue I have been working hard on in Congress — I have introduced two bipartisan and bicameral pieces of legislation to increase the availability of E15. My biofuels infrastructure legislation, the Renewable Fuel Infrastructure Investment and Market Expansion Act, would provide $500 million to the USDA over the next five years for the deployment of renewable fuel infrastructure, and my Low Carbon Biofuel Credit Act would incentivize retailers to offer higher blends by providing a five-cent tax credit for E15 and 10 cents for blends above that.
---
Any parting information you would like our readers to know?
---
They should know that they have a tireless advocate in me. As soon as I heard rumors that this administration was considering providing RIN "relief" to refineries, I quickly worked with my colleagues and helped lead a bicameral letter to the White House and the EPA expressing the need for a strong RVO. In the week following, I spoke with Secretary Vilsack, EPA Administrator Regan and President Biden about the importance of supporting biofuels and what the detrimental effects would be for our producers and rural communities if the administration gave handouts to oil refineries. While I've been pleased with what this administration has said previously about the importance of biofuels, I won't hesitate to stand up to the Biden Administration if necessary, just as I did to the previous administration.
---
We are also battling frustrating court decisions. Following the Supreme Court decision on Small Refinery Exemptions, the D.C. Circuit Court struck down the year-round E15 rule at the EPA. While disappointing, my colleagues and I have worked quickly to provide a legislative fix to ensure that retailers can provide year-round E15. The ruling had nothing to do with the safety, benefits or quality of E15 — so we need to make sure the EPA has the clear authority to ensure E15 is available to consumers throughout the year.
---
I've been working hard to support and expand our nation's biofuels industry and will continue to do so. We have a significant opportunity for robust investment in biofuels, and the benefits are too clear to not act.
---