---
It doesn't look like much — just a long piece of twine with markers made of bottlecaps spaced out every five inches. To some, it might even look like it belongs in the trash. But, believe it or not, this unassuming contraption is a critical piece of technology being used to revolutionize global agriculture.
---
The bottle-cap-and-twine tool is referred to as a "planting string," and for Kenyan farmer Chamberlin Mbithi Nthiwa, this simple tool — and the education that came with it — is invaluable. It has helped to more than triple his annual corn yields on his family's one-acre farm from 20 bushels to 74 bushels a year. Since field corn is a staple of the Kenyan diet, the increase in yield means there's enough food for the Nthiwa family to eat and even some surplus to sell to pay their four children's school fees.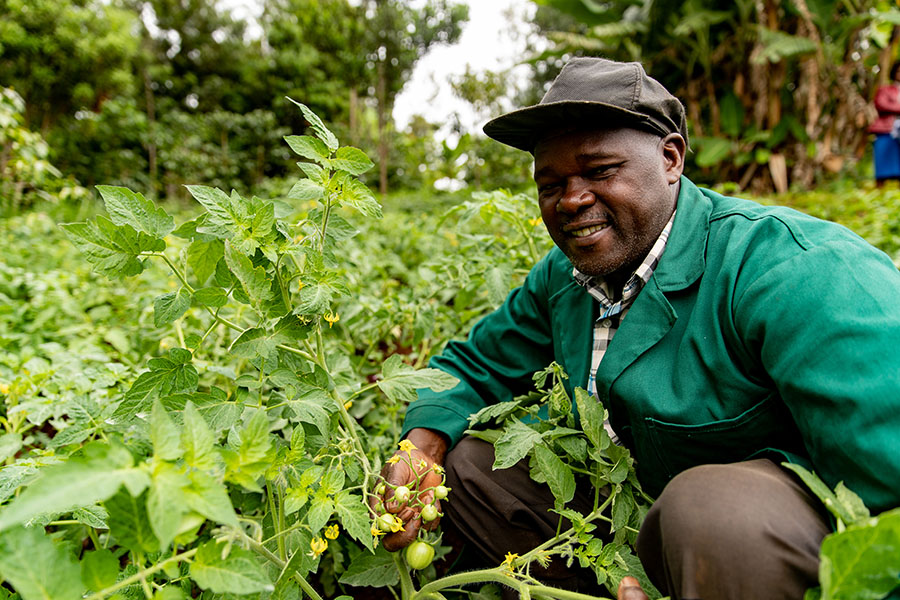 ---
The education and tools that have changed the Nthiwa family's lives for good are due in large part to Seeds of Change and its Grain for Change program.
---
Seeds of Change is an international nonprofit founded by Jeff and Tammie Broin. The organization works to cultivate sustainable change, transform lives, and address poverty at the root through the power of education and the miracle of agriculture.
---
"Seeds of Change was founded on the adage, 'Give a man a fish, and you feed him for a day. Teach a man to fish, and you feed him for a lifetime.' We've built great relationships with our partners and have learned how to best support and empower them so they can create their own paths to success."
---
"Together we're able to create sustainable change that will positively impact many lives for generations to come,"
Jeff Broin
---
Seeds of Change started the Grain for Change program as a way to get American farmers involved with an agricultural initiative that is changing smallholder farmers' lives around the world. Through Grain for Change, farmers can designate a portion of their POET grain delivery to be donated to Seeds of Change. Those dollars go directly toward agricultural programming that teaches viable farming practices in countries like Kenya and Uganda, so that farmers like Nthiwa can grow enough to feed and support their families.
---
Each fall when Arne Svarstad, a fourth-generation U.S. farmer, delivers corn to his local POET plant, he donates to Grain for Change.
---
"Every penny from the bushels I donate goes toward helping educate smallholder farmers in Kenya so they can feed their families," Svarstad explained. "It's a cause that's easy to get behind."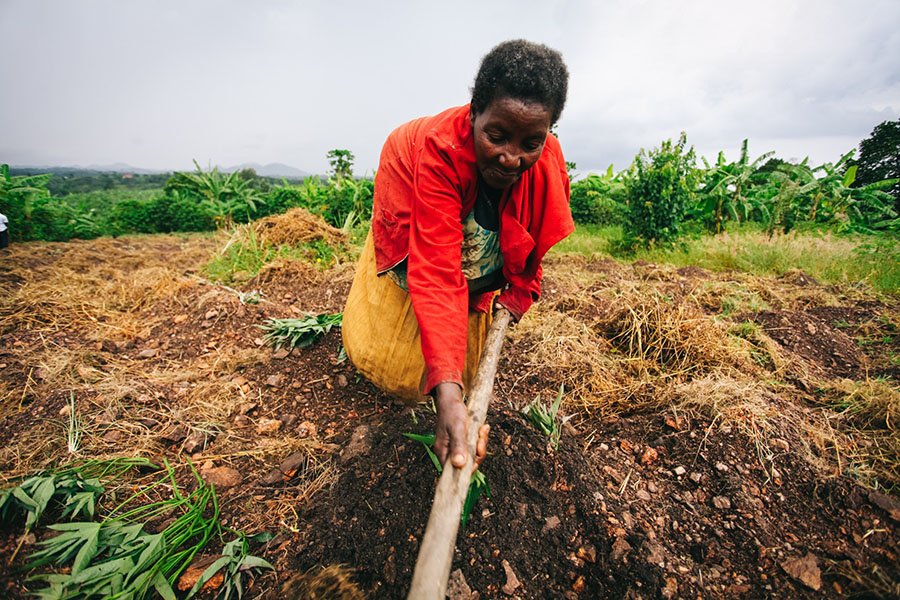 ---
The program utilizes village-based advisors (VBAs) — local farmers who are elected by their peers — to serve as representatives for training and resources. The practices and technology are simple and affordable, but they are extremely effective in helping African farmers to increase their yields and improve their farming operations.
---
Before Seeds of Change introduced tools like the planting string, most farmers in Kenya broadcast seeds by hand without much strategy, explained David Priest, who serves as the boots-on-the-ground leader of the program. "We also teach farmers to use a hand plow to break through the hardpan layer in the soil, which enables roots to go deeper and makes the corn more drought-resistant. Then the planting string is used to help farmers space their rows apart, and the bottlecaps space the seeds along the rows."
---
The tool serves another important purpose: "Remember, on these farms, all the work is done by hand. A bottlecap is just the right measurement for the amount of fertilizer farmers should mix with soil in the hole they dig for the corn seed," Priest said.
---
Simple tools and changes to farming techniques make a noticeable difference. On the average Kenyan farm, which is typically about one acre in size, a family might harvest 20 bushels of corn. After working with Seeds of Change to modify their farming techniques, they can double or even triple their yield.
---
With the help of Seeds of Change, most farmers are diversifying their operations to include other crops like arrowroot, avocados, mangos, cowpeas, and Brachiaria grass for feedstock, among others. By doing so, they are able to lower the risk of losing their entire crop in case of drought or flood conditions. Seeds of Change provides critical education regarding livestock management and grain storage techniques as well.
---
"Education spreads organically because if one farmer sees his neighbor trying something different and succeeding, he will try it,"
Priest said.
---
To date, 1,429 VBAs have provided education to 459,812 farmers in 3,000 villages across rural Kenya impacting 2,758,872 lives. And, thanks to Grain for Change, American farmers have directly supported these efforts.
---
"The work we do genuinely changes lives. These farmers can now see a future for themselves and their families. They have hope."
David Priest
---
That's a drastic change from what the Broin family witnessed on their inaugural trip to Kenya — which spurred the launch of Seeds of Change — ten years ago.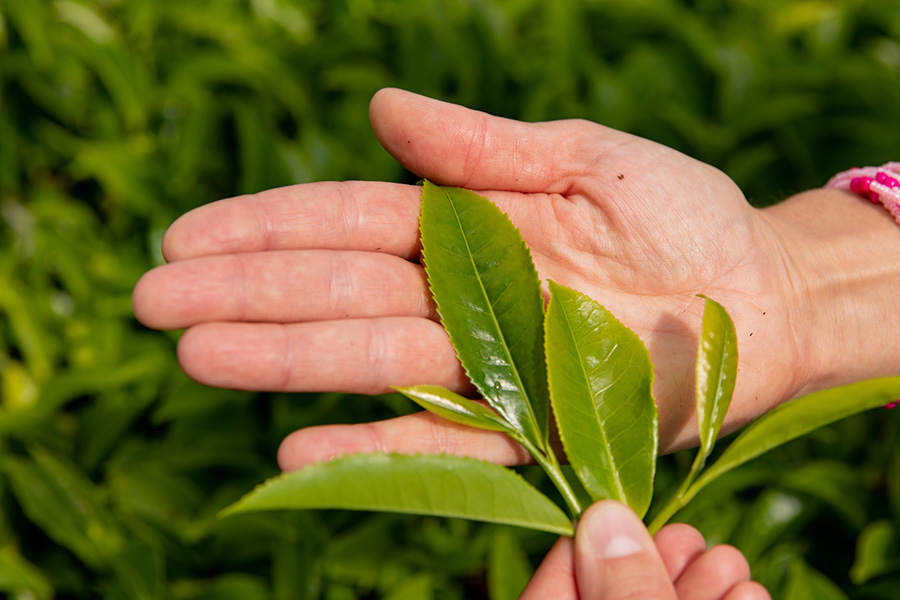 ---
"When we first traveled to Kenya all those years ago, it was disheartening to see the conditions of the farms we'd pass on our way to work each day. We went home feeling like there had to be something more we could do," said Miranda Broin, Seeds of Change President of the Board. "It has been truly incredible to see just how many lives have been changed over the past decade — the outpouring of support we've seen for Seeds of Change and the progress it has created so far surpassed anything we could have expected."
---
And Grain for Change provides U.S. farmers with an opportunity to offer support as well. Seeds of Change donors can feel good knowing the entirety of their contribution is used to change lives. "One of the most unique aspects of Seeds of Change is that one hundred percent of donations go directly to supporting our programs," said Macy Kaiser, Executive Director of Seeds of Change.
---
Svarstad said although the farms in Kenya look much different than his in Aberdeen, South Dakota, the concept of farmers helping farmers is a concept with which he is familiar.
---
"All of us as farmers have experienced a helping hand when we were starting out or during a tough time," Svarstad said. "This globe is a very small place. I don't think there is any difference between helping the neighbors that live on a farm a mile away or those who live 10,000 miles away."
---
To donate through Grain for Change, contact your local POET grain buyer. When delivering grain to a POET location, tell the scale master or merchandiser how many bushels or what percentage of the delivery you would like to donate.
---
To learn more visit seedsofchange.org, email info@seedsofchange.org or call 605-965-4984.
---