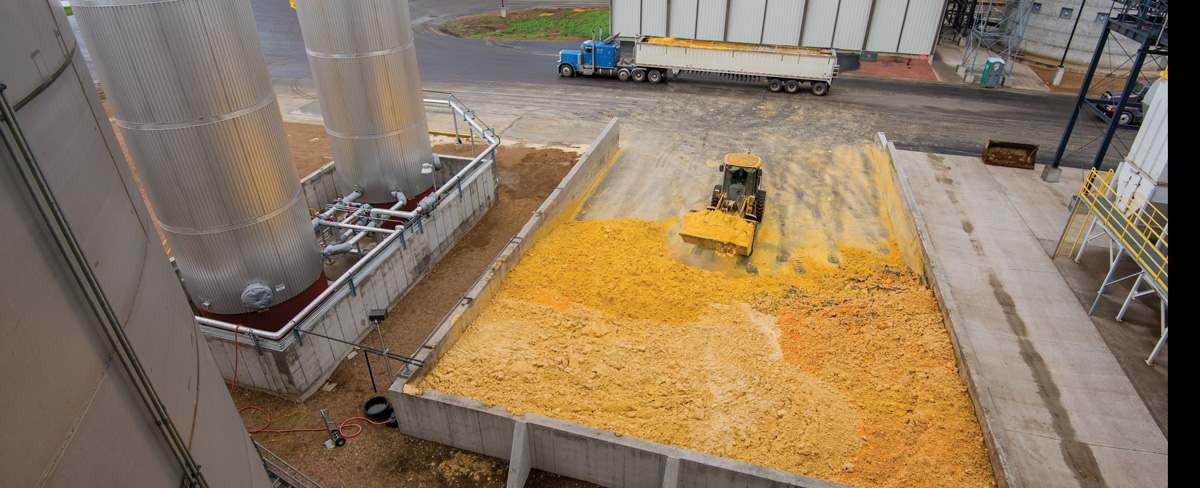 ---
As the ethanol story has unfolded across the rural Midwest, the increased number of biorefineries have offered farmers in the region a convenient, localized way to add value to their corn crop and utilize an economical, high-quality protein source for livestock.
---
But the advantages don't stop there. For rural communities, a local POET biorefinery – there are 28 plants stretching across seven states – brings jobs, opportunities for investment and economic development.
---
Few know the advantages of a local biorefinery more than Dave Poppens of Lennox, SD. Before the POET plant opened in nearby Chancellor, not far down the road from his operation, Poppens was hauling in distillers grains for his cattle from a plant nearly 100 miles away.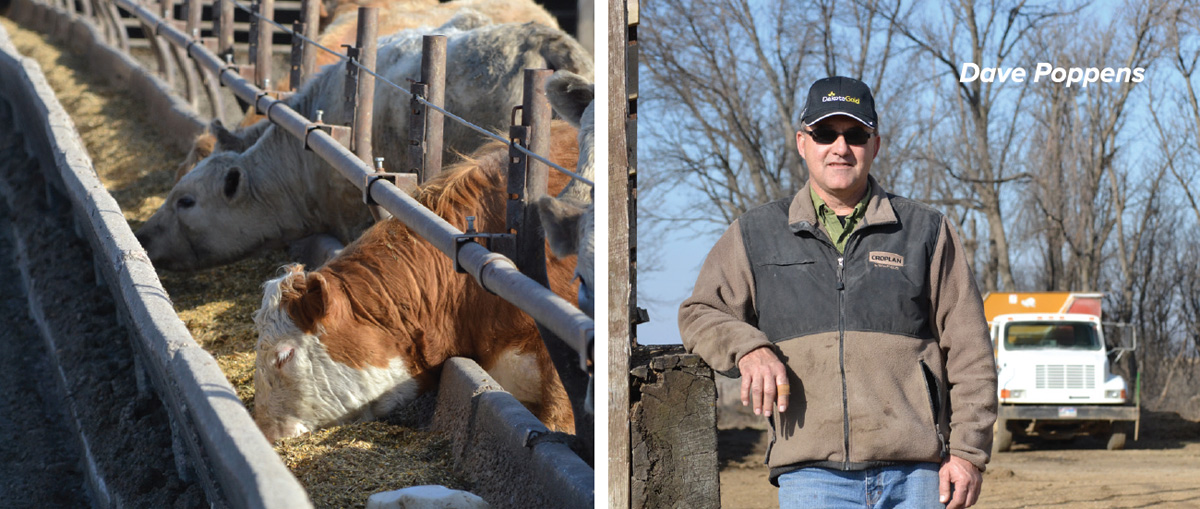 ---
Poppens operates OK Corral Inc. with his brother Ron and nephew Eric. "From the Chancellor plant to where our feedlot is at, is only about 11 miles," Poppens explains. "I can call up to POET Nutrition, let them know that in the next day or two, I am getting a load. I get my contract numbers to take there, go to the plant, and in almost less than an hour after I've left, I will be back here."
---
The family-incorporated farm consists of about 3,000 acres with a feedlot capacity of up to 1,000 head. They grow corn and soybeans, as well as running some alfalfa and pasture ground for the cattle. Distillers grains is used throughout, from starting to finishing rations. "We go through 70,000 to 80,000 bushes of corn a year," he says. "During that time, we use our own straight dump truck to pick up 17 to 18 ton from the Chancellor plant once a week. We use that in the feed at a ratio of up to about 20 percent of its wet weight."
---
Built in 2003 and expanded five years later, the Chancellor plant sits about 20 miles southwest of Sioux Falls, SD, in the heart of the state's corn country and is the largest of POET's plants. Over 35 million bushels of locally grown corn go into processing about 110 million gallons of ethanol at the plant on an annual basis. The plant produces about 240,000 tons of POET's premium distillers grains (DDGS).
---
Poppens says when the Chancellor plant was first built, he was still sourcing wet distillers elsewhere. "It's just been in the last handful of years that we've been pulling wet product out of Chancellor," he relates. "And they've expanded their pad for holding the wet distillers, so they are moving more than they used to."
---
The plant's close proximity to his operation isn't the only advantage to feeding the wet distillers grains. Poppens points out that for his cattle rations, distillers offers a high-quality, cheaper source of protein than relying entirely on soybean meal. Palatability is also a plus. "With cattle, especially feeder cattle, it is easier to keep them on feed with wet distillers, I guess because it is a wetter product that tastes and smells appealing to cattle," he says.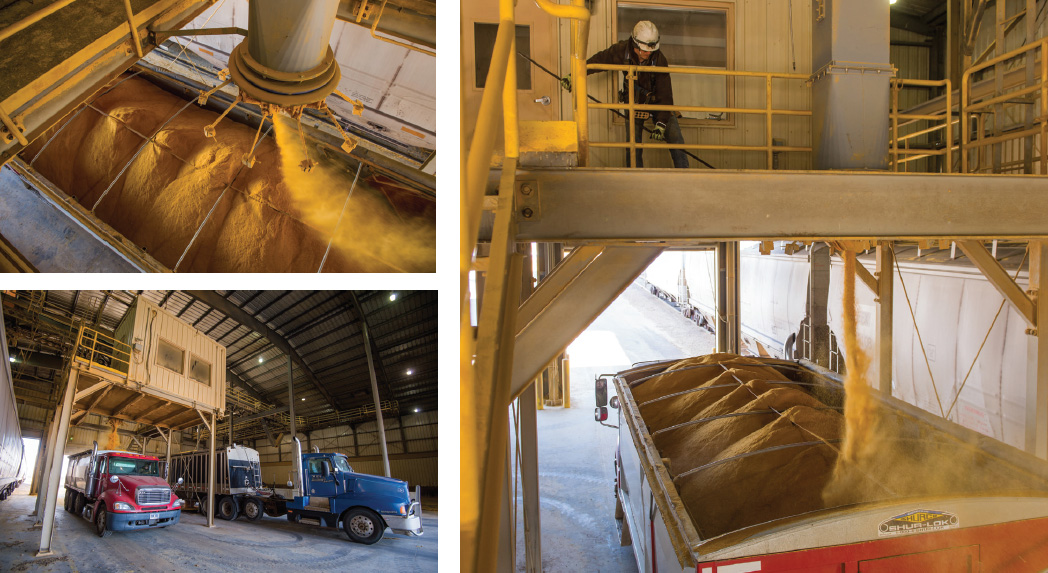 ---
Pat Kibbie, Emmetsburg, IA, also understand the importance of being able to source a value-added feed source without wasting hours on the road. "We began feeding it as soon as the POET plant was built, taking distillers out of Emmetsburg as soon as it was being made," he says.
---
"The POET plant has been a great opportunity and a great investment for our family," he says. "It gives young adults in the community a place of employment. It's really been good for our community."
---
Kibbie explains that he hauls corn in and then hauls wet cake back out to his feedlot, which is a mere nine miles from the local ethanol plant. "The corn we're hauling in is about 10 percent protein. But then we are filling the truck up with product containing 30 percent protein," Kibbie says. "Trucking is a big deal because we are getting in that back haul."
---
The back haul reduces the overhaul cost of trucking, which he estimates to be about $10 to $15 per ton. He also feels the distillers grains are priced competitively compared with other protein sources.
---
Along with his father and brother, Kibbie farms a corn and soybean row crop operation. They buy cattle weighing 550 to 700 lbs., then finish them at three locations. He also keeps a small cow herd, raising club calves for show.
---
Kibbie says the Emmetsburg plant always has a constant supply of high-quality, wet distillers, and does a good job of getting them in and out quickly. "The cattle seem to stay on feed, even during adverse weather. Whether too cold or too hot, they seem to eat the same amount," he says.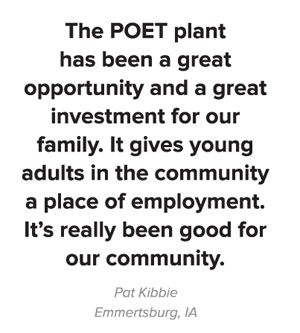 ---
He credits the constant supply of high-quality wet cake for the influx of cattle operations from southwestern states like Texas. "With the cooler weather here, shelf life is longer," he explains.
---
Consistency of the product has been good, according to Kibbie and he says they have become adept at handling the wet product during cooler weather. If it is going to be below freezing, the surface of the pile of wet distillers grains is covered with tub-ground hay, about five or six inches deep. While originally done to reduce feed loss during cold weather, Kibbie says they have discovered it can also be helpful in warm-weather months, reducing exposure to direct sunlight.
---
Tim Ruggles, Kingston, MI, has been taking advantage of distillers as a protein source since POET opened its plant in nearby Caro. He and his father farm about 2,500 acres and feed roughly 1,500 head of cattle. "About 1,200 acres of the 2,500 is corn," says Ruggles. "We sell a portion of our corn to POET and the rest, or about two-thirds of it, goes for feed."
---
Ruggles' operation is only about 15 miles from the plant. "We take a load of corn over and bring distillers back," he explains. "We're roughly feeding about 16 percent of the diet as dry distillers grains on average for growing and finishing diets."
---
"The distillers gives us a protein source, so we took soybean meal out of ration, replacing it with distillers," says Ruggles. "It is still giving us some energy with the protein."
---
He sees an economical advantage as well. "Cost effective? Amazing," says Ruggles. "The thing is, once you get something like this in ration, you don't want to use it one week, then feed soybean meal, and then back to distillers. You want to keep consistent."
---
Staying consistent hasn't been a problem, as Ruggles has had no trouble get distillers. "Cattle seem to like it. It's like putting candy in the feed for them. It brings the cattle to the feed bunk," says Ruggles.
---
"We hope they can continue to be profitable with the ethanol industry. But for us in the feedlot industry, we are just fortunate in that we can utilize it as a feed source. I hope they can keep it going. For anyone in the livestock industry, it's a terrific source of protein for livestock, whether swine or cattle or dairy. It's a great way to add value to a crop."
---
POET Nutrition
(phone) 605.332.2200
(toll free) 888.327.8799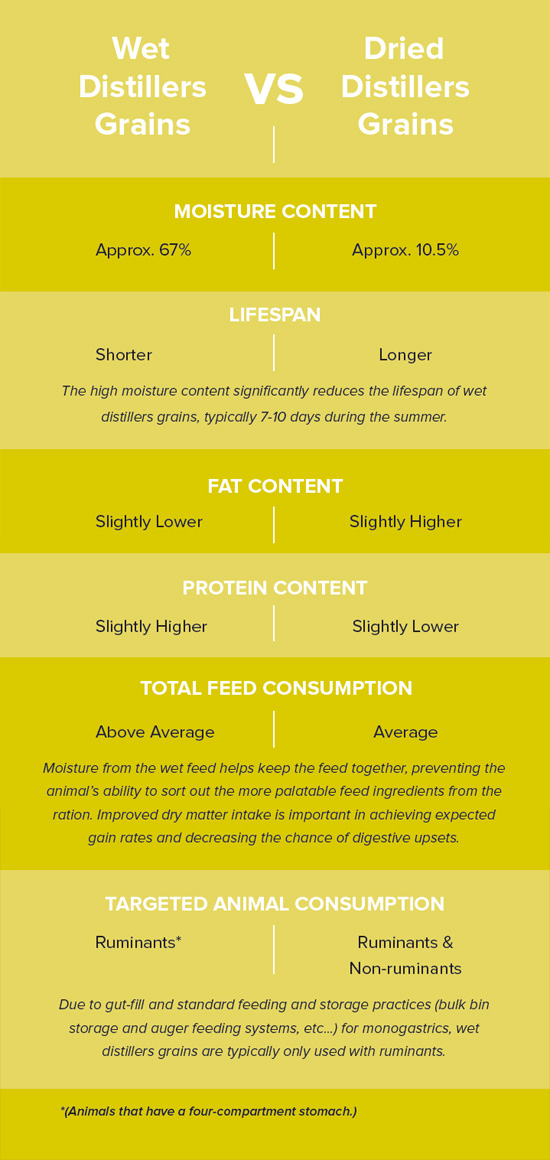 ---