---
Like many companies, environmental stewardship is a corporate priority for Thorntons.
---
The gasoline and convenience store retailer prioritizes recycling, energy efficient appliances and the use of eco-friendly cleaning products in all of its locations. It's switching to LED lights both inside and outside of all new and remodeled stores. And it makes a special effort to reduce its energy consumption by "harvesting daylight" – that is, Thorntons uses natural lighting at each of its stores to reduce the use of electric fixtures.
---
But more than that, Thorntons is committed to eco-friendly fuels. That's where E15 comes in.
---
Thorntons started introducing E15 to its guests in the Chicago market about five years ago. While Illinois farmers rank second in the country in corn production, biofuels weren't something Thorntons' urban customers were necessarily familiar with. So Thorntons made education about E15 a priority, with training modules for their team members and lots of visual marketing on-site and at the pump for their guests, said Lee Stevens, Fuel Supply Manager for Thorntons.
---
"At the time when we got in, it was before most of the competition was marketing E15," Stevens said. "So it was a great opportunity for us to give our guests something new."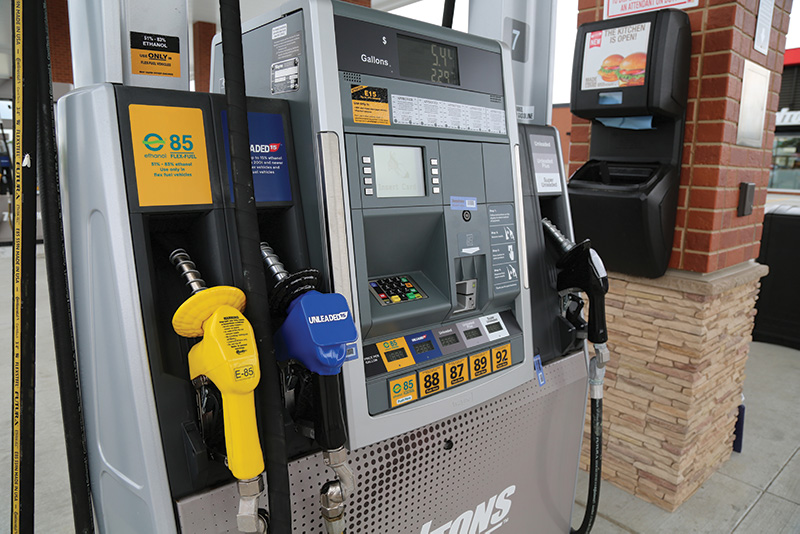 ---
Much of Thorntons' initial success with E15 in the Chicago market can be attributed to the Prime the Pump initiative.
---
Prime the Pump targets high-volume, high-profile retailers to provide E15 access and assists early retail adopters of higher-level biofuel blends by awarding grants to help with their initial investments in infrastructure and consumer marketing and education. The biofuels industry has invested nearly $85 million in this initiative. The retailers involved in the initiative have seen a competitive advantage with higher income, lower pump prices and higher-octane E15, as well as increased traffic to their convenience stores.
---
"Thorntons is among 20 of the largest retail chains in the United States offering its customers E15," said Mike O'Brien, Vice President of Market Development for Growth Energy, the nation's leading biofuel trade association. These retailers represent about 15 percent of the total U.S. fuel market.
---
It didn't take long for Thorntons Chicago-area guests to learn that E15 — a biofuel blend containing 15% plant-based bioethanol — is a cleaner-burning, higher-octane, and more affordable choice.
---
"Our Guests quickly saw the benefits of E15," Stevens said. "They put E15 in the car, they see the same performance and they don't spend as much doing it. It's an easy choice."
---
After the success in the Chicago market, Thorntons quickly moved to convert more sites to offer E15. Today, 61 sites in Chicago and Louisville, Kentucky, offer E15 and the company is currently working to add E15 to an additional 34 sites across its six-state footprint. "And that's E15 at each and every fueling point at each location," said Stevens.
---
These days, Thorntons doesn't have to educate its guests on the benefits of E15 as much as they had to before.
---
"In the markets we're in, people know what E15 is," Stevens said. "People in urban Chicago might not have known much about ethanol in the past, but people everywhere are so much more familiar with it now and they know their car can handle it, so they're much more open to using it."
---
In fact, these days, there's not too much difference between sales of E15 in rural and urban markets. Because of the benefits of bioethanol – particularly the fact that it can sell for about 5 cents a gallon less than other blends of fuel – E15 has been accepted by consumers across the country, O'Brien said.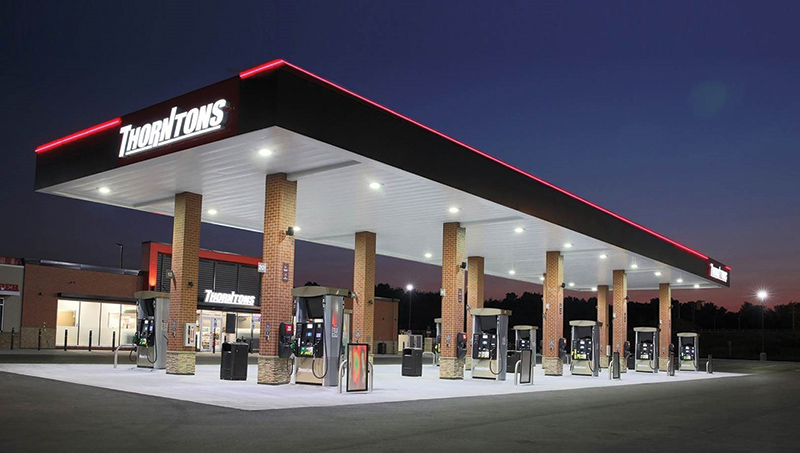 ---
That means Thorntons can focus on increasing its sales of E15.
---
"We want to sell more gallons of liquid fuel, and E15 is a way to do that," Stevens says. "By offering E15 — a higher octane fuel at a discounted price — we're able to retain our current guests and attract new guests that see the benefit of this product."
---
That's particularly exciting as Thorntons rolls out E15 into additional markets.
---
"We certainly see our E15 sales growing as we continue to move into more stations and more markets," Stevens said. "Being able to put more gallons of environmentally friendly fuel made from American-grown corn into your car is a benefit that can't be beat."
---