---
For a fourth grader who'd just been named "Star of the Week" by his school in Albert Lea, Minn., that very question felt like the collegiate equivalent of an introductory course on existentialism. Plus, the pressure to provide a socially acceptable response meant the difference between sitting alone at lunch with my imaginary friend Peter or receiving center square at the cool-kids table. That said, there were only two possible answers: crime-fighting vigilante, or the more obvious choice, beached whale first responder. I figured both choices preserved two indispensable criteria.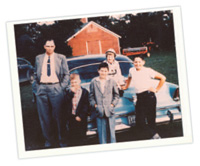 ---
One, I was not to be messed with. And two, despite my fearlessness, I was not above embracing a call to animal activism, which was clearly a ploy to attain the adoration of the opposite sex.
---
Last on my list of potential occupations, however, was farmer. In 1988, Kenny Chesney's song "She Thinks My Tractor's Sexy" was still a decade away from launching a movement that showcased farmers in a decidedly more seductive light. Farming back then reminded me primarily of Grandpa Oscar. I looked up to my grandpa, certainly, but to say I lacked an appreciation for his occupation would be an understatement. I vividly remember visiting his farm every summer, located just outside Colfax, N.D. For a city kid like me, the opportunity to visit Grandpa Oscar meant spending afternoons in his Chevy pick-up looking at crops, instead of on the sofa watching cable TV. Even if I wasn't necessarily captivated with life on the farm, as I got older, I began to better understand not only the practice of farming but also my grandpa's place in it.
---
In 1954, Grandpa Oscar lost his wife in a tragic car accident. He never remarried and selflessly took it upon himself to manage not only the family farm but also raise my mom and her three brothers. In 20-plus years, I never once remember my grandpa complaining about opportunities lost or adventures he had to forgo because of his responsibilities on the farm. Farming and family completed him.
---
As U.S. policymakers currently debate how much is too much support for Midwest farming communities, and special interest groups unite to discredit these same ethanol pioneers, I am reminded of the fortune my grandpa made in farming. His net worth was last estimated on Aug. 30, 2005, when a packed country church of friends and family came to honor his life and sacrifice. Grandpa Oscar went home after 95 years, two months, and eight days. And now when my sons ask me what they should be when they grow up, I don't even hesitate: a farmer, just like their Great Grandpa Oscar.
---
Marcus Ludtke graduated from the University of St. Thomas in St. Paul, Minn., in 2001 and started working for POET Risk Management in May 2001. His primary responsibilities include managing POET's corn position and market research.
---