---
Last month, 1,200 American Ethanol supporters and more than 90,000 NASCAR fans in attendance enjoyed a beautiful race day at Kansas Speedway for the STP 400 Sprint Cup Series event. For the first time this season, I drove the green, silver and black American Ethanol paint scheme on my No. 33 Chevrolet Impala, bringing home a top-20 finish. While it was yet another exciting NASCAR race that came down to a last-lap fuel mileage battle to the checkered flag, it was the off-track activities that gave fans and supporters the opportunity to get a real understanding for the American Ethanol partnership with RCR and NASCAR.
---
The American Ethanol program gives Growth Energy great opportunities to educate NASCAR's fan base of more than 75-million strong on the benefits of domestic ethanol, not only in the race cars I drive every weekend, but the cars you drive to work day-in and day-out.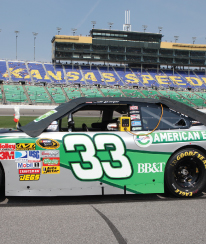 ---
American Ethanol was on display everywhere at the track that weekend. They had a promotional display stage in the vending area where large crowds came out to take part in a Q&A session with me and to get autographs from the No. 33 pit crew Sunday morning. Fans also took home American Ethanol information packets and downloadable photos with an exact replica of the No. 33 car that I drove on the track. There was a huge American Ethanol hospitality tent where guests received gift bags and were entertained with live entertainment, food & beverage, etc. I even stopped by to say hello to our supporters as did my boss and team owner, Richard Childress along with Kansas Governor, Sam Brownback. The track even painted the entire backstretch green with American Ethanol logos. I had never seen that before at a track. It was really cool! I bet it looked good during the national broadcast of the race on FOX.
---
I was born and raised in nearby Emporia, Kan., so my connections to the Midwest farmer run deep. It's amazing what farmers are doing for this country with ethanol. Ethanol is creating demand for thousands of jobs for the United States economy and bringing us one step closer to energy independence, not to mention reducing carbon emissions by as much as 59 precent. I am really proud to have American Ethanol in my car and on my car for race day. It truly is a win-win situation for everyone involved.
---
NASCAR has taken many steps to become "greener" in the past few years, but, in my opinion, this partnership is making the biggest impact. During the first year of this multi-year partnership, Growth Energy wants to highlight American Ethanol to NASCAR's fan base, many of whom may not know about it or may have carried negative views based upon misleading information. NASCAR's switch to Sunoco Green E15, a 15 percent blend that works great in the engines we use each week, has been a smooth transition as we have seen no negative effects on engine performance or fuel mileage. I won't lie. I also enjoy the increase in horsepower that we saw when we made the switch to E15 starting this season at the Daytona 500.
---
As I stated earlier, this partnership between Richard Childress Racing, American Ethanol and NASCAR is a win-win situation for everyone involved and it was showcased at Kansas Speedway that weekend. I just want to take the opportunity now and say thank you for all your support. We look forward to continuing this partnership for many years into the future. See you in Victory Lane!
---